Message from Professor Dale Webber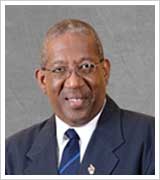 It is my pleasure to welcome you to our Mona Campus at the University of the West Indies. Embarking on advanced studies here at The UWI is a great step in achieving some of your important goals and the experience here will develop you into a distinctive graduate student. .
We are committed to creating a supportive community for our graduate students and have several programmes in place to enhance the quality of your graduate experience and to assist with the preparation of employment.
While you are here open yourself to the rigors of postgraduate learning, utilize the resources that are made available by the Office of Graduate Studies and Research, the Libraries and the many other Campus resources; compete with who you are yesterday with the aim of achieving your greatest potential always remembering we are here to support through your programme.
Graduate life is a stimulating and rewarding exercise. Embrace those moments, learn from them as they will define the quality of your experience. Here, you will be required to be more analytical and to create new knowledge in many ways. Strive at all times to be successful at this by remaining focussed and resolute.
We look forward to working with you. Congratulations and welcome!
Professor Dale Webber
Pro-Vice-Chancellor, Graduate Studies and Research.