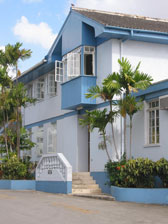 By the time the Centre for Gender and Development Studies (CGDS) was formally established within the University in 1993, the term 'gender' had entered the development and academic debate. The inclusion of 'gender' in the name of the Centre was deliberate and acknowledged that women's problems were not primarily due to biological differences between men and women, but rather to `gender' differences that were socially determined. It was an attempt to ensure that gender issues, as manifested between and among different categories of men and women, would be addressed in the Centre's teaching curricula, research and advocacy activities.
The CGDS was therefore established in 1993 as an independent, interdisciplinary Centre with a mandate to:

(a) Question historically accepted theories and explanations about society, and human behaviour
(b) Seek an understanding of the world which takes women, their lives and achievements into account
(c) Examine the origins of power differences between men and women, and the division of human characteristics along gender lines

Specific objectives were to:
Develop an integrated, interdisciplinary programme of gender studies within the University, at both undergraduate and graduate levels including facilitating the incorporation of gender analysis in all disciplines.
Produce and disseminate knowledge, based on the generation and analysis of research data on women, men, and gender related issues in the Caribbean.
Establish and maintain linkages with national, regional and international institutions concerned with gender and development, provide advisory services, influence policy directions and assist with capacity building in these institutions.
The Centre for Gender and Development Studies, has managed to discharge its responsibilities in keeping with its mission in spite of limited resources. Included among its sterling accomplishments over the past ten years are:

The Centre for Gender and Development Studies, has managed to discharge its responsibilities in keeping with its mission in spite of limited resources. Included among its sterling accomplishments over the past ten
years are: