Beware Interactions Between Home Remedies and Medicine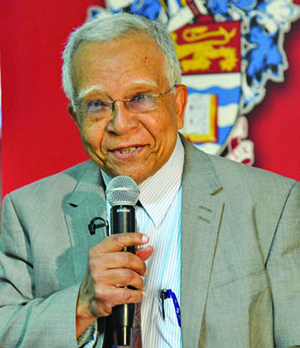 Sixty-four year old Johney Stewart is a fervent believer in the use of medicinal herbs to treat or inhibit certain medical conditions such as heart disease, high blood pressure, high cholesterol, colds, flu and other infections.

Stewart uses garlic, for example, to treat chest pains. "I just cut up the garlic and swallow it, or boil it to make tea," he said. He also uses it to flavour his meals and tenderize his meats. He is aware that one should not ingest too much garlic, but he believes he has mastered the art of "prescribing" his own dosage, especially since the formula was passed down from his ancestors.

But Stewart, like so many Jamaicans, is unaware of the potential interactions of medicinal plants and foods with pharmaceutical drugs. According to Dr. Rupika Delgoda, head of the Natural Products Institute (NPI) at The UWI, Mona, this is quite a common phenomenon. She explained that about 23-25 per cent of the Jamaican population use pharmaceutical drugs in conjunction with medicinal plants.

While this figure is not high, Dr. Delgoda and her team at the Natural Products Institute are taking steps to educate people about the dangers of mixing herbs with certain prescription drugs. Consequently, they conducted two field surveys in Jamaican pharmacies and one house-to-house survey across the general population. The individuals in the pharmacy were persons on prescription medication and the survey sought to determine whether these persons also selfmedicate. "We found that 80 per cent of them were actually using a medicinal plant," Dr. Delgoda disclosed. "We also discovered from all three surveys that only 18 per cent of the doctors were aware of the fact that the patients were taking it [the medicinal plant]".

Dr. David Picking, Research Fellow at the NPI added that the house-to-house survey revealed that 72 per cent of the Jamaican population use medicinal plants on a day-to-day basis. That fact motivated development of the handbook. However, Dr. Picking pointed out that the handbook, titled "Potential Drug Interactions for Commonly Used Medicinal Plants & Foods in Jamaica, was not compiled to discourage the use of these plants and herbs, but to support their safe use.

The handbook, a culmination of a decade of research, was compiled by Dr. Delgoda and Dr. Picking specifically for healthcare professionals, with their relevant patients in mind. It provides a list of 30 medicinal plants and foods, along with 70 potential drug interactions and several guidelines for monitoring their use.

The handbook also includes the evidence on which the conclusions are based. For example, garlic, scientifically known as Allium sativum, may interact with antiplatelet and anticoagulant drugs, such as Warfarin. An interaction with garlic may increase bleeding time.

According to the Handbook, the risk assessment is to monitor doses of fresh garlic over three grams and to stop taking at least one week before surgery. The evidence on which this is based includes reported cases, clinical studies and anecdotal reports.

The handbook was officially launched on September 28, 2015 and is currently available for purchase at the UWI Bookshop, as well as at the Natural Products Institute. It is complemented by a user-friendly app and website, which will provide a quick point of reference for the medical community. NPI will also use the website to update new findings on these natural products.

The Institute, an integrative research establishment within the Faculty of Science and Technology, is also carrying out research on the efficacy of herbs against cancer cells, as well as using natural products as cancer treatment leads and prevention leads. Additionally, new research is also being undertaken to understand the reason why mosquitoes, particularly Aedes aegypti mosquitoes, are so resistant to the existing insecticides on the market. The hope is to use natural products to eradicate these known carriers of dengue fever, chikungunya virus and zika virus.

In the near future, Dr. Delgoda also hopes to engage in research towards commercialization of of natural products, as well as position the Institute as an important academic partner and bridge for businesses and industry.