Staff Profile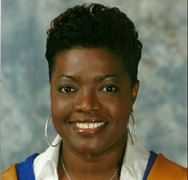 Pamela Housen
Administrative Officer
Discovery Bay Marine Laboratory and Field Station
Queen's Highway, P.O. Box 35
Discovery Bay, St. Ann
Tel: +1 876 670 0171 or +1876 973 2241/ 2946
Fax: +1 876 973 3091
E-mail:pamela.housen@uwimona.edu.jm
A career Administrator with an Accounting background, Miss Pamela Housen joined the University of the West Indies, Discovery Bay Marine Laboratory in December 2004 and was promoted to Administrative Officer in January 2008.  Prior to that engagement, she worked within the accounting field for twelve years; serving as a Senior Accountant in the last six of the twelve years.
Pamela's lifelong commitment to community development has steered her towards voluntary service.  She is the Charter President of the Dynamic Optimist Club of Runaway Bay; and a past Vice-President of the Junior Chamber International, Ocho Rios Chapter.  She has earned the distinction of Honour President for two consecutive years with Optimist International.  Pamela has also given of her time and administrative expertise to the organisation of the St. Ann Festival Queen competition.  Recently, she was among one hundred privileged women who participated in a Corporate Leadership Training facilitated by the Women's Resource and Outreach Centre.
Pamela holds a Bachelors degree Business Administration, Accounting major from The Northern Caribbean University and a Masters degree in Business Administration from the University of the West Indies. She has participated in several professional courses including Project Management, Events Management, Performance Management and Para-Legal services.
Pamela subscribes to the view "Mediocrity is unacceptable and failure is not an option" which explains her propensity for excellence.