Professor Brian Meeks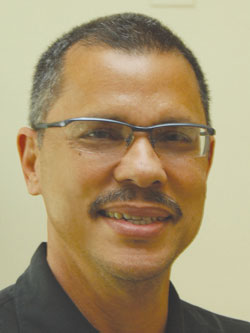 Apr. 12, 1953-
Political scientist whose work is centered on the theory of revolution, comparative Central American and Caribbean politics; Caribbean thinkers and political thought as well as hegemony, democracy and the state in theory and practice. The impact of Professor Meek's work extends through several disciplines – political science, history, political economy, sociology, Africana studies, Caribbean studies and Latin American studies. Over the years, he has developed an international reputation in these fields, evidenced by the numerous invitations that he receives to present his work at institutions in North America and the United Kingdom.
Professor Meeks' work has addressed nearly every development in political methodology in the twentieth century. He is regarded as a scholar who has tried to come to terms with the problems of the Caribbean in the post-cold war world. He was instrumental in the development of the Centre for Caribbean Thought.
Mona Library Closure
January 13, 2017 (8:30am - 12noon) - Closed to facilitate a staff meeting

January 14, 2017 - Closed

The Overnight Reading Room at the Main Library will be opened during these periods.
Any resulting inconvenience is regretted.
January 3-15, 2017
Main Library: Mon - Fri: 8:30am- 5:00pm| Sat: 8:30am - 4:00pm| Sun:Closed

Medical Library: Mon - Fri:8:30am- 5:00pm| Sat: 8:30am -4:00pm| Sun:Closed
Science Library: Mon - Fri:8:30am- 5:00pm| Sat: 8:30am -4:00pm| Sun:Closed
Law Library: Mon - Fri:8:30am- 5:00pm| Sat: 8:30am -4:00pm| Sun:Closed
WISC (Main Library): Mon - Fri:8:30am- 5:00pm| Sat: 8:30am -4:00pm| Sun:Closed
Overnight Reading Room: Mon - Fri:5:15pm - 6:00 am, Sat: 4:15 pm - 6:00am
Western Jamaica Campus: