Professor the Hon. Manley West, OM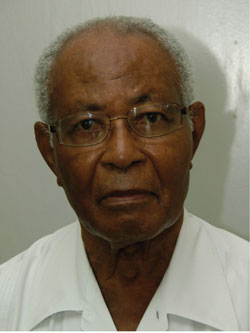 Mar 17,1929
Pharmacologist who conducted pioneering research of the marijuana plant, leading to the development of specialty medicines for glaucoma and other disorders. Glaucoma is a leading cause of preventable blindness and is estimated to affect three per cent of the Jamaican population. Today, many persons worldwide affected by disease are receiving relief through the use of the drugs developed from this research done at the Mona Campus.
Mona Library Closure
January 13, 2017 (8:30am - 12noon) - Closed to facilitate a staff meeting

January 14, 2017 - Closed

The Overnight Reading Room at the Main Library will be opened during these periods.
Any resulting inconvenience is regretted.
January 3-15, 2017
Main Library: Mon - Fri: 8:30am- 5:00pm| Sat: 8:30am - 4:00pm| Sun:Closed

Medical Library: Mon - Fri:8:30am- 5:00pm| Sat: 8:30am -4:00pm| Sun:Closed
Science Library: Mon - Fri:8:30am- 5:00pm| Sat: 8:30am -4:00pm| Sun:Closed
Law Library: Mon - Fri:8:30am- 5:00pm| Sat: 8:30am -4:00pm| Sun:Closed
WISC (Main Library): Mon - Fri:8:30am- 5:00pm| Sat: 8:30am -4:00pm| Sun:Closed
Overnight Reading Room: Mon - Fri:5:15pm - 6:00 am, Sat: 4:15 pm - 6:00am
Western Jamaica Campus: