The New Student Portal

John is a Literatures in English student at The University of the West Indies, Mona. He relies heavily on SAS, OurVLE, the UWI-Webmail, plus the other electronic systems to keep abreast with what is taking place on the campus, as well as to keep up-to-date with his financial and academic records. There are times when John wishes to use some of these systems simultaneously, but to do so he has to first create tabs for each of the systems, and then manually sign-in to each separately. This annoys John, as he is often quite busy and may need to access information on the systems urgently. John wishes that there was a single place where he could access all the electronic resources provided by the University.
Most, if not all, UWI, Mona students can relate to John's story, and most of them probably have the same wish as John. This wish has been fulfilled through the development of a new Student Portal system, which enables students to access all the online resources they need from one single space.
How does it work?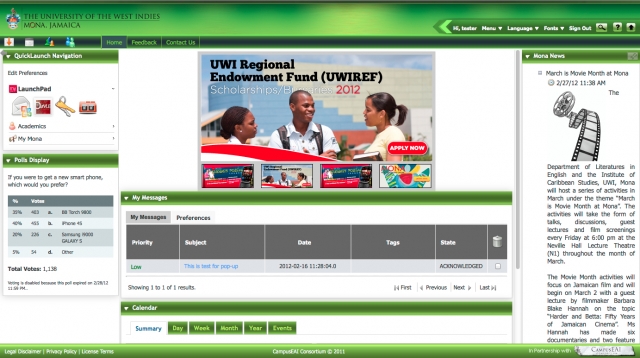 The Student Portal functions similar to a normal web portal. It acts as a "gateway" or point of access to several online systems developed by the University. One of the most appealing features of this new portal is the Single Sign-On (SSO) feature, which enables users to gain access to numerous online systems by logging in only once. So once you sign-in to the portal using your student ID and password, you can then access other campus related systems without having to sign-in again. The systems that can be accessed from the Portal include:
The UWI, Mona Student Administration System (SAS)—used to view student registration and financial information.
Our Virtual Learning Environment (OurVLE)—used to access course materials (such as lecture notes and other learning resources)
My Mona Email—which now uses Microsoft Live@edu will give students 10 Gigabytes of space for their emails instead of the previous 8 Megabytes offered by Campus Pipeline. Students are not only offered an email application, but are also given access to Microsoft Office Web Applications which include Word, Excel, One Note and Power Point and 25 Gigabytes Sky Drive free online storage for collaboration. In addition, there is a Personal Information Manager (PIM) which includes a calendar (which can be shared with other persons across campus); a contact manager (which has a user availability indicator); and a task manager (with reminder features). Students will definitely be able to organize themselves better with the new My Mona Email system.
Additionally, users can access the Password Self-Service system from the Portal. Here, users can reset or change their passwords when desired.
In addition to the QuickLauch Navigation features outlined above, the Student Portal also has quick links to the latest news and events on the Mona campus and regular polls posted to gain your feedback on a wide range of topics.
Use these features now by visiting the Student Portal at my.uwi.edu. We hope that this new facility will give students a better experience with our online systems and we hope to roll out new features to the Student Portal soon.
Article written by Mortilaine Riley