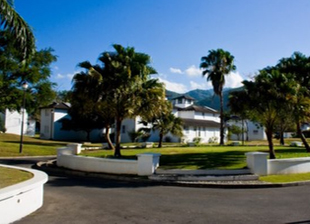 THE ASTON PRESTON HALL
...In relentless pursuit of excellence
The Aston Preston Hall was conceived out of a desperate need to provide more student accommodation on the Mona Campus. On March 20, 1990, after a long period of negotiation for funding, financing was approved by the European Development Fund (EDF) under the Lome Regional Programme as part of the Student Accommodation for Caribbean Regional Educational Institutions.
As an architectural dream, Aston Preston Hall was seen as the creation of a new concept in student housing, which would not only be residential in character, but also provide an institutional setting that would be conducive to learning and to the development of regional student integration. After funding was approved by the EDF, a design competition was launched to select architects to conceptualize and follow through with this dream. Entries were assessed by a panel and two architectural companies were selected: Marvin Goodman & Associates of Jamaica and Norman & Dawbarn of the United Kingdom (UK).
The Start
On January 15,1991, the design contract was signed and on September 1,1993, construction commenced. According to the brochure of the official Aston Preston Hall opening, the design provides a clear-cut succession of spaces, from public access to the hall to cluster to private or shared spaces within the clusters themselves "providing a sense of place, of control, of security and of responsibility".
The Opening
On August 27, at the start of the 1995/6 academic year, the first student was admitted on the hall and on Friday April 19,1996 the hall was officially opened.
The Aston Preston Hall Pledge
Our hall pledge expresses the commitment to harmony, community and excellence that characterized the life of our founder Aston Zachariah Preston. As we recite these lines we commit to giving only of our best self for the benefit of our hall, our institution, our respective nations and the development of the human race.
We Prestonites do solemnly promise to serve this prestigious institution to the best of our ability for the upcoming year and years to come.

We will endeavour to be productive persons, conducting ourselves in the manner and spirit of a true Preston soldier. We will remember to protect and care for the members of our Preston family and never mistreat these surroundings, our home.

We will always be mindful of the vision of this illustrious institution and forever trudge the path to the Relentless Pursuit of Excellence.
Our pledge binds us to a code of excellence and signifies our commitment to excel without reservations or doubt. We Prestonites are indomitable, determined and unstoppable.