Why Choose Us?
The Aston Preston Hall is a jewel among the historic ruins of the Mona Campus and provides the perfect setting for those who demand the delicate balance between the picturesque and the practical for their working or social experience. Although on the University Campus, the Aston Preston Summer Home offers its lush emerald space to Jamaica, the Caribbean and the world.
About Us
Nestled between the Blue Mountains, the Aston Preston Hall opened its gates to students on August 27, 1995 and held its official opening on April 19, 1996.  It was named after a former Vice Chancellor of The University of the West Indies, Dr. Aston Zachariah Preston. During the academic year, the hall is home to 332 students, accommodated in single and double occupancy   rooms.
 Facilities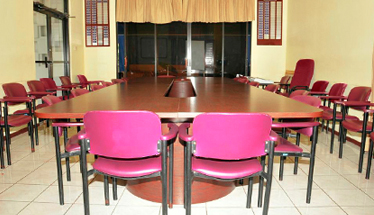 During the summer period, May 31 – July 15, this scenic landscape offers comfortable accommodation for over 100 visitors. For workshops and seminars this summer home is equipped with audiovisual and multilevel-sound systems, along with internet connectivity.
Our elegant conference room provides venues for meetings, seminars and workshops while our newly renovated Lounge offers total relaxation after a hectic day or a space for social activity and networking.
With 24 hour security, the Preston Hall Summer Home is equipped to cater to the daily operations of any home. It offers a kitchenette, a stove, a refrigerator and dining facility in each household. There is also a laundry facility, study room, computer lab and a cafeteria from which meals may be purchased during the week or catering services arranged.
Activities
The Aston Preston Summer Home is also in close proximity to the nation's most popular banks, supermarket and local eateries; and only a short ride away, visitors are able to experience the excitement and pulsating beat of Kingston nightlife.
The Aston Preston Summer Home also offers nearby health and wellness facilities. Situated next door is the Usain Bolt Athletic Track as well as the grassy playing field. A leisurely two-minutes stroll will take you to the Mona Bowl which houses Lawn Tennis, Netball and Basketball Courts, Swimming Pool, Gymnasium, Cricket Grounds, Football Fields, as well as a Rugby Field.
From the gorgeous landscape of the property to the sweeping, panoramic view of the mountains, the Preston Summer Home is the perfect and affordable getaway of convenience for you this summer.
See you then!
                                                 The Perfect Place for a Peaceful Getaway….the Aston Preston Summer Home!
BOOK NOW by contacting the Aston Preston Hall or the Lodging Office
| | | | |
| --- | --- | --- | --- |
| | | | |
| Usain Bolt Athletic Track | The UWI Gymnasium | The UWI Swimming Pool | The UWI Lawn Tennis Courts |