The UWI, Mona/FSU Exchange Programme
A contingent of two (2) members of staff and twelve (12) students from Florida State University will visit the Mona Campus on our annual Exchange Programme. The group will be in Jamaica from March 17, 2019 - March 24, 2019.
The University Student Awards Ceremony
The 2018/2019 Student Awards Ceremony will be held on Saturday, April 6, 2019 6:30 p.m. in the Assembly Hall. The University Awards Ceremony is designed to bring members of the University and Campus administration, faculty, parents, relatives and peers in celebration of the achievement of excellence in academic and co-curricular activities.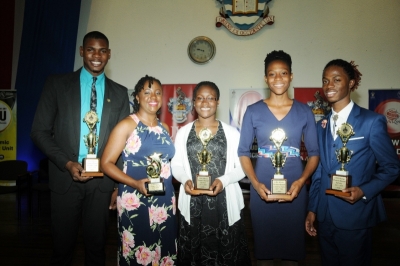 Premier Awardees: From left- Mr Desmond Saunders, Ms. Akelia Martin, Ms. Ana-Kay McIntosh, Ms. Shaughna-Lee Steele, Mr. Michael Lewis
Club Fusion 2018
Club Fusion is an event where all registered clubs and societies on the Mona Campus showcase their activities and recruit new members. The annual Club Fusion was held on Thursday October 25,2018 with over 80 clubs participating. It was an overwhelming success. UWI Mona Tourism Society copped two prizes, "Most Vibes" and "Best booth" overall. The University Marketing Association (UMA) was awarded the prize for the "Most Organized Club". Universities and Colleges Apostolic Ministry (UWI CAM) walked away with the award for the "Best Religious" group.
UMA President, Miss Jasmine Barrows accepting award from Club Fusion Coordinator and OSSD Senior Administrative Assistant, Miss Marcia Bishop.
Members of UWI Mona Tourism.
Highlights from Club Fusion 2018