Summer Eco-Camp
Every July, the DBML is abuzz with activities due mainly to the young participants in our Summer Eco-Camp. Each year the youngsters are treated to three weeks (one week per age class) of exciting, fun-filled and environmentally-focused educational activities, based on a chosen theme. We provide campers with the opportunity to learn more about the marine environment through talks, video presentations, hands-on activities, experiments, games, and field trips. Campers can also swim or snorkel at dockside.
Eco-Camp 2023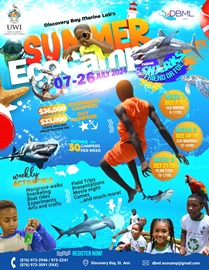 This year the camp runs from July 9 to July 28 with the theme "ManGroovin': Let's get moving!". The Eco-camp has both Day and Overnight components (costing J$35,000 and J$32,000 respectively). Children ages 8 to 17 years are welcome, as weekly activities are age-specific. There is a limit of 30 campers for each week.
Day campers should arrive by 8a.m. and depart at 4p.m. each day, Monday to Friday. The cost for day campers include lunch, snacks and all necessary equipment. Overnight campers should arrive between 4p.m. and 6p.m. on Sundays. They will be accommodated in the Lab's dormitories with meals provided at the cafeteria. Overnight campers will be supervised by resident assistants after camp hours. Costs for Overnight campers include meals, lodging, supervision, bed linens, extracurricular activities and all necessary equipment.
Registration is now taking place, so reserve your place now! The cost includes the registration fee; a minimum payment of 50% is due at registration. A copy of the camper's birth certificate must be submitted with the completed registration form. Repeat campers who submitted a birth certificate last year will not be required to do so this year.
Download: Flyer | Registration Form (Download, complete and return)

Mural painted by 2011 Campers