Facilities at DBML
DBML is an excellent location for educational field trips, scientific research, seminars and workshops.
Reservations
Please make reservations well in advance. DBML may not be able to guarantee the availability of facilities on short notice. A discount of 10% will be given on accommodation and lab fees if the bill is paid 30 days before arrival. Space can only be confirmed when payment is received.
You can make a booking using the appropriate form below. Facility usage fees and rates are available here; you may also download a copy.
Booking Forms : Local School | Scientist | UWI | Local Group| Overseas Group
Accommodations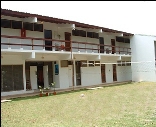 Dorm block at DBML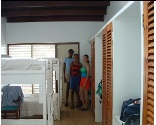 Inside the Dorms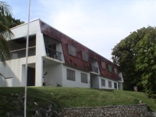 View of the Flats
DBML has two residential buildings.
The larger of these is a dormitory block with 8 rooms, each holding four persons (each room has its own verandah and bathroom), a large dining room/sitting room/lecture hall and a fully equipped kitchen. The block also has 2 bedsitters, each with a kitchenette.
The other residential building (the Flats) contains 6 apartments with either one, two or three bedrooms. Each flat has a bathroom, a living/dining room, a verandah and a kitchen.
Bed linen, crockery, cooking utensils etc are provided, but not towels.
Meals
Investigators usually opt to buy their own food and cook for themselves. However, catering for breakfast, lunch and dinner is provided for groups, upon request. Visitors with special diets are asked to indicate this on the usage application.
Rates available here.
Laboratory and Research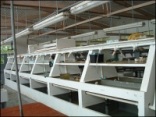 Wet lab at DBML
The main Laboratory building houses five research rooms, an instrument room, a library/seminar room, offices and a large wet lab. The latter is divided into six bays, each provided with electrical outlets, running salt and fresh water, and has a two-tier central wet table with twelve shallow and six deep tanks. Additional wet tables, as well as two flow-tanks (of 15 cm and 60 cm width) are available for experimental work. Two workshops provide technical support.
There are several computers available for general use, all with Internet access. Audiovisual equipment is provided for lectures and presentations. Printing, scanning and faxing facilities are also available. Group leaders, visiting scientists and students are encouraged to bring laptops, to take advantage of DBML's wireless network.
Facility use fees depend on the user and duration of use.
Dive Programme
The main purpose of this document is to provide standards and procedures that are minimum requirements for safety during the performance of diving and hyperbaric work undertaken at the Discovery Bay Marine Laboratory.
Download a copy of the programme in PDF.
Diving and Boating
Prospective divers must possess certification from a recognized agency, have completed a dive medical within the last 12 months and may be required to demonstrate their diving skills in a checkout dive.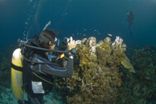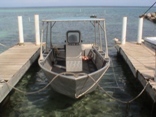 The Laboratory's diving facilities are first class. Compressed air, nitrox and tri-mix (helium, nitrogen, oxygen) are available to qualified users, and there is an ample supply of scuba tanks. A double-lock recompression chamber backs up the diving safety programme.
Discovery Bay has a wide range of dive sites, whether you are a novice seeing the coral reefs for the first time, or are an experienced coral reef biologist. Most back reef sites are shallow and accessible to snorkellers. On both the West and East forereefs, we maintain permanent moorings in about 17m of water, providing safe access to the deep reefs. Diving groups may also go beyond the confines of the Bay, for example, to Rio Bueno where divers can investigate coral wall features or to Pear Tree Bottom where coral canyons support a wide variety of organisms.
There are several boats, of varying sizes and capacity, available for use by visitors and researchers. Diving and boating rates depend on the destination and the number of persons making the trip.
Dive Forms : Dive Booking | Dive Check Out | Staff/Grad Student Diver Registration | Visiting Diver Registration | Dive Medical
Hyperbaric Chamber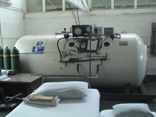 1976-2011: Perry Chamber
Current: Hytech Chamber
Used to treat decompression illness caused by excess nitrogen loading of tissues due to: diving too deep, staying down too long, going down too many times in a day, not doing enough in-water decompression OR ascending too quickly while holding your breath.
The recompression chamber provides oxygen at high pressure to hypoxic/anoxic tissues; increased pressure reduces bubble size to help restore circulation to affected area(s).
Other proven uses of HBO Therapy include: carbon monoxide poisoning; delayed radiation injury of the soft tissue or bones, including osteoradionecrosis; gas gangrene; skin grafts and flaps that are not healing well; necrotic soft tissue infections; and anaemia due to severe blood loss (when transfusions are not an option).
The previous chamber (1976-2011) was a Perry double-lock, multiplace, 60"-diameter unit which provided treatment to over 340 divers, of which approximately 60% have been local fishermen. The current hyperbaric chamber is a HYTECH 2m-diameter double-lock, walk-in unit, capable of holding 6-8 people at a time (right). The chamber uses Oxygen or NITROX gas, with demand or free-flow delivery systems and advanced life-support capabilities for treating more serious diving accidents.
For additional information, contact the Lab's Safety Officer.
For hyperbaric charges/services, please see rate sheet.