Education & Outreach
The successful execution of our core teaching and research goals is complemented by outreach and education work with the local community. DBML hosts school groups and works with community NGOs to strengthen awareness of coastal environment issues and interest students in careers in marine science.
The Environmental Foundation of Jamaica's Forest Conservation Fund Discovery Centre Boardwalk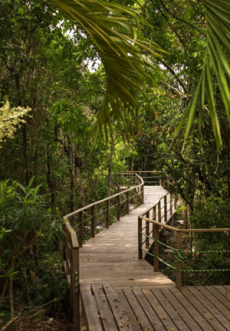 Entry to the EFJ'S FCF Discovery Centre Boardwalk
The EFJ's FCF Discovery Centre Boardwalk was opened on June 20, 2017 at the DBML. The Discovery Centre Boardwalk is a 300 metre path that leads through the Limestone Forest on the western side of the DBML property to a beach on the northern edge of the forest. Features of the boardwalk include interpretive displays of endemic flora and fauna. The boardwalk facilitates a demonstration of the possibilities for developing sensitive coastal ecosystems while conserving biodiversity to ensure environmental sustainability.

Tours are self-guided unless special arrangements are made. For additional information, download a brochure on the EFJ's FCF Discovery Centre Boardwalk.
Visiting Schools Programme
We host students and groups from schools across the island throughout the year. The participants view environmentally-oriented films and receive lectures from our staff about the island's various ecosystems. They are also treated to a tour of the facility where they can view live specimens in our aquaria and engage in snorkelling activities in the shallow water at our dock side. There is also the option of a boat ride around the Discovery Bay.
Denbigh
The task of taking our message of environmental awareness, conservation and sustainable resource development/use to the general public received a major boost through our involvement in the annual Denbigh Agricultural show. The use of posters outlining techniques to enhance coral reefs, touch and display tanks to showcase  the Lab's efforts to improve Agricultural (Fisheries) productivity and control invasive species were well received by the public who visited our display booth.