ABOUT US
Welcome to Irvine Hall
Welcome to the Irvine Hall! The place where you come to "Know Thyself!"

On behalf of all the staff and support personnel of Irvine Hall, I want you to know that we are pleased that you will be sharing your University journey with us. By joining our residence hall community, you have unlocked a door that will offer you exciting new experiences, academic and personal support, and meaningful connections with others. You have joined a community that will support you, challenge you and inspire you. It is a diverse community that is filled with energy and excitement – as the students say here "the vibez and the vine (spine) are synonymous"! We are so glad that you will be a part of it.

I want you to know that there are many staff members and partners who are available to you for guidance and support. I live on the property and also have an office within the Hall. Make sure to stop by and say hello. The staff here can be a great resource. Get to know your Resident Advisor (RA) on the first day that you arrive. Your RA lives on your tower or the adjacent tower. If you're ever confused about who to turn to for help, I encourage you to stop by the office or ask your RA for assistance in getting in touch with the right person. We are dedicated to making your time here as successful and fulfilling as possible.

 
Irvine Hall
The oldest of the existing Halls of Residence at the University of the West Indies (UWI), Irvine Hall was named in honour of Sir James Irvine. Sir James was the Chairman of the Committee which recommended the founding of the then University College of the West Indies (UCWI) which later became the UWI.

Irvine Hall opened its doors in 1950 and has for over 65 years provided a unique living-learning experience for its residents. Known as the Hall of Culture, Pride and Vybes, Irvine Hall provides an engaging community where students develop excellence in academics, politics, leadership, sports, arts and culture.

Our motto is 'Know Thyself' and underpins all the programmes and activities which are on offer to students. Here in Irvine Hall we equip our students to become their best selves.

Irvine Hall has made its contribution to the UWI and the Caribbean Region in several ways, including:
 The formation of the University Singers
 The formation of the Steel band called 'The Playboys' which developed into the UWI Panoridim Steel Orchestra
 Culturama – An annual Caribbean festival
 ard Wine – A widely anticipated Soca Event
 A long list of notable alumni including the Jamaican Opposition Leader Honourable Dr. Peter Phillips and Prime Minister of Trinidad and Tobago, Dr. The Honourable Keith Rowley
The leadership of Irvine Hall has been provided by stalwarts such as Sir Phillip Sherlock (1950-1959), Sir Frank Worrel (1961-1966), His Excellency Mr. Cedric Harper (1967-1993). Mr. Carlton Lowrie (1994-2010) and Mr. Jason McKenzie (2010-2014).

 
Video Tour
The Hall Song
Verse 1

I am proud to be a part of Irvine The hall of courage and pride. The hall with backbone, on top all alone, almighty God on our side. We send a challenge to anyone, as we are the Champions, and to Mona's problems the resolution, is an Irvine revolution.

Chorus

Irvine a don YES! De champion, YES! all victory belongs to Irvinia. Irvine a don YES! De Champion,YES! Champion Irvinia mash dung Chunsla Sickhole,Traila dem forever, all together Fear Irvinia De Champion!

Verse 2

Traila out a sea And Chunsla followe we, But dem lost for eternity We rule volleyball, football and netball our choir singing in the stands, our courage comes from our heritage, burning in our veins so blocks from A-G come sing along with me March on oh revolution.
The Hall Pledge
We pledge to dedicate our lives to the pursuit of truth, knowledge and excellence,

Striving always to make our lives a light to those around us.

Seeking always the interest of others, we dedicate ourselves and our abilities to the building of a better society, a brighter tomorrow for all mankind.

We shall forever keep the torch burning BRIGHT in our hearts and minds, never ceasing in our endeavors until we truly KNOW OURSELVES!!
Hall Management

Ms. Simone Williams
Student Services  Manager
Job Description
Assist in developing sensibility and a strong sense of self and purpose within the students. Prepare people who can positively influence the world

Ms. Kadia Gray
Resident Advisor
Job Description
Administration, Empowerment (A programme for second year students),Finalizing Student Experience, Block C (Chalice)

Ms. Kimiko Scott
Resident Advisor
Job Description
Debate and Public speaking, Girls Past the Age of Consent, Marketing and Communication (along with Dwayne Haynes),Block A(Alpha)

Mr. Dwayne Haynes
Resident Advisor
Job Description
The First Year Experience, Building, Retention, Preservation, Recording and Displaying of Irvine Hall's Culture, Performing Arts, Blocks E and G (Mafia and Genesis)
Mr. Kirt Henry
Resident Advisor
Job Description
The First Year Experience, Building, Retention, Preservation, Recording and Displaying of Irvine Hall's Culture, Performing Arts Blocks E and G (Mafia and Genesis)

Mr. Shane Nelson
Resident Advisor
Job Description
Leadership, Sports, League of Extraordinary Gentlemen,Block B (Siberia)
Visit the Student website
ACCOMMODATIONS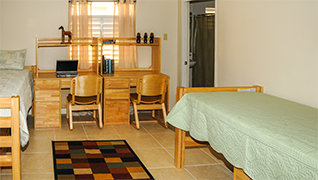 PROGRAMMES
First Year experience Residential programme
There are many support systems that first year students of the UWI will need in order to maximize their chances of success in the institution.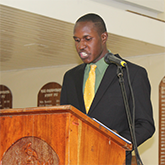 The Public Speaking and Debating Society
We welcome you to a place where you can 'VOICE A CHANGE'The Society opens ways for you to acquire, develop and apply lifelong communication skills.
The Irvine Hall Singers
Our Hall of Green and Gold is home to the melodious audience-thrillers, the Irvine Singers.
The Second-Year Transitional Experience Programme (STEP)
Program aims to empower second year students to excel through providing opportunities to enhance academic and professional success...
VIEW ALL
Open PDF
CONTACT