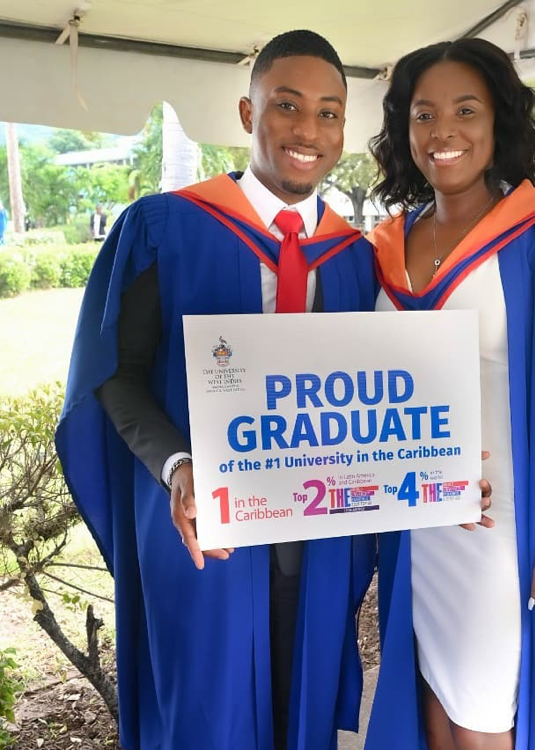 The UWI Mona at a glance
Fully Accredited
Ranked among the top universities in the world, by the most reputable ranking agency, Times Higher Education, The UWI is the only Caribbean-based university to make the prestigious lists. In 2020, it earned 'Triple 1st' rankings—topping the Caribbean; and in the top in the tables for Latin America and the Caribbean, and global Golden Age universities (between 50 and 80 years old).
Highly-qualified staff
As the Caribbean's leading university, it possesses the largest pool of Caribbean intellect and expertise committed to confronting the critical issues of our region and wider world.
A Green Campus
A sustainable campus coordinating mechanism is being established to monitor and drive green campus initiatives through an integrated whole college approach to sustainability.
Campus Life
Our reputation of excellence transcends our academic pursuits as students are able to hone their skills and discover their talent in track and field, cricket, football, basketball, rugby table tennis, swimming and becoming members of anyone of our various clubs and societies.
Relevance to the region
The UWI's rich history and cultural significance stands as a beacon of erudition and eminence in the Caribbean. Our eco-friendly campus hosts seven Faculties that offer an extensive range of accredited undergraduate, Master's and Doctoral programmes in Humanities and Education, Law, Medical Sciences, Science and Technology; all underscored by concerns of Caribbean society.
Our campus by the numbers
646
Number of Undergraduate Programmes (Major/Minor combinations)
247
Number of Graduate Programmes (Majors)
89
Number of Clubs and Societies
Within the region, The UWI Mona serves
16 countries of the Commonwealth Caribbean
The UWI: One institution, five campuses
The UWI, Mona: One campus, two locations
Kingston campus | Montego Bay campus