User Support Services
The User Support Services/Helpdesk Unit, is the window and first point of contact for all IT incidents reporting. The Unit provides a wide range of support services to the UWI Mona Community. The Helpdesk staff is trained to talk you through a problem whilst you are on the phone, coordinate and manage the needs of our walk-in customers and manage and execute the requests of our online customers. All IT incidents are logged in an Incidents Tracking System.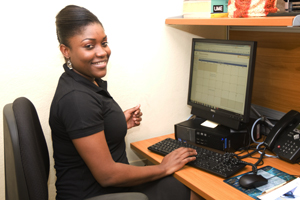 The general purpose of the User Services Unit is to provide effective and timely support for all users of the campus' IT services. This support unit is committed to delivering quality customer service and technical solutions in support of campus wide technology. To ensure quality control and optimum customer support, the Helpdesk provides the University of the West Indies Mona community with a Service Level Agreement (SLA) outlining priority levels and responsibilities relating to the support of technology.