We welcome you, our esteemed graduate, to the Mona School of Business and Management (MSBM) Alumni Portal. 
Your tenure at MSBM featured a wide range of activities that resulted in an enriching and life-changing experience that saw you developing skills to create and preserve wealth whilst building invaluable relationships with your peers and faculty.
Those benefits did not end when you graduated with a best-in-class education, but served as the genesis of a different and enduring phase of relationship with the School.
Among the School's many notable achievements, we are especially proud of our graduates as you actualize your career aspirations and make a worthwhile contribution to nation building through your endeavours in business, government and academia.
We know that you are proud to be a member of the growing community of outstanding MSBM graduates. There is tremendous value to be actively engaged in this community and we encourage alumni to stay connected. When you connect with your School and your fellow alumni, you connect with friends, you open doors for networking, you gain access to a range of benefits and very importantly - you get a chance to give back to the School.
This Alumni Portal forms just a part of a set of institutional arrangements that the School and the Alumni Association has developed to keep the links and camaraderie alive. Use this medium to share your news, update your contact information, or keep track of events.
We look forward to hearing from you. 
Be assured that we are absolutely focused on realizing the mission of MSBM and anticipate that, through our collaborative efforts, MSBM shall remain the premier business education institution in the region.
Mission: "To engage all Mona School of Business and Management graduates towards lifelong, participative membership, engendering ownership of the characteristics of the MSBM brand as leaders in the society, driven by passion, social responsiveness, excellence and innovation, and marked by a willingness to volunteer professional and financial support so that the University of the West Indies and the Mona School of Business and Management in particular, will be recognized as the premier institution of learning in Jamaica and the Caribbean."
Vision: "To be recognized as a network of quality professionals distinguished by a passion for excellence, the power to transform, creativity and innovation and a demonstrated concern for social, economic and business development within our community."
Meet our Executive Committee:
Image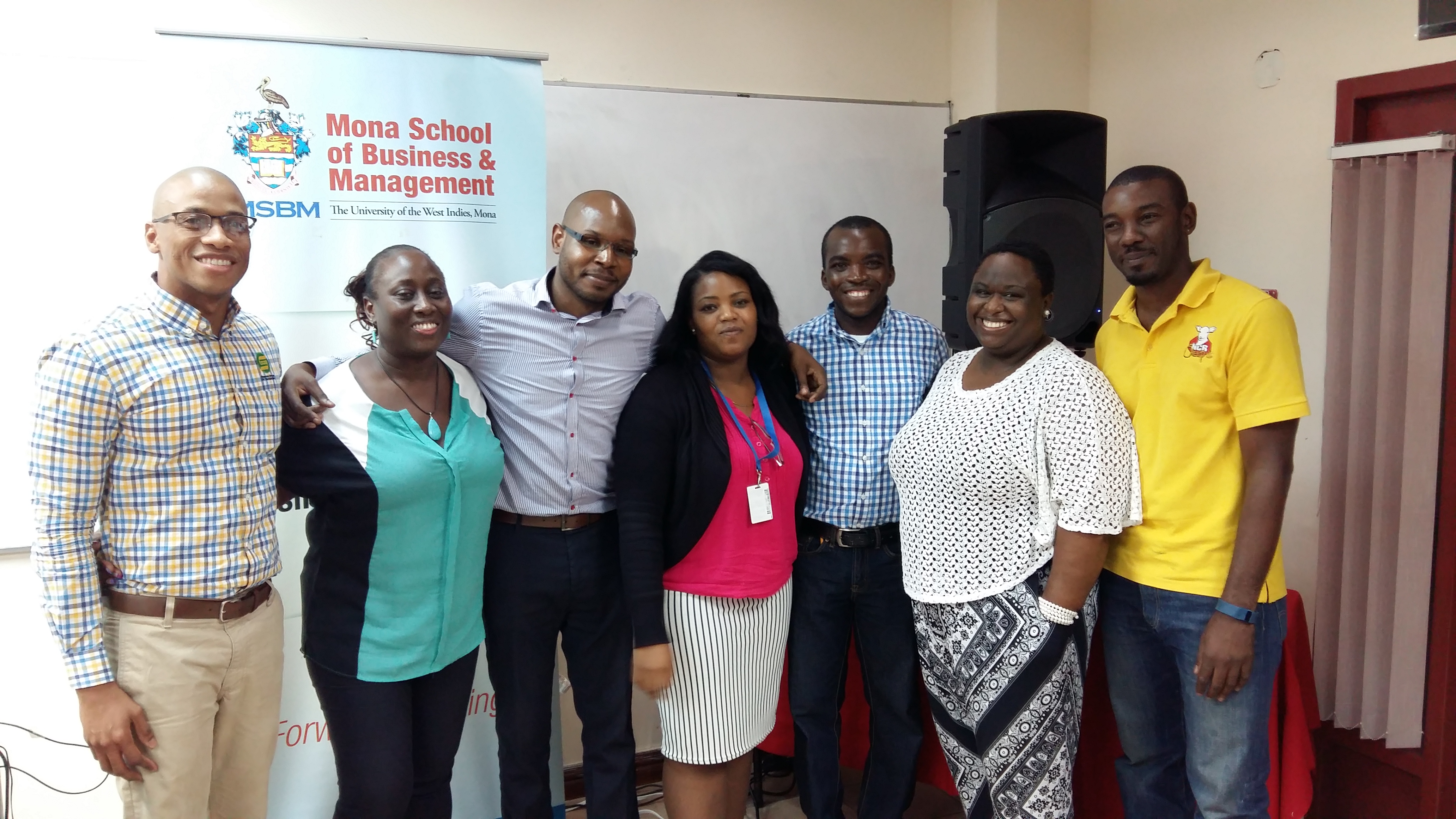 (Left to Right): 
Social Media Facilitator - Craig Williams
Treasurer - Maricia Hawes
President - Chrevaughn Legister
Secretary - Kadian Malcolm
Assistant Secretary/Treasurer - Dean Palmer
Public Relations Officer - Cherine Forbes
Vice President - Neville Graham