Dr. Sylvia Mitchell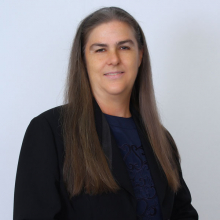 Dr. Sylvia Adjoa Mitchell, Senior Lecturer, is Head of the Medicinal Plant Biotechnology Research, a group she initiated in 1999. She is trained in various aspects of technology commercialization and has over 32 years experience with plant tissue culture including seven years at the Scientific Research Council.
Dr Mitchell supervises research students in biotechnologies related to plant propagation, medicine and nutraceuticals. Her own research includes development of medicinal plant monographs, in vitro physiology, on-farm research, plant tissue culture (somatic embryogenesis and micropropagation) protocol development, soil ameliorants (biochar) and product development. Some of the plants that have been studied include ackee, arrowroot, bamboo, chainy root, fever grass, ginger, guinea hen weed, neem, pineapple, sarsaparilla, sweet potato, turmeric and yam. Thousands of farmers and many communities across Jamaica have been directly impacted by training or by provision of planting material. Publications include 27 refereed articles, an e-book, book chapters, conference papers, technical reports; newspaper and magazine articles. During this time, she has supervised 24 undergraduate projects, 5 MPhil, 5 MSc projects and 4 PhDs.  
She believes the Caribbean has real potential to realize in the sustainable utilization of its' native plant biodiversity for food, herbs, species, fine chemicals, medicinals, nutraceuticals cosmeceutics, aromatherapy, furniture, and biofuels through the judicious use of biotechnology, a goal towards which she is diligently working.
Dr Mitchell has been a board member of the Bureau of Standards Jamaica (BSJ) and the College of Agriculture, Science and Education (CASE) and serves as the co-editor of the online newsletter of the Society for In Vitro Biology. Awards include UTECH award for contributions to Pharmacy in 2010, Best Paper award in 2016 from UWI for paper entitled 'TRAMIL ethnomedicinal survey of Jamaica', Appreciation Award from the BSJ for being part of the Technical Committee of the Year for Bamboo Standards in 2018, SIVB distinguished service award in 2015 and in February 2019 was named as a UWI graduate celebrated as one of the 70+ UWI Women of Distinction recognized for their outstanding achievements.