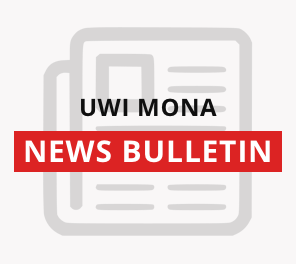 Consistent with the curtailment of human contact in order to contain the spread of the coronavirus, The UWI Mona wishes to advise of the suspension of walk-in services. These services include but are not limited to:
Technical support
Application for admission
Application for Status Letters and transcripts
Chapel bookings
Faculty services
Application for employment
Staff employment or benefit related matters
Our stakeholders can however continue to access these services via email, telephone calls, WhatsApp or text messages. For specific services please see below the relevant contact information for our various departments that provide walk-in services. Given the reduction of staff on Campus and the increase in the number of team members operating from home, please bear in mind that in some instances we will not be able to guarantee the agreed service standard that we have promised.
We crave your understanding and cooperation as we strive to serve you for as long as and as best as possible, while together we manage this crisis.
| | | |
| --- | --- | --- |
| Department | Email Address | Contact Information |
| Office of the Principal | | 876-977-9895/ 927-2253 |
| Office of the Deputy Principal | | 876-927-2114/977-0121 |
| Office of the Campus Registrar | | 876-977-1202 |
| Bursary - Payroll | |   |
| Bursary - Accounts Payable |  jacqueline.scottcrossley@uwimona.edu.jm; garfield.easy@uwimona.edu.jm |   |
| Bursary - Student Administrative Services Section | | 876-970-6733-35/ 876-280-8238 (WhatsApp) |
| Registry - Admissions | | 876-970-1002/ 927-2779 |
| Registry - International Students Office | | 876-702-3737/ 970-1869 |
| Registry - Registry Information Systems Unit | |   |
| Registry - Campus Records Management | | 876-977-7716 |
| Registry - Human Resource Management Division | | 876-970-6717 |
| Registry - Examinations | | 876-857-2350 |
| Registry - Marketing, Recruitment and Communications | marketing.communications@uwimona.edu.jm; recruiting@uwimona.edu.jm | 876-977-5941 |
| Registry - Office of Graduate Studies & Research | | 876-935-8263 |
| Registry - Secretariat | |  876-702-3990 |
| Registry - Chapel Services | |   |
| Mona Information Technology Services (MITS) | | 876-927-2148/ 876-499-2291 (WhatsApp) or www.mona.uwi.edu/mits (online chat) |
| Office of Student Services & Development | | 876-977-3880 |
| Library | campuslibrarian.office@uwimona.edu.jm; reference.library@uwimona.edu.jm | 876-970-6568/ 935-8296 |
| Estate Management Department | | 876-935-8339 |
| Faculty of Engineering | | 876-927-1640 |
| Faculty of Humanities and Education | | 876-935-8365 |
| Faculty of Law | | 876-702-4392 |
| Faculty of Medical Sciences | | 876-927-1752 |
| Faculty of Social Sciences | | 876-977-0640/ 876-395-0260 (WhatsApp) |
| Faculty of Science & Technology | | 876-977-1785 |
| Faculty of Sport | | 876-970-6921 |
| Institute for Gender & Development Studies | | 876-977-7365 |
| Business Development Office | |   |
| Western Jamaica Campus | | 876-564-5747 |