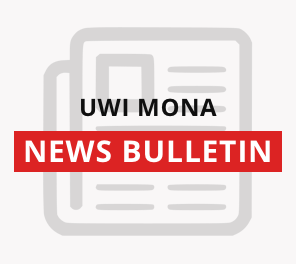 Dear Students and Staff,
On March 10, 2020, The Government of Jamaica announced the first case of the novel Corona Virus, COVID-19 in the country.
While there have been ongoing preparations nationally and here at The UWI the diagnosis of Jamaica's first case moved us from code green to code orange and from preparation to prevention of transmission; triggering a series of actions in keeping with WHO/PAHO and GOJ guidelines.
Our Emergency Management Team
Here on the campus our Emergency Management team composed of persons representing all aspects of the campus was activated. We have been carefully navigating the rapidly evolving challenges associated with the novel Corona Virus, COVID-19 and would like to thank everyone who has helped in alleviating fears by facilitating the actions needed for the good of public safety. Special thanks to the Guild of Students who have assisted greatly in keeping our students informed with official information from the University.
As we are a Regional University I have been consulting with the Vice Chancellor and with the knowledge that this situation is a national Public Health Emergency, I have been in dialogue with officials from government across both the Ministry of Health and Wellness and Ministry of Education as well as with several public health experts. In all these discussions the welfare of the students and staff have been paramount and will continue to be.
With a community of more than 20,000 students and staff combined from all across Jamaica, the Caribbean and the world; and with essential services located on the campus we have many issues to consider.
Closure of Schools
On March 12, The Government mandated the closure of schools, following two confirmed cases of the virus. On the same day of the announcement of government mandated closures, The UWI Mona announced (with effect from March 13, 2020) the suspension of classes, cancellation of mid-semester exams, and advised Jamaican students living on campus to return home. This was our response to the national call to reduce or remove large gatherings which are common areas for virus transmission. Being a regional institution the impact of our decisions on ALL campuses must be considered and this takes time even in today's technology-enabled environment. The decision taken to suspend classes was released prematurely, which caused anxieties among staff and students alike and we do regret this as we seek to improve our information management as we go forward.
The resumption date of April 14 immediately after the Easter break was selected to allow maximum time for Departments to prepare online-ready material to engage students. This will facilitate our attempts to continue course delivery and to bring Semester 2 to adequate closure even if later than normal.
Confirmed Cases
Between March 13-16, 2020, The Government announced 12 confirmed cases in the country. The UWI Mona announced the reduction of business operations the intention of which is to give HODs the authority to manage their staff in line with the exigencies of their operations. Departments should not be completely closed. One option is to develop a roster to allow a skeletal staff presence enabling others to work from home where possible. To facilitate a skeletal staff, our janitorial staff have been doing extra cleaning of administrative spaces. Due consideration should, however, be given to individual circumstances, for e.g. persons with: pre-existing health conditions; children at home; and the critical nature of the office's operations.
I appreciate that both students and staff alike have concerns, we are currently working to address them and seek your understanding as we prioritize your safety, while ensuring the continuity of education for students during this evolving situation. We are still in our second phase (Code Orange) and continue to support the Government in testing and planning.
If we move to Code Red
One of our primary aims at present is to prepare the online platform for continued education delivery while we prepare for the change in operations which will come if we move to Code Red where only essential services will be facilitated at the Mona Campus and there will be restricted access. Please bear in mind that unlike other institutions the Mona Campus cannot close due to the many essential operations and activates; such as our housing of 1000 regional and international students, our testing laboratories, our two health centres, police posts, electricity and cooling generation, water supply, all being based on the campus. We will however manage our space and our operations in the best possible way.
Your suggestions and ideas
As always, I remain open to your suggestions and ideas as we seek to garner collective wisdom to fight this new global threat. Please stay abreast of the information from credible sources using this to guide the safety of yourself, your family, your neighbours and your community in every decision and before every action. Remain calm and take all the necessary precautions. We will be in this for a while to come but we will be in this together.
Your Mona Campus is working hard to keep our students, staff and community as safe as possible.
Professor Dale Webber
Pro Vice-Chancellor and Principal