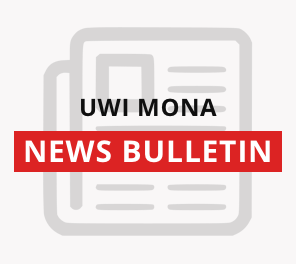 To Members of Staff and Students
As you are aware, in recent weeks there has been a spike in the COVID-19 positivity rate for Jamaica. This has impacted us on the Campus with several cases in our Halls of Residence, as well as in some Departments and Faculties.
As a result, the decision has been taken to suspend all face-to-face classes until further notice, except for clinical rotations. The suspension of classes took effect on March 1, 2021, and all students and members of faculty involved in face-to-face programmes were previously advised. Face-to-face library services are also suspended with immediate effect until further notice.
We have implemented a strict isolation and quarantine regimen on the Halls of Residence for those who tested positive and those deemed to be exposed and similarly mandated home quarantine for any member of staff deemed to be exposed to COVID-19.
In keeping with the Prime Minister's recent announcement regarding new COID-19 measures, the Campus will implement the following effective March 4, 2021, to March 22, 2021, to be consistent with the National position:
ATTENDANCE ON PHYSICAL OFFICE
Only those members of staff who are deemed essential by their Head of Department to work from the physical office to maintain service delivery to our face-to-face customers and to carry out other critical services and operations of the campus; and those who are unable to work from home will be required report to work in the physical office space. All other members of staff are required to work from home where possible, effective Thursday, March 4, 2021, to March 22, 2021. For those team members deemed critical to work from their physical offices, appropriate rotation schedules should be implemented.
CONDUCTING BUSINESS ON CAMPUS
Only persons with essential and or legitimate business on Campus will be permitted to visit.
       Staff and students are reminded to wear ID cards visibly. Students who are not residents on campus should not be on               the campus unless conducting business. Loitering on campus will not be permitted.
      Visitors to the campus should indicate their reason for visiting when approached by security personnel. Loitering on                campus will not be permitted.
REMINDER: COVID-19 PROTOCOLS
All staff, students, and visitors to the Campus are being reminded to be disciplined in following all established COVID-19 protocols to include:
      • Proper wearing of masks/face coverings when in public spaces (covering nose and mouth).
      • Maintaining physical distance (2 meters/6 feet) at all times.
      • Washing hands frequently with soap and water, and sanitize hands frequently when washing isn't possible.
      • Staying home when ill.
      • Avoid using personal devices, workspaces, work tools, and equipment of others.
      • Report to supervisors/Hall Managers any situation which may affect the health of other employees/students.
PSYCHOSOCIAL SUPPORT
We encourage all members of our community to seek psychosocial support if needed.
     a. For more information on University Counselling Services, you may call
        876-970-1992 or WhatsApp the Unit at 876-856-5758;
     b. For immediate assistance call 876-UWI-HELPS or 876-294-0042;
     c. Or contact your private health care provider for support.
We look forward to your continued support as we navigate this challenging period in our country.
DONOVAN STANBERRY, PhD
CAMPUS REGISTRAR