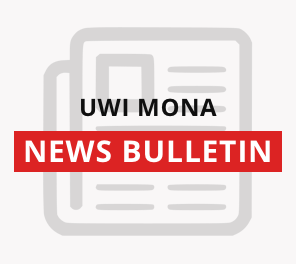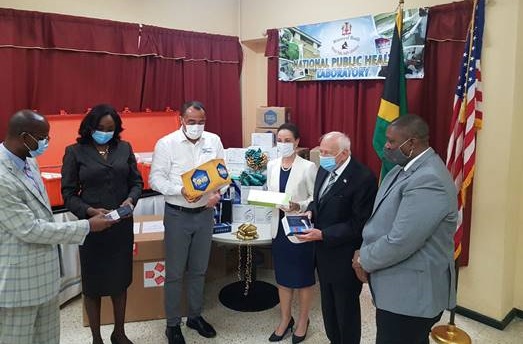 From Left: Dr Varough Deyde – Director, Centres for Disease Control and Prevention (CDC), Caribbean Regional Office;
Dr Michelle Hamilton – Director of the National Public Health Laboratory; Dr The Hon. Christopher Tufton – Minister of Health and Wellness, Jamaica; Senator the Hon. Kamina Johnson-Smith – Minister of Foreign Affairs and Foreign Trade, Jamaica; Ambassador Donald Tapia – US Ambassador to Jamaica and Mr Charles Grant – Director General, International Centre for Environmental and Nuclear Sciences (ICENS), The UWI
The University of the West Indies (The UWI), through the International Centre for Environmental and Nuclear Sciences (ICENS) has brokered a deal for a welcomed donation of COVID-19 testing resources for Jamaica. Director of the ICENS, Charles Grant negotiated with the International Atomic Energy Agency (IAEA) for the donation of a real-time reverse transcription polymerase chain reaction (RT-PCR) machine and 2000 testing-kits valued at approximately US$100,000.00.
According to the IAEA, RT-PCR is a nuclear derived technique that allows for rapid detection, tracking and study of COVID-19 and other viral diseases. It is one of the most accurate laboratory detection methods and is able to deliver reliable diagnoses in as little as three hours. When compared to alternative virus isolation methods, RT-PCR is significantly faster and reduces the potential for contamination or errors.
Commenting on the deal, Mr Grant said "Jamaica has had a longstanding and fruitful collaborative history with IAEA particularly with the Technical Cooperation Division, with whom Jamaica has partnered on numerous national developmental projects. This latest donation will play an important part in our fight against COVID-19. I would also like to thank the Government of the United States of America who provided much of the funding for the donation."
Professor Clive Landis, Chairman of The UWI COVID-19 Task Force also noted that the University's response to COVID-19 has been both rapid and sustained. "The UWI through its COVID-19 Task Force has been an integral component of the region's planning and response to the pandemic even before the first case was registered in the Caribbean. The success of the region's response thus far has been based on accurate and timely testing and surveillance along with close collaboration between governments, the health and non-health sectors, the disaster and emergency relief agencies, The UWI, and our international partner agencies. It is pleasing to see ICENS broker such a generous donation from the IAEA that will strengthen the testing infrastructure of Jamaica, helping to keep citizens safe," he said.
The ICENS has received high commendation by Jamaican Minister of Health and Wellness, Dr The Honourable Christopher Tufton who expressed his gratitude and noted that the donated resources will aid in meeting the increased testing requirement in Jamaica. The testing resources were handed over to the National Public Health Laboratory on July 16, 2020. ICENS Director General, Mr Charles Grant represented The UWI.
 Notably, for his work leading the International Centre for Environmental and Nuclear Sciences (ICENS) Mr Grant is also nominated to receive this year's UWI Vice-Chancellor's Award for outstanding contribution to public service.