Event Date:
Wednesday, 30 November 2022 - 6:00pm
Event Venue:
Lecture Theatre 3, Faculty of Law, The UWI Mona campus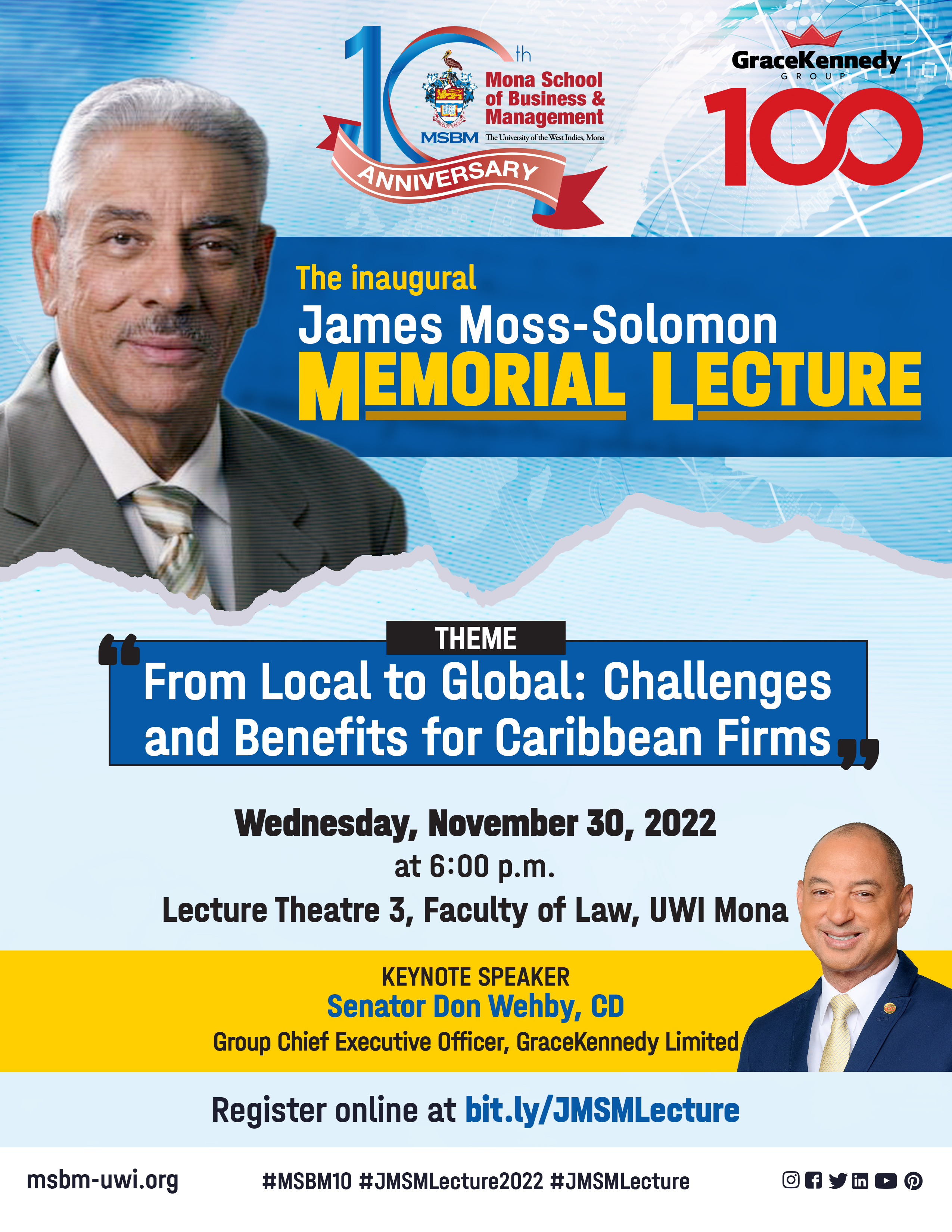 Mona School of Business and Management (MSBM) will host the inaugural James Moss-Solomon Memorial Lecture at the Faculty  of Law, University of the West Indies (UWI) Mona, on Wednesday, November 30, 2022 beginning at 6:00p.m.. The lecture will be delivered by Senator Don Wehby, Group CEO, Grace Kennedy and Co Ltd under the theme "From Local to Global: Challenges and Benefits for Caribbean Firms".
Making the announcement, Executive Director of the MSBM Dr David McBean said "Jamaica lost a gifted and loyal son of the soil with the passing of James "Jimmy " Moss-Solomon earlier this year. He was a business executive, philanthropist and mentor extraordinaire who was instrumental in building a meaningful relationship between the university and industry. We had the privilege of his amazing intellect and experience as Executive in Residence at the MSBM where he leveraged his years of executive management experience, social capital and vast personal and business networks to provide tremendous support to faculty, staff and students. In honour of his life and legacy, MSBM will launch this lecture series to bring together members of academia and industry to contend with the business and management issues which were so dear to him."
A respected captain of industry, Mr Moss-Solomon was a former president for two consecutive terms of the Jamaica Chamber of Commerce; Vice President of the Private Sector Organization of Jamaica; President, Caribbean Association of Industry & Commerce and Private Sector Advisor to the Caribbean Regional Negotiating Machinery.    
Noting that Mr. Moss-Solomon's career encompassed major executive roles at GraceKennedy & Co Ltd., including Executive Chairman of Hi-Lo and Medi-Grace Ltd, Founding Director of the Grace & Staff Community Development Foundation and the GraceKennedy Foundation, Dr McBean said "the MSBM is honoured that Sen. Wehby has agreed to present the inaugural lecture. He is  uniquely placed to do so based on his close association with  Mr Moss-Solomon as well his vast experience in international business and trade.
This lecture takes on additional significance as the MSBM this year celebrates the 10th Anniversary of the merger of two formidable forerunners -  Mona School of Business (MSB) and the Department of Management Studies (DOMS), UWI, Mona.
Dr McBean said "As we celebrate a decade of excellence and innovation, MSBM continues to provide outstanding business and management education opportunities of the highest calibre with a cadre of graduates that are making significant contributions in Jamaica and the region. Jimmy  was a major catalyst for the School's advocacy role in offering a series of Public Fora that facilitated discussions on topical business and management issues and also served as Guest Lecturer for several courses".  "MSBM is therefore proud to preserve his legacy in this way" he asserted.
Register to attend the James Moss-Solomon Memorial Lecture at: bit.ly/JMSMLecture
Audience:
General Public
Staff
Student