Event Date:
Friday, 22 October 2021 - 1:00pm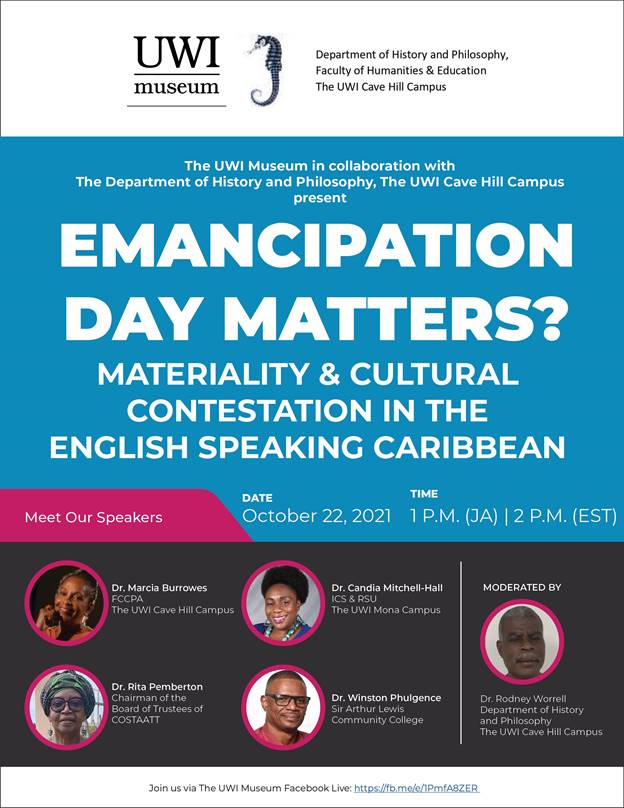 Join the discussion on why Emancipation Day matters, Friday, October 22, 2021, at 1:00 pm.
"Emancipation Day Matters? Materiality and Cultural Contestation in the English Speaking Caribbean" is the second of a three-part programme exploring the contested history of Emancipation Day as a national day recognizing the end of slavery. While panel 1 focused on the contested history of Emancipation Day in Jamaica, panel 2 explores histories of Emancipation Day celebrations in the English speaking Caribbean with reference to St. Lucia, Trinidad and Tobago and Barbados.
Follow the UWIM on Facebook  and Twitter to receive updates on the event.
Watch live on UWI Museum Facebook Page 
CONTACT INFORMATION
UWIM Curator - Dr Shani Roper
Tel:  876-977-6065
Email: shani.roper@uwimona.edu.jm
Website:  https://uwi.edu/museum/
 
Audience:
General Public
Staff
Student