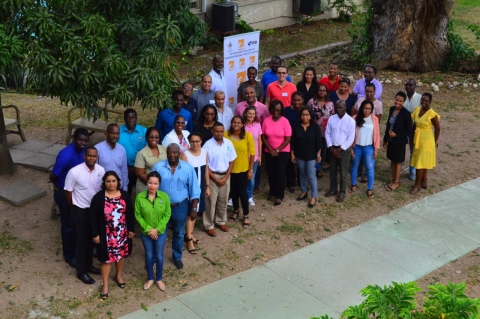 The Climate Studies Group Mona (CSGM), through the Investment Plan for the Caribbean Regional Track of the Pilot Programme for Climate Resilience (PPCR), hosted the Caribbean Climate Modelling Consortium Meeting on August 7-8 at The Faculty of Science and technology, The UWI Mona.  
The objectives of the meeting were:
1.To review and update work plan for the Modelling Consortium;
2.To discuss new regional climate projects, emerging science issues and funding opportunities;
3.To discuss the analysis and dissemination of latest model runs and decide on next set of simulations to be generated;
4.To provide an opportunity for networking among researchers and practitioners particularly for new members to the group.
Participants were from across the Caribbean region and other organisations with a vested interest in Climate Change Research. The representatives were from Cuba, Haiti, Guyana, Trinidad and Tobago, Barbados, Belize, St Lucia, Suriname, Germany, California and Jamaica. A multidisciplinary collection of researchers were featured, which investigates the multifactorial implication both past and present of Climate Change.
The Meeting also provided an opportunity to celebrate 25 years of Caribbean Climate Science Initiatives since the establishment of the CSGM in 1994.