FST Achieves Another "F1RST"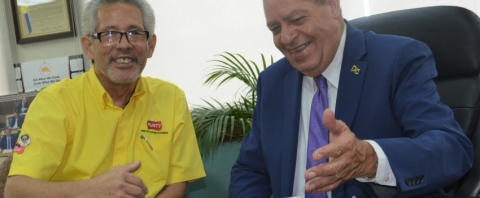 In collaboration with Consolidated Bakeries, the UWI has been able to supply the cassava flour and technical support to assist in the development of the F1RST ® brand cassava bread and gluten-free N'UFFINS being launched by Purity. 
The cassava flour being used in these F1RST ® branded products is produced at the UWI – Agricultural Research and Innovation Facility (ARIF) located in Elim, St. Elizabeth from cassava roots produced by Jamaican farmers. It is 100% natural, with no additives, bleaching agents or preservatives. The cassava flour is also GMO and gluten free.
But what is gluten? And what are the benefits of gluten-free products?
Gluten is a natural storage protein found in cereals, such as wheat, barley & rye but it is not present in cassava. Gluten can induce an autoimmune disease – called celiac disease (CD), in which susceptible individuals who cannot digest gluten become severely ill when gluten is introduced into their diet. Some persons are gluten intolerant and must avoid gluten due to medical reasons. Other persons may voluntarily avoid gluten because they have adopted a heathier life-style choice, in much the same way that persons may choose an organic diet, or to avoid genetically modified foods.
The production, marketing and sale of natural reduced gluten and gluten-free products is therefore satisfying an important segment of the consumer market, including those individuals interested in making healthy lifestyle choices.
Related Articles:
Shaw lauds F1RST brand cassava bread:
http://www.jamaicaobserver.com/latestnews/Shaw_lauds_F1RST_brand_cassava...
Shaw lauds F1RST brand cassava bread:
http://jamaica-gleaner.com/article/news/20190401/shaw-lauds-f1rst-brand-...
Towards Food Security: The Production of Cassava Flour 
[A Model System for Carbohydrate Rich Foods]
https://www.mona.uwi.edu/fst/researcher-ian-thompson;
UWI Goes Commercial
https://www.mona.uwi.edu/cop/news/uwi-goes-commercial;