FST Students Selected for Huawei's "Seeds for the Future"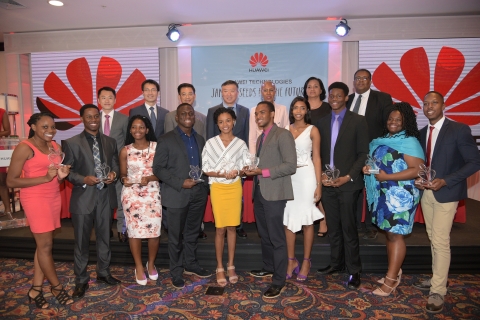 "Seeds for the Future" is Huawei's flagship Corporate Social Responsibility program, aimed at training and developing local talent in the Information and Communication Technology (ICT) sector, through an ICT technical immersive programme at the headquarters in Shenzhen China. Selected students also benefit from a Chinese cultural learning experience in the city of Beijing.
Students selected including members of the Faculty of Science and Technology, UWI Mona namely - Kymani Anderson, Nathaniel Christie, Galen Hare, Jordan Madden and Nathan Downer - were chosen on the basis of criteria such as their career goals, their vision about ICT development in Jamaica, and attitude toward learning Chinese culture.
A departure ceremony was held on Thursday, August 22 at the Pegasus Hotel in celebration of the selected students and their respective institutions. The programme which was expertly moderated by media personality, Terri-Karrelle Reid, featured commendations from the Minister of Science, Energy and Technology, Hon. Fayval Williams; the Amabassador of the People's Republic of China in Jamaica, H.E. Ambassador Tian Qi along with Professor Michael Taylor, Dean of the Faculty of Science and Technology, The UWI Mona; Professor Nilza Aples, Dean of the Faculty of Engineering and Computing, UTech Ja; and Mr. Allen Chen, Country Manager (outgoing) of Huawei Technologies Jamaica.
As a leading ICT organization, Huawei is committed to supporting and promoting local talent in this sector through the "Seeds for the Future" programme.  This year, an increased number of five (5) students from the University of The West Indies, Mona, Jamaica, and five (5) from the University of Technology, Jamaica were selected to participate. FST wishes all students an exciting and enriching experience in China!