Jhannel Tomlinson Prepares to Participate at the UN Youth Climate Summit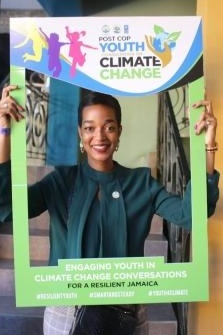 "The United Nations last week announced Jamaican climate activist Dainalyn Swaby among 100 outstanding young climate champions around the world to have been awarded 'Green Tickets' to participate in the UN Youth Climate Summit on September 21 at UN Headquarters in New York.
The 100 'Green Ticket' winners will receive funded travel as carbon-neutral as possible to New York to attend the Youth Climate Summit, after being selected from a group of more than 7,000 applicants aged 18 to 29, based on their demonstrated commitment to addressing the climate crisis and advancing solutions. Recipients represent countries from all regions.
The United Nations Development Programme (UNDP)-implemented Japan Caribbean Climate Change Partnership (JCCCP) has also announced sponsorship of two other Jamaicans to attend the Youth Climate Summit among a contingent of 11 JCCCP-sponsored Caribbean youth. The Jamaicans are Michael Morgan, media and communications director, Caribbean Youth Environment Network, and Jhannel Tomlinson, PhD candidate blogger and Commonwealth correspondent for Global Young Voices.
Both Morgan and Tomlinson were country delegates at the 2017 JCCCP-hosted Caribbean Youth Climate Change Conference and have all gone on to form a non-profit called Youth Climate Change Activists.
The Jamaican delegates will join the more than 500 young climate leaders selected to participate in the first-ever Youth Climate Summit at the UN. The Summit will provide a platform for young climate leaders to showcase their solutions on a global stage and engage directly with decision-makers on the defining issue of our time."
Read entire article below: