The UN Youth Climate Summit: Action Over Reaction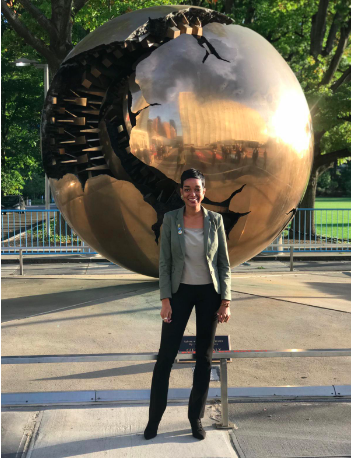 Ph.D. candidate in the Department of Geography and Geology, Jhannel Tomlinson recently attended the UN Youth Summit which brought together over a thousand young people on the grounds of the UN Headquarters on September 25. It was a culmination of young action agents personifying the idea of #ActionNow who were "smart and steady in getting climate ready". It provided an opportunity to discuss the issues and challenges facing the world,  in particular vulnerable Small Island States where fellow young activists who were also experiencing the devastating impacts, took advantage of the avenue for sharing, learning and calling for urgent action. 
The agenda included different sessions geared towards improving access to financial capital, activism and social media engagement, fearlessness and the importance of intergenerational leadership.
While the Caribbean youth were not offered a space among the official guest speakers and presenters, participants ensured our individual and collective voices were heard and that the urgency of climate action was the message delivered. 
Caribbean-based attendees grasped opportunities to speak on behalf of the region sharing views and perceptions of the efforts needed, via several media interviews.