UWI Research Days App Developed by FST Students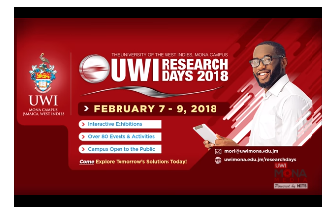 The UWI Research Days App is a tool that will streamline and enhance the Research Days experience. The app was implemented as a Progressive Web App (PWA), which makes it  easy to install, fast, reliable and secure - other PWAs include Instragram, Twitter and Google Maps. Once the app is downloaded, the information is available offline, so it can be used even when there is no WiFi signal. The app has a number of features to make the Research Days experience more interactive. There is a mapping feature that will show the location of events around the campus. An embedded QR code scanner allows users to access additional information about the research being highlighted in the Mona Research Village by scanning the QR codes on the displayed posters. The schedule tool is a searchable list of all the events taking place on Research Days. Searches can be customised to filter events by Faculty and venue, making it easier to find the events you are most interested in attending. Finally, if you are unable to attend an event, the app allows you to live stream, directly from the app, any event that is being streamed.
This cutting edge app was developed by students (Rowan Atkinson, Nathan Downer and Zidane Wright) and technical staff (Bruce Hoo Fung) from the Department of Computing, supervised by Dr. Andre Coy from the Department of Physics.
Download the app from https://bit.ly/urd2019.