Document Management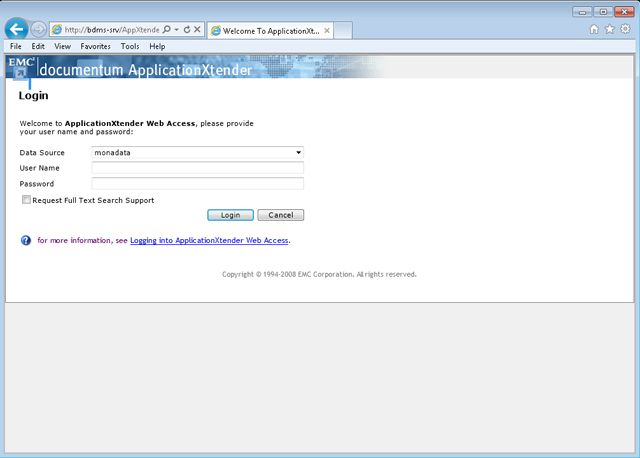 Banner Document Management System (BDMS) is an imaging and electronic document management system. BDMS was designed by Sungard Higher Education to meet the imaging and document management requirements of its clients.
This product (BDMS), represents the integration of both Banner (a software) and EMC Documentum's Document Management products: AppXtender and AppXtender Web Access. BDMS is integrated into Banner's functional areas: Advancement, Finance, Financial Aid, Human Resources and Student, to improve efficiency and supplement the decision making process through easy access to relevant documents.
BDMS allows you to:
Query specific images or documents from within a Banner Form.
Limit the scope of the query based on document type, and where desirable, to Banner Form level, block level, item level, or value level.
Email images/documents to another user.
Annotate the images.
Update Banner data based on the receipt of the appropriate documentation.
In addition, AppXtender and AppXtender Web Access can be used stand-alone, outside the Banner environment, as a repository for documents unrelated to Banner data.
The advantages of going paperless are considerable:
There will be no need to search for lost folders or documents
Having the ability for multiple offices to access the same folder from around campus.
The system also provides a layer of security allowing searches for document from within Banner, while ensuring that information can only be seen by those with appropriate permission.
Documents can be retrieved by an authorized user through a Web browser, such as Internet Explorer. This will sever to reduce the access time for document which has to travel form file room to desk. With the possible integration of a workflow software or (banner workflow) the length of time required to process documents can be significantly decreased.
Document can be automatically routed from one office to another, where it can be modified or "signed." As they are scanned and index into the system.
Who's using it now?
The Records Management Unit has been the first office to begin using the document management system with a pilot project in which documents were digitized for the first paperless appointment committee meeting in 2010. Since then they have scanned and indexed over XXXX document for including old student card and archived applications data.
Who will use BDMS the future?
The UWI long term goal of running a paperless environment will require buy in from all departments and sections of the university. However the Admission and the Bursary department respectfully in the short term, will come on board by the end of 2012 as we are currently working out the process requirement to facilitate proper scanning and indexing of document in these section in a hassle free and secured environment. As the campus move toward a secured paperless environment, BDMS is helping us achieve our goals.