Internship Programme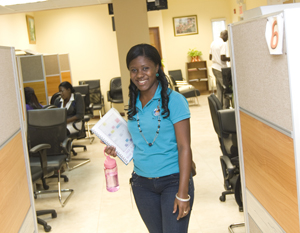 In support of the University's sensitivity towards "Student Centredness", Mona Information Technology Services has established a programme to engage students on a part time basis in our work programmes.
To the student there are four primary gains:
acquisition of technical skills
enhancement of social skills
work experience
financial assistance
The gain for MITS is that it allows for managed expansion of our resource base. Our student assistants are often exposed to the technical and business environment and to business related interactions and projects.
The gain for the University is that employers have been extending their commendations regarding our output of past interns who have acquired outstanding team and leadership skills along with multiple dynamic technical skills.
In support of the Internship Program, the User Services Manager has generated a job performance database. The objective of this initiative is to document the work history of all Interns and to produce employment references for prospective employers when requested.
Interested students may email their applications to mits.internship@uwimona.edu.jm.