Danielle Mullings - Friday AM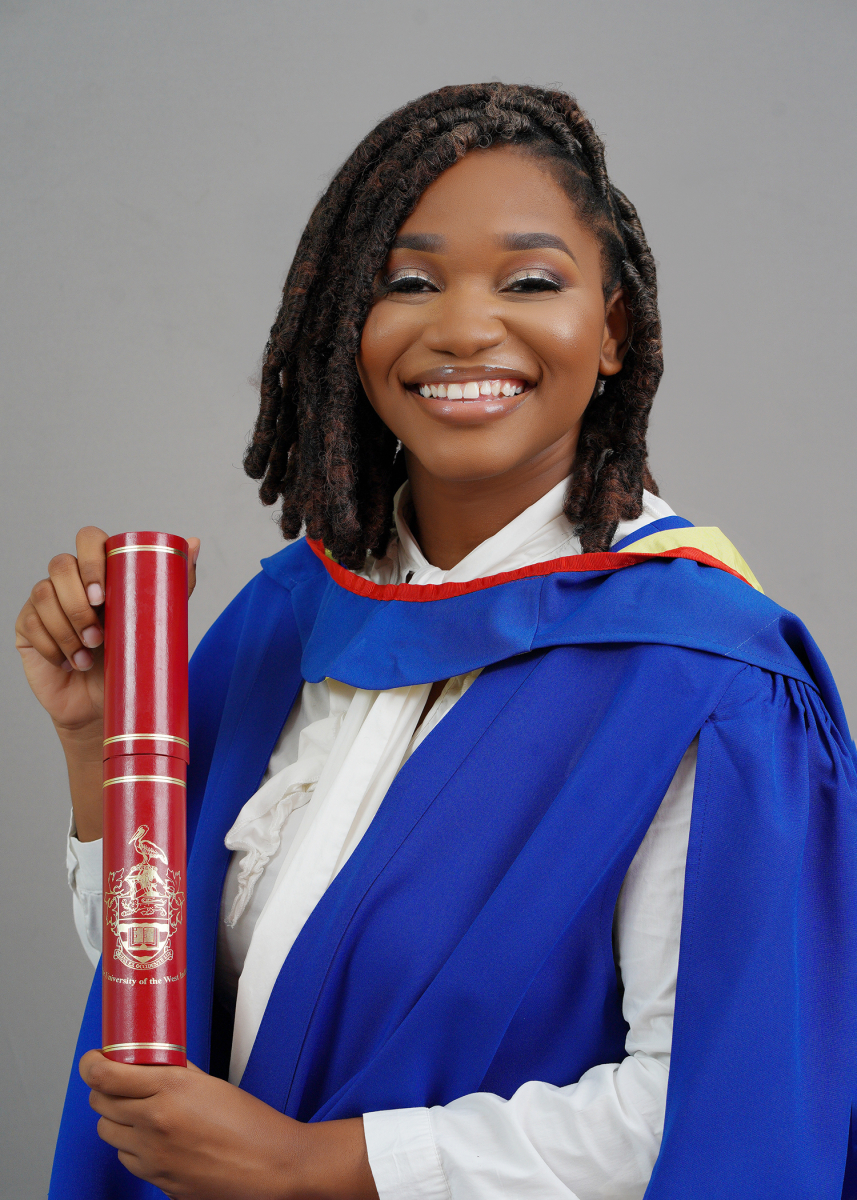 Ms. Danielle Mullings is a multidimensional graduate of the Faculty of Science and Technology with interests including technology, leadership, and the arts. Danielle found her love for technology at Campion College, where she placed regionally and nationally in the Caribbean Advanced Proficiency Examination (CAPE) Computer Science while balancing her role as head girl. This UWI Open Scholar has previously made the Dean's List and received academic commendations for her performance over the years. Said to be "one of the field's brightest young minds," Danielle believes strongly in the power of technology and innovation in edifying society and would ultimately like to work in areas with civic applications of technology. This complements her work as the Impact & Partnerships Officer for Transform Health, a global coalition aimed at using technology as a catalyst for universal health coverage. She aspires to become a world leader in technological representation for the Caribbean and Latin America, focusing on enhancing the Caribbean's pursuit of the Sustainable Development Goals (SDGs).
Exciting for Mullings is the opportunity to work with youth groups on other key digital health initiatives, including the Governing Health Futures 2030 operated by the Lancet and Financial Times commission. A champion for advocacy, Mullings was also recognized as one of the Young Experts in Tech for Health in the Americas Region. In addition, Mullings was also a UNICEF U-Report Jamaica ambassador. She is the immediate past President of the Guild of Students at the University of the West Indies, Mona, where she has led fund-raising campaigns geared toward providing access to laptops for students on campus and teaching students about the opportunities in the technology industry.
Danielle is also passionate about media and communications. In addition to producing and hosting the Television Jamaica series, GenZed, she also partakes in the documentary-making process, which she sees as the gateway to cultural retention and the edification of regional identity. She aims to advance the Caribbean's capacity to accurately represent its own stories.
She has a natural affinity for leadership and youth empowerment and thus serves on youth councils, both locally and internationally, representing the voice of young people in technology, education, communications, and tech for health.
David Salmon – Friday PM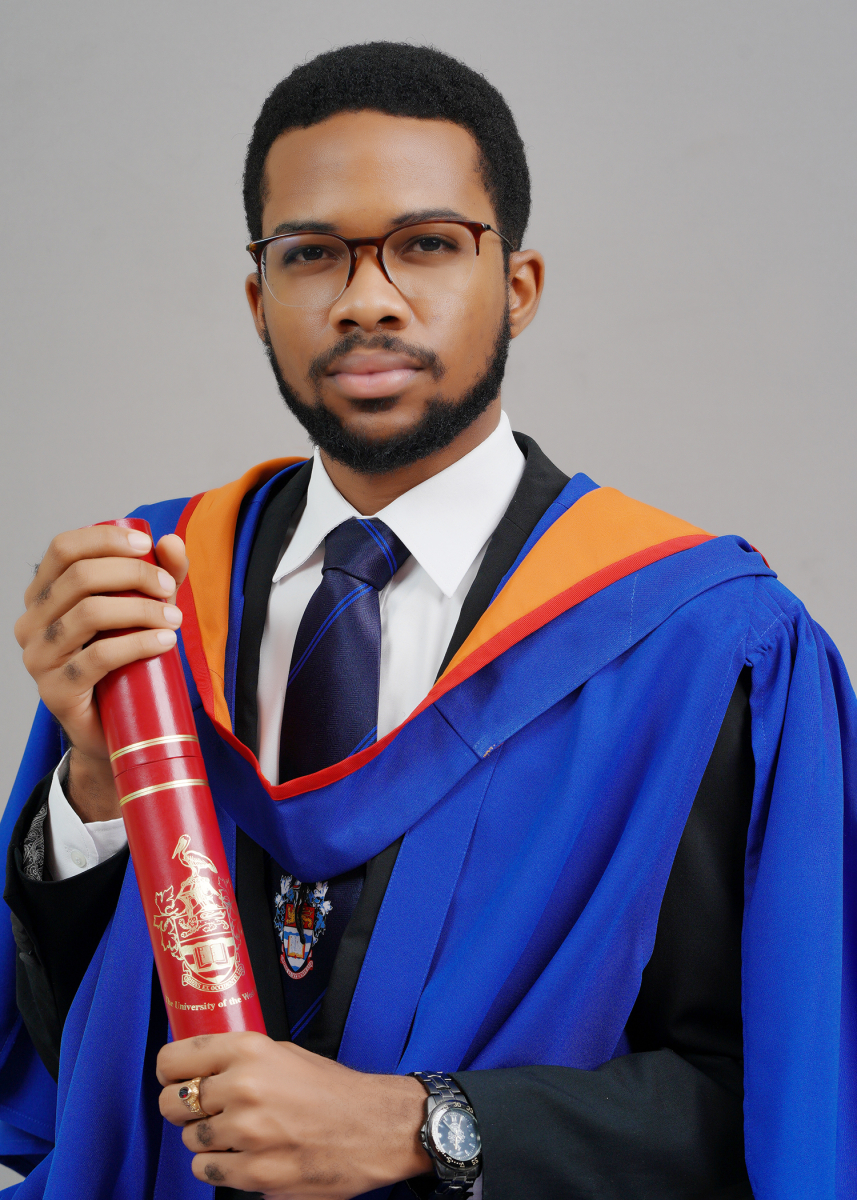 Guided by his grandfather's maxim, "The word 'can't' does not exist, remove it from your vocabulary," David has sought to take on new frontiers with confidence and determination. When he first stepped through the gates of The UWI, Mona, David was a student of the Faculty of Law who just graduated from his alma mater, the Wolmer's Boys' School. Little did he know at the time, that law was not to be his final destination. Less than two weeks after starting, he decided to transfer to the Faculty of Social Sciences to pursue a BSc in Public Policy and Management. This decision changed his life and David has never looked back.
Excellence has been his defining quality. He received the coveted UWI Open Scholarship. While in 2021, he received the Caribbean Civilization Prize for being the course's top-performing student. That same year he received the Paulette L. Wilson Prize for best performance in Introduction to Public Policy and Management final examination, the Archie Singham Memorial Prize for best performance in the courses Foundations of Caribbean Politics and Politics of the Caribbean and the Carl Stone Memorial Prize for best performance in Research Methods in Governance I and II. While in 2022, he received the Faculty of Social Sciences Academic Achievement Award for having the second-highest GPA.
David also took a keen interest in campus life as he pursued his talents to the fullest. He served as Vice President of the UWI Debating and Public Speaking Society in the 2020/2021 academic year where he organized the society's first successful online award ceremony. He was also a part of the Faculty of Social Sciences Honours Society and the Society for Future Policy Leaders. He brought recognition to the university as he was the Best Debater at the 2022 JADE Debate Academy and Open (JDAO) competition.
Additionally, he was a part of the winning team that successfully defended their title in the JADE National Collegiate Debating Championship (NCDC) for both 2021 and 2022. He received the award for the best debater in both competitions. Additionally, he represented the university in the World Universities Debating Championship in July 2021. For his performance, David received the JADE Debater of the Year Award (2019 – 2020) and the UWI Certificate for Outstanding Performance in Culture for the field of Debating (2022). David also represented the UWI at the Harvard Model United Nations competition which was held in Boston (February 2022).
David is a prolific writer and award-winning journalist who frequently published articles in the Daily Gleaner. Throughout his time at the UWI, he wrote over 250 news stories and columns that tackled thorny issues or proposed solutions to pressing problems in society. In 2019, while in his first year at university, he was the recipient of the Press Association of Jamaica (PAJ) Morris Cargill Award for Opinion Journalism 2019 at age 19. He has been shortlisted for this award and the Young Journalist of the Year Award each year since then. Moreover, he was the winner of the Chancellor Hall's essay competition in 2020 and the Jamaica Special Economic Zone Authority Essay Competition in 2021. While this year, he presented at the West Indies Economic Conference hosted by the UWI Department of Economics and Caribbean Studies Association (CSA) Young Scholars Dialogue which was held last year.
Due to his efforts to relaunch the Jamaica Prefects' Association, David was awarded the Prime Minister National Youth Award for Nation Building in November 2019. Since then, he served as Surrey County coordinator for the National Youth Parliament of Jamaica in 2020, ending his tenure as Prime Minister for the eleventh staging of the sitting. Throughout his tenure, over 880 young people benefitted from the online seminar series the county hosted. He also facilitated the donation of 1,350 textbooks to five (5) high schools in St. Thomas and Portland. David is the founder of the New Jamaica Foundation (NJF), which is an organization whose mandate is to promote youth development. Over the years, the NJF has hosted numerous workshops, planned donations and hosted exam revision sessions for hundreds of secondary school students. For his academic performance and community involvement, David received the Governor-General Achievement Award for the parish of St. Andrew in 2021.
He is eager to make his contribution to national development. Since January 2021, he has served as the Regulations and Certification Committee Chairman of the board of the Early Childhood Commission (ECC). In this position, he successfully advocated for the declaration of the Year of Early Childhood Development which was made by Proclamation by Governor General, Sir Patrick Allen in January 2022. During his tenure, the number of delinquent early childhood instructions (ECIs) fell dramatically from 140 in February 2021 to 54 in August 2022. His committee also published the inaugural Assessment Report of Early Childhood Institutions in March 2022, which provides the inspection scores of all ECIs throughout Jamaica.
This year, he will be pursuing a Master of Philosophy in Development Studies at the University of Cambridge after receiving the HRH Prince of Wales Scholarship.
Akeelia Richards – Saturday - AM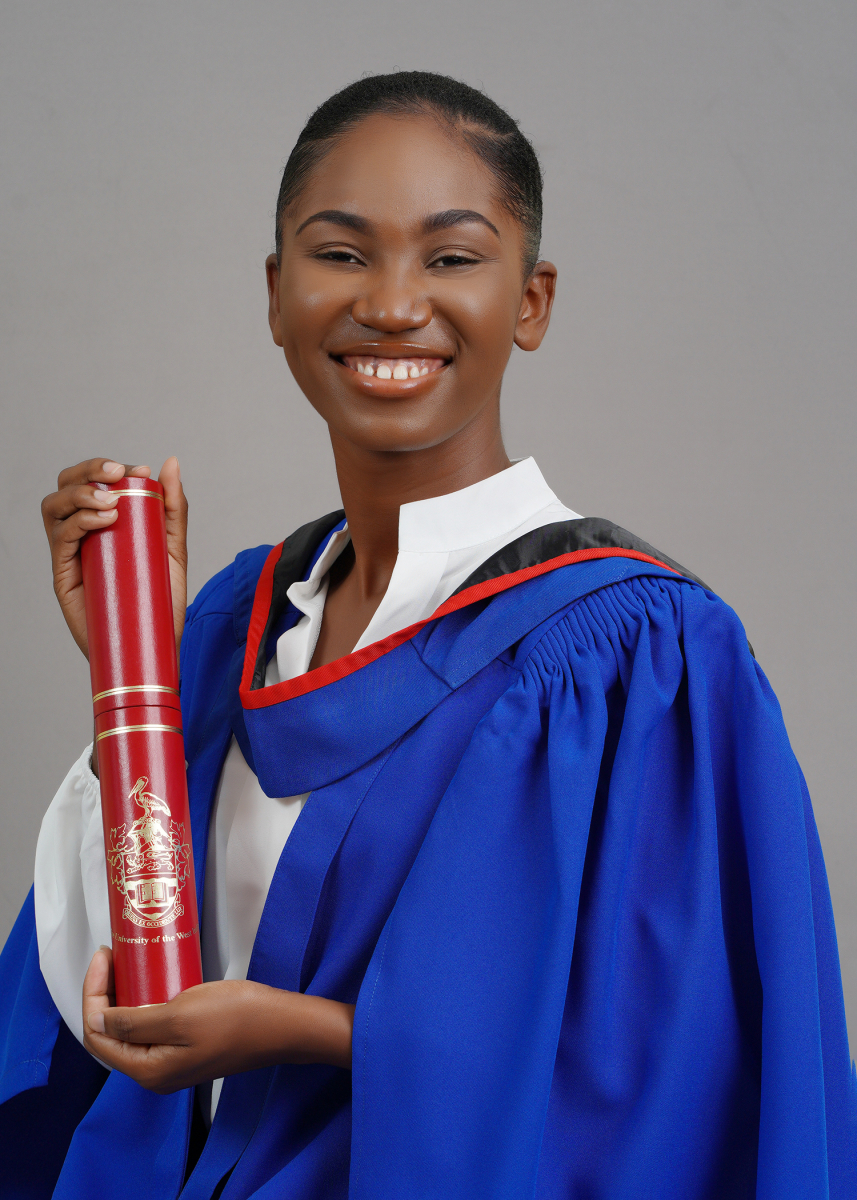 The Creative Advocate, Akeelia Richards, is a passionate and adventurous 21-year-old, who blends her love for the law and arts.
Hailing from White River, Ocho Rios, she is the last of six children, having three sisters and two brothers. Both she and one of her sisters relocated to St. Catherine and attended Ardenne High School. During her seven years at Ardenne, she was an active member of the netball team, Debating Society and a member of their 2018 School's Challenge Quiz Team, who ended the season in third place.
Akeelia made a major change in her studies at the Ardenne High School, from pursuing the sciences to pursuing her love for the law. She placed sixth in the Caribbean for CAPE Unit 1 Law and fifth in the Caribbean for CAPE Unit 2 Law. A clear indication and confirmation for her that she had made the right choice.
Three years later she earned her Bachelor of Laws with First Class Honours and has done so with a track record of excellence. Throughout, she attained awards such as Faculty of Law Top Full-Time Year 1 and Year 2 student, 6 semesters on the Dean's List. Top Performer for Law of Torts I and II, Law and Legal System, Criminal Law II and Administrative Law.
Her humanitarian heart won her the coveted crown of Miss Law in 2020. After this, she went on to serve as the Mona Law Society's Vice President for the academic year 2021-2022. Simultaneously, over the years she has honed her talents in creative writing and ideation. From writing poems in her past time to writing professionally with Dancehall Mag, the TeenAGE Observer, and to have also dabbled in script writing and creative direction with the dancehall production house, YGF Records.
Akeelia is presently an attorney-in-training at the Norman Manley Law School and an Adjunct Tutor at the Faculty of Law at The UWI Mona. When she's away from her vocation, she can be found by the beach, on a road trip, reading, listening to music or spending time with her siblings. Guided by the motto, "Live while you're alive," for her every day is an adventure, journeying on and impacting lives.
Dr. Dayna Palmer – Thursday PM
Dr. Dayna Palmer is a Linstead native and a past student of the Immaculate Conception High School, where she sowed seeds of excellence which continue to bear fruit. A well-rounded student, she excelled in academics as well as extra-curricular activities. It was there that she discovered her passion for music and her talent as a violinist in First Form. By the end of her Sixth Form programme, she had many accolades in music, including distinctions in practical violin exams by the Associated Board of the Royal School of Music (ABRSM), and two Associate and Bachelor's level diplomas in violin performance from the Trinity College London (ATCL, LTCL). She was an active member of the Immaculate Conception High School Symphony Orchestra and held the role of co-concertmaster during her last years there.
Although she had a daily commute of almost two hours to and fro, involvement in extra-curricular activities was a priority. From serving in the Octagon Club and Science Club, being the Co-captain of the Quiz Team to being the President of the Honour Society, her plate was quite full outside of her musical endeavours. It was a tedious balancing act as she continued to excel academically, placing 2nd in Jamaica overall for the 2015 CSEC exams, and garnering multiple regional and national placements in some of her favourite subjects: Biology, Chemistry, Spanish and French. She graduated as salutatorian of her class in 2015, and thereafter maintained her track record of performance, placing 1st and 2nd nationally in CAPE Chemistry, Spanish and French.
By the end of her time in high school, she knew had a knack for languages, something her mother somehow realised years ago, and so encouraged her to learn multiple languages. She has a passion for music and a natural talent for the sciences. While such a background could've led her down many a road, she decided that her path led straight to medical school at The UWI, Mona. She was awarded the prestigious UWI Open Scholarship, which helped her to fulfil this dream.
While in medical school she began working part-time as a professional gig violinist as she juggled her courses and other extracurricular activities. Outside of school, she became an active member of the Philharmonic Orchestra of Jamaica, but on campus, she was a tutor with the UWI Surgical Society, a member of the JAMSA Standing Committee on Human Rights and Peace, a member of the Executive Body of the MBBS/DDS Class of 2022, and a performer with the UWI Classical and Jazz Ensemble.
She was also an integral member of the marketing team for her class' production, Smoke & Mirrors. A busy schedule was not a hindrance to her academic performance, as she remained on the Faculty Dean's List during her 2nd and 4th years of medical school. In the final MBBS examinations, she received Honours in Medicine & Therapeutics, Honours in Surgery, Honours in Obstetrics and Gynaecology, and the Dr. John Hall Prize for the top 5 students with Honours in the Medicine and Therapeutics exam.
Dr Palmer currently works as a medical intern and is looking forward to pursuing a career in integrative medicine.
Ms Tamarnie Tavares – Saturday PM
A native of the unassuming community of Belvedere, St. Andrew, Tamarnie Tavares grew up in a nuclear family where she is the second of three (3) children and takes pride in being the middle child. Her journey thus far has been challenging, nevertheless, she continues to be eternally grateful for the love and support she has gotten over the years.
"Small circle." "Big dreams." "More moves." "Less noise." These seemingly simple phrases have come to create the foundation for the principles governing Tamarnie. She believes she is a hardworking, talented and humble young woman who is purposeful in making her dreams a reality. She strongly believes that "every accomplishment starts with the decision to try." A self-described introvert, she is still a big dreamer but won't allow herself to get lost in a world of fiction as she wholeheartedly believes in taking disciplined action.
Tamarnie is a proud past student at Holy Childhood High School which she credits for her growth and development. She was involved in several clubs and societies with an affinity for quizzes and business. She was honoured to have been given the opportunity to influence and inspire her peers through her service and leadership as a youth advocate both internally and externally – through her appointment as the Deputy Head Girl and youth organizations such as the Kingston and St Andrew Municipal Corporation Junior Council.
Tamarnie holds a Bachelor of Science in Operations Management (Major), and Management Studies (Major). She was blessed with financial aid through scholarships – a blessing that has brought her through high school and now university. She draws much inspiration from Beau Taplin who said "She was unstoppable not because she did not have failures or doubts, but she continued on despite them."
RELATED STORY: