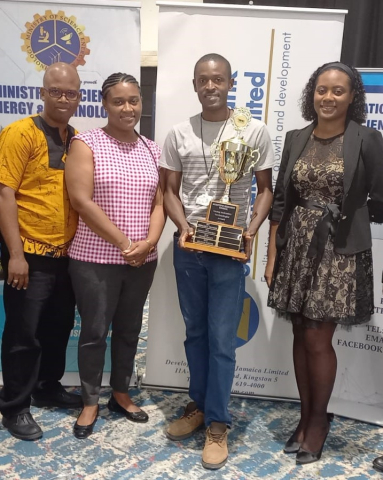 Senior Lecturer in the Department of Chemistry, Faculty of Science and Technology (FST), Dr. Peter Nelson copped the coveted SRC Young Scientist/Technologist Award for 2022.
The Award was presented at the Scientific Research Council's National Inventions Awards and Science Medal Luncheon in November 2022, at the Jamaica Pegasus Hotel on the heels of the 7th Biennial Science and Technology Conference held under the theme, 'Harnessing the Power of Research and Innovation to Drive Economic Resilience'.
The Award recognizes young scientists/technologists for the excellence of their work and potential contribution to Jamaica's development.
Dr. Nelson's presentation at  the confrerence outlined his innovative research in developing sensors for detecting metal ions in the human body (liver and brain). Other UWI nominees for the SRC Young Scientist/Technologist Award were Dr. Ricardo Anderson - Computer Scientist (Presentation - "Intelligent Learning and Education Management Ecosystem - A pathway to improve educational outcomes;  Dr. Roxann Stennett-Brown - Climate Scientist (Presentation - "Forecasting dengue onset potential for Trinidad and Tobago: Insights from observed and model temperatures"); and Dr. Kimberley Foster - Natural Products Scientist (Presentation - "Nutraceutical value of Soursop towards improving Cancer Treatment". 
Dean of the FST Prof. Michael Taylor, and Emeritus Prof. A. Anthony Chen were also honoured for being nominated for the National Medal Award for Science.
Reacting to his award, Dr. Peter Nelson said he "felt motivated to do more scientific work that is related to the 'regular man' with industrial applications. It is great that the value of science is being recognised on a national level and is a needed step in the right direction."
Executive Director of the SRC, Dr. Charah Watson said "The SRC Young Scientist/Technologist award is an important initiative. Over the years since its inception in 1990, awardees have gone on to make impactful contributions to Jamaica and global development.  We congratulate Dr. Nelson. The expectation of him and his work is high as he is on the cusp of making major impact to healthcare and the productive sector with his innovation".