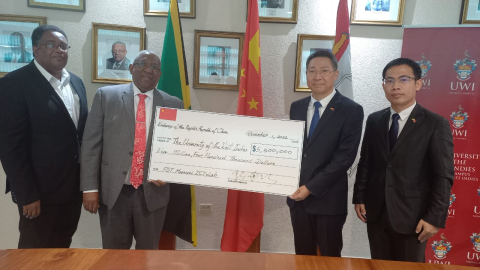 The Embassy of the People's Republic of China in Jamaica donated JMD$5.4 million to the Faculty of Science and Technology (FST) at The University of the West Indies, (The UWI) Mona Campus, to support the Huawei ICT Lab – a part of the larger Huawei  ICT Talent Hub in Jamaica.
The Handover Ceremony was held on  December 1, 2022, at The UWI, Mona. Huawei and the UWI had previously signed an MOU in 2021 for the creation of the Huawei  ICT Talent Hub in Jamaica. The Huawei partnership supports teaching, learning and research using advanced ICT technologies. The Lab serves the mutual goal of transporting ICT technology and facilitating an ICT knowledge exchange pipeline for expanding Jamaica's digital literacy landscape through teaching and research.
Expressing his appreciation for the continued support, Pro Vice-Chancellor and Principal of the UWI Mona Campus, Prof. Dale Webber said "The UWI has a long-standing relationship with The Embassy of the People's Republic of China and welcomes yet another needed partnership that will boost Jamaica's capacities and foray in the  ICT space."
Speaking at the Ceremony, His Excellency Chen Daojiang said the donation aims to "promote our practical cooperation in the digital economy, inter-connectivity and other key areas in the Global Development Initiative to jointly foster an open, fair, equitable and non-discriminatory environment for innovation and digital economy development, improve our digital infrastructure, bridge digital divides, advance the all-round development of digital economy, and achieve common prosperity."
"China," he continued, "will contribute to actively supporting Jamaica in developing the ICT sector and STEM curricula by pooling the strengths of our countries'  government, departments, universities, research institutions and enterprises, so that we can work together to deliver and implement the Global Development Initiative."
Echoing the sentiments of Prof Webber, Dean of the Faculty of Science and Technology, Professor Michael Taylor said "The Faculty is grateful for this partnership. This investment will improve the infrastructure that support ICT teaching and research in the Faculty. It is recognition of the importance of developing strong STEM competencies in national development."