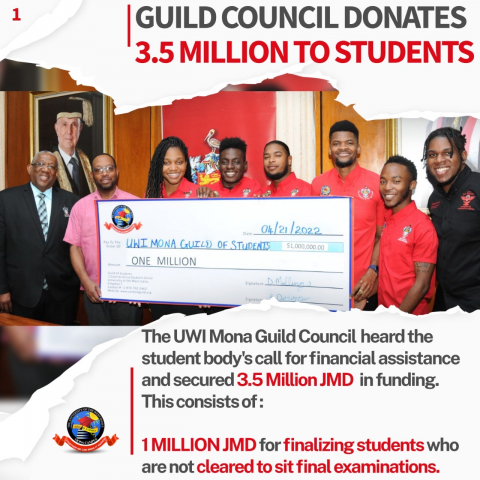 The student body has continued to feel the immense economic impact of the pandemic over the course of the 2021/22 Academic Year. Thus, The UWI Mona Guild Council has recognized this impact and has coordinated funding for students in need. In this the 70th year of the Guild Council, the overall amount donated in semester two is 3.5 Million Dollars. This consists of:
1 Million in Funding to Finalizing Students who are not cleared to sit examinations

1.6 Million in funding to support Post Graduate Students in need

900K in funding to support undergraduate students in need, across all year groups
The beneficiaries were either selected based on applications submitted to the Guild's Fresh Cash program, the Mona Association of Postgraduate Student's Financial Assistance programme or the recommendation from the Office of the Registrar.
Furthermore, UWIDEF has supported the Guild President, Danielle Mullings, in three initiatives created for the benefit of students. The first is to reinstate the Guild's Part Time Student Assistance Grant which has awarded grants of $50,000JMD to three part-time students. The second is the Guild's One Of Us Grant which will award $50,000JMD to six students across both the Western Jamaica and Mona Campus in this academic year. Lastly, having recognized the need for access to digital devices, UWIDEF and The Guild have funded the President's initiative to secure seven laptops to be donated to one student in each faculty based on the recommendation of the Faculty Administrations.
The Guild Council wishes to extend immense gratitude to all our donors who have helped to make this possible. As we work in the best interest of our students, we call on more donors across the region and the world to contribute to our student body. Each donation is a major help for students who need support to excel at the tertiary level. In keeping with our motto, "together we can make it happen".