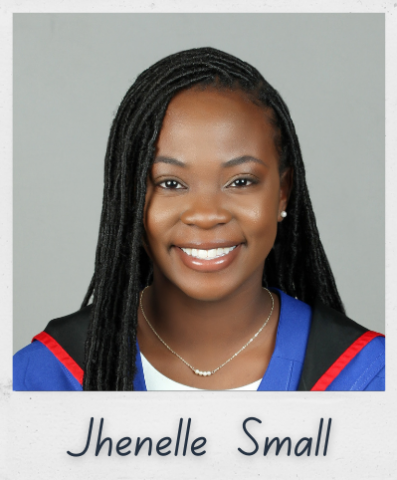 As a child, Jhenelle Small dreamt of becoming an advocate and has been devoted to the act of
selfless service to others ever since. The main driving force behind her has been her parents,
who led lives as living servants through Christian Ministry and Social Work. This enthusiasm for
service and advocacy transcended into her high school life, where she led as a servant leader,
leaving a trail of impact on the many students she interacted with at both Mount Alvernia High
and the Manning's School. This saw her serving as the Head Girl of the Manning's School and
Class Valedictorian of the graduating class of 2016. She also had the privilege of serving in the
National Secondary Students Council and as Junior Mayor of Westmoreland in 2018. Her
exploits in advocacy, along with her love for the series Law and Order, pushed Jhenelle to
choose the path of pursuing a Bachelor of Laws at the University of the West Indies, Mona
Campus.
Guided by the philosophy, "Excellence is not an exception but a prevailing attitude", Jhenelle entered the halls of the Faculty of Law, focused on the goal of excellence. However, what she soon realized is that this came in many forms. The enthusiast for law and advocacy saw the great potential of being at the Premier University of her region and knew she had to make her mark.
As such, Jhenelle took on several leadership roles on Campus over her tenure including First Year
Representative and Second Year Representative of the Mona Law Society, The UWI Student Today, Alumni Tomorrow (UWI STAT) Ambassador, External Affairs Chairwoman for the Mary Seacole Hall and most recently, Faculty of Law Representative and Mona Law Society President. She also represented the Central
Westmoreland Constituency in the National Youth Parliament 2019, among other notable
engagements.
Jhenelle had much to contribute and did so in fine style. However, excellence didn't end there as a firm believer in academic excellence which she both preached and pursued relentlessly. She not only made the Dean's List for two consecutive years but also sought to empower and motivate others to achieve the Golden Standard in their academic pursuits. Jhenelle is also a budding entrepreneur and proud founder of Small Trendz JA which utilizes her creative skills in sewing satin products.
She accredits all her success not to herself but to God. She firmly believes that it is the favour of God that is upon her life, and she continues to be grateful and humble in her journey. She wishes to continue making strides to pursue a career in Commercial and Corporate Law, but her life goal is to utilize her skills and talents to develop not only herself and peers but the country she calls home.
Jhenelle lives by the words,  "Strive to achieve the Golden Standard." For her, this means unlocking the highest level of academic excellence and personal development of oneself.  As Aristotle put it, 'Excellence is never an accident. It is always the result of high intention, sincere effort, and intelligent execution; it represents the wise choice of many alternatives – as choice, not chance, determines your destiny."