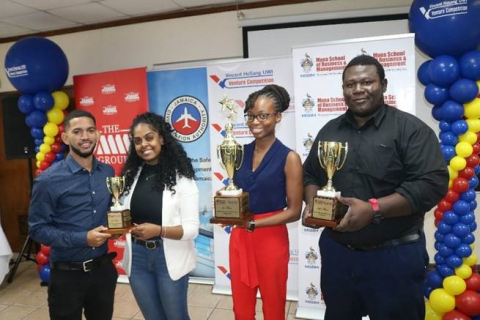 The launch of the 2021 Vincent HoSang University of the West Indies Venture Competition (UWIVC) took place on September 28, 2021 and brought together industry leaders, academic faculty and students with a focus on teaching students how to seize the opportunities amidst the chaos. As the pandemic has reshaped and given birth to new industries, the need for innovative entrepreneurs with agile skills has never been more critical. This global crisis has highlighted the importance of encouraging students to become entrepreneurs, in an effort to be more in control of their own careers especially during these uncertain times. The aim of the Vincent HoSang UWI Venture Competition is to be a part of a larger ecosystem of support and premier resource, for the development of tertiary level student entrepreneurs. In his welcome and opening remarks, Dr. David McBean, Executive Director of the Mona School of Business and Management, highlighted the value of the industry/academic partnerships and stated "the competition is a fine example of the University partnering with the business community to foster entrepreneurship in a practical way where even though it is a competition, all entrants are given the skills to hone their entrepreneurial endeavors and allow them to express themselves into great ideas."
Open to both undergraduate and graduate students at the UWI Mona, this year, students have a chance to win over a J$1 Million in cash and prizes. The competition is not only about winning prizes, but our approach will be to place a keen emphasis on resilience and determination by guiding the entrepreneurs on how to adopt a positive growth mindset which has proven to be the real difference between surviving and thriving. In that regard, in keeping with our competition structure, participants will engage in a series of business boot camps, mentorship sessions and pitch training. As recently designated one of the top 1.5% Universities in the world, the UWI believes a part of our mandate is to produce transformative globally competitive leaders that not only impact bottom lines, but the society as a whole contributing to improving the lives of others.
Over the years, one of the biggest successes of the programme has been the continued support of and longstanding relationship we have with our partners, particularly Caribbean Food Delights Inc, through the Vincent HoSang Family Foundation (VHFF) who have sponsored the programme since inception. In her greetings on behalf of the Hosang Family, Sabrina HoSang,Chief Executive Officer of Caribbean Food Delights, Inc  reiterated the family's commitment "to support the UWI Venture Competition for generations to come as the future of the programme looks bright and we look forward to a robust competition full of innovation and zeal." On behalf of our other Partners, Mr. Nari Williams-Singh, Director General of the Jamaica Civil Aviation Authority our Platinum Sponsor stated, "the 2021 launch of the UWIVC is an exciting one, as we all have the opportunity of a lifetime to be a part of a programme that will enable innovation while strengthening our ability to increase competitiveness, trade, promote investment and foster that endemic spirit of entrepreneurship among a very important demographic." This was supported by  JMMB Joan Duncan Foundation CEO Kim Mair who in  her remarks offered a charge to the  participants   "By entering this competition budding entrepreneurs you have signed on to a project that is meant to stimulate your creativity enhance your professional lives, develop your entrepreneurial skills and drive growth in your society." Other partners for this year's competition include longstanding partners the Vincent HoSang Family Foundation, Caribbean Food Delights, JMMB Joan Duncan Foundation, Development Bank of Jamaica, Baymac, Mona Entrepreneurial Commercialization Centre and first time partner Guardian Life.
The UWIVC seeks to move business ideas from mere concepts up the value chain to commercially viable entities that are market ready. We are committed to preparing the next generation of leaders for an ever changing world through the adoption of techniques that will help them to stay nimble while remaining innovative and being able to rapidly adapt their product/service offerings in an effort to meet new market demands and stay profitable. Ultimately our goal is to be a platform for growth for student entrepreneurs in the Caribbean, equipping them with the resources they need to operate successful businesses.
For more information about the competition visit our website