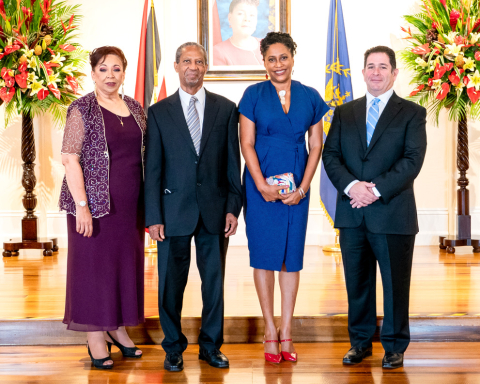 Professor Christine Carrington, Professor of Molecular Genetics and Virology in the Faculty of Medical Sciences at The University of the West Indies (The UWI) St. Augustine Campus has officially been presented with her award as the 2022 Anthony N Sabga Caribbean Excellence Laureate for Science and Technology. She received the award from President of the Republic of Trinidad and Tobago, Paula Mae Weekes in a ceremony on June 14, 2022 at President's House in Port of Spain.
Professor Brian Copeland, Pro Vice-Chancellor and Campus Principal at The UWI St. Augustine warmly congratulated her, pointing out that she has played a pivotal role nationally and regionally in the fight against COVID-19. She is a member of The UWI COVID-19 Task Force and leads a team that has been carrying out whole genome sequencing for genomic surveillance of SARS-CoV-2 variants for Trinidad and Tobago and 16 other Caribbean territories.
In selecting Professor Carrington, who heads the Department of Preclinical Sciences, the ANSA McAL Foundation noted that she is perhaps the foremost regional authority on virus evolution and molecular epidemiology, respected in the scientific community regionally and globally, with an impressive record of publication and international collaboration.
"Professor Carrington", the Foundation said, "has been instrumental in developing the human and infrastructural capacity of Trinidad and Tobago and the region to deal with the threat of viruses to public health.  Her expertise is routinely sought by Caribbean government institutions, the Caribbean Public Health Agency and the Pan American Health Organization for addressing viral outbreaks which have a major impact on people's lives all over the world."
"Not everyone gets the opportunity to pursue their passion as their profession" responded Professor Carrington. "I feel truly honoured to have been selected as the 2022 Laureate in Science and Technology. Knowing that what I do makes a difference is icing on the cake, but science is a collaborative pursuit, so I thank all the research students, colleagues, and collaborators who contributed to my career achievements, as well as my friends, family and mentors who supported and encouraged me along the way".
Professor Carrington is no stranger to awards and accolades. Among those that she has received are The UWI Research Award for Outstanding Research Mentorship in 2012, she was selected as one of The UWI's "60 under 60" leading academics in 2008 and she was also awarded the Commonwealth Research Fellowship in 2004.