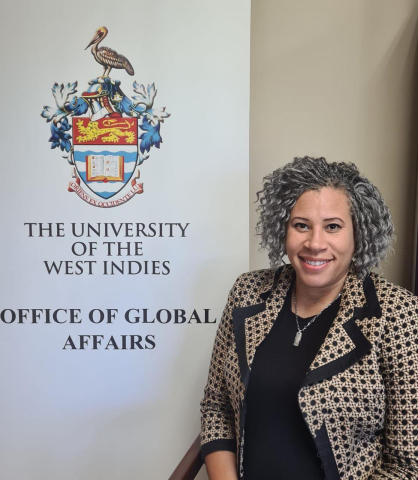 In furtherance of its strategic agenda and vision as a global university rooted in the Caribbean, The University of the West Indies (The UWI), announces the appointment of its new Pro Vice-Chancellor (PVC) Global Affairs, Sandrea Maynard, LLB (Hons) LLM, SFHEA, PgCHE. PVC Maynard, whose appointment became effective on January 1, 2023, will lead the regional university's global engagement portfolio and coordinate all internationalisation and strategic global initiatives across The UWI system.
 
She follows a distinguished list of candidates to hold this PVC post which is situated within University's Regional Headquarters in Mona, Jamaica. These include the late Ambassador Dr. Richard L. Bernal, Dr. Luz Longsworth and Dr. Stacy Richards-Kennedy. 
 
Developing on the work of her predecessors, Vice-Chancellor of The UWI Professor Sir Hilary Beckles, to whom the new PVC reports directly stated, "One of the major initiatives she will give oversight to, is the progression of the new UWI Global Campus, leveraging the high reputation of the regional university to build capacity and generate revenue as a core part of the University's financial future." 
 
Introducing the national of St. Kitts and Nevis as "a member of the Caribbean diaspora in Britain, and a product of the Windrush generation," Vice-Chancellor Beckles noted the significance of her portfolio especially as the University advances phase two of its Triple A Strategy 2022-2027, with a laser focus on converting its global reputation into revenue generation. He underscored, "She has considerable experience in international student recruitment in China and elsewhere. Serving as a critical part of Coventry University's global agenda, she was also a project leader in setting up the UWI-Coventry Institute for Industry-Academic Partnership." 
 
The qualified Barrister-at-Law, since 1998 has practiced both privately (domestic and internationally) and for the UK's Crown Prosecution Service. Her journey working in academia began in 2012 as a Senior Lecturer and advanced to an Associate Professor in Law at Coventry University. She has held senior leadership and management roles within UK universities across the sectors of law, business and university group subsidiaries both nationally and regionally, and managed multi-disciplinary and multifunctional teams through globally disruptive changes such as BREXIT and COVID-19. She has been responsible for driving the development of internationalisation in higher education, and more recently, her particular focus has been on income generation nationally and globally within Higher Education. She was instrumental in the development of a national curriculum in the criminal justice sector in the UK, and led on, and secured significant government contracts. She has also spearheaded the development and delivery of global executive and governmental training. In addition, PVC Maynard serves as a Visiting Professor at two institutions in France.
 
As it extends a warm welcome to PVC Maynard to The UWI community, the institution offers both congratulations and well wishes to her for a successful tenure as Pro Vice-Chancellor Global Affairs.