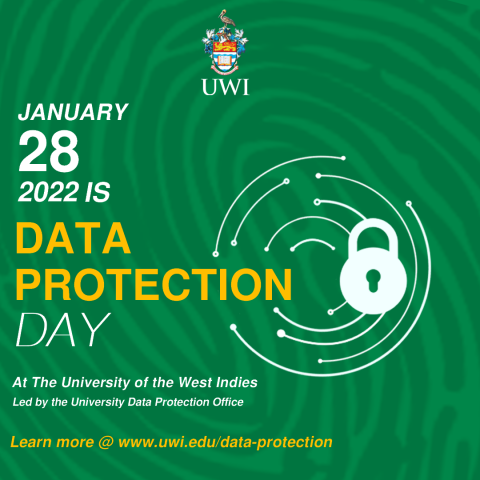 In today's digital age, we all have concerns with privacy, confidentiality and control of our personal data.  It is of such signal importance in fact that the Council of Europe, since 2007, established Data Protection Day to annually recognise and raise awareness of the rights to personal data protection and privacy. Today, January 28 marks Data Protection Day, (also called Privacy Day outside Europe) and is now commemorated globally in over 30 countries.
This year marks the second year of recognition by The University of the West Indies (The UWI). During February, we will also observe Privacy Awareness Month with a series of weekly activities for members of the University community.
Our Data Protection initiatives began in earnest with the approval of The UWI Data Protection Policy in February 2020. This Policy is an important step in the development of The UWI's protection of personal data in meeting international standards and especially given the University's increased focus on virtual platforms. It is currently in effect, and activities to build internal capacity are ongoing for it to be fully implemented across the University system. Even when the implementation project ends, we will each have a responsibility towards ensuring that this Policy is fully entrenched in modified ways of working.
The appointment of a University Data Protection Officer and the establishment of a University Data Protection Office, in August 2021, demonstrate the University's seriousness in respect of protecting Personal Data.  This seriousness mirrors the passage of local Data Protection legislation by most of our contributing countries, as well as many of the countries in which our 10 global centres are physically located.  Implementation of The UWI Data Protection Policy also aligns with the University's core values: integrity and excellence as well as its civic responsibility to exert due care in the handling of personal data. 
Today, I want to take the opportunity to remind you that we each play a role in respecting the privacy of others and protecting the University from data breaches. As we commemorate Data Protection Day 2022, allow me to share a few personal tips:
Protect your personal data from probing eyes.
Be careful of what you share with others, on the internet, and with organisations.
Ask questions about why your personal data are being collected, for how long they will be stored, who will have access to them, and who, if anyone, they will be shared with and how they will be protected.
Be vigilant.  The UWI respects the privacy rights of all and urges you to do the same.
If you manage (collect, use, share, dispose of) anyone's personal data, remember this rule of thumb: treat the personal data of others as carefully as you expect them to treat yours.
Also, I invite you to participate some special Data Protection Day activities:
Join today's webinar from 12:00 noon (Jamaica)/1:00 p.m. (Eastern Caribbean).
Watch this brief Data Protection Day video.
Visit www.uwi.edu/data-protection to learn more about The UWI Data Protection Policy and become actively engaged in its implementation.
Then, have fun testing your Data Protection IQ in this short quiz.
Lastly, follow the University Data Protection Office on social media via Facebook and Instagram for news and updates.
Have a great Data Protection Day!