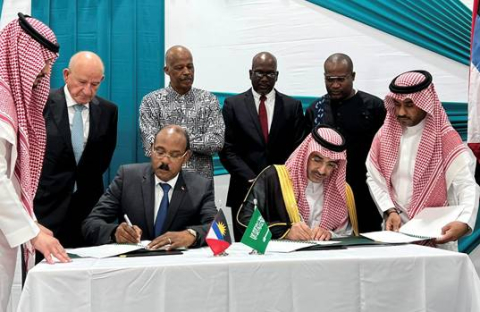 Vice-Chancellor of The University of the West Indies (The UWI), Professor Sir Hilary Beckles, has announced that the University's Five Islands Campus in Antigua and Barbuda is set for a "magnificent take-off". He was speaking during a ceremony held at the Campus on January 17, during which Prime Minister of Antigua and Barbuda, The Honourable Gaston Browne signed an agreement with the Saudi Fund for Development (SFD) to secure US$80 million to invest in the development of The UWI's youngest landed campus.
Prime Minister Browne stated that his government pledged to The UWI to provide funding for the expansion of the facilities and to create a modern, state-of-the-art campus at Five Islands. With the funding agreement, he said, the government has honoured its pledge.
Acting CEO of the SFD, Mr. Sultan Abdulrahman Al-Marshad stated in an address to the campus gathering, that it was his country's honour to assist the government with the necessary capital to expand higher education capacity for the nation and region, and that The UWI was a most deserving institution.
An overjoyed Pro Vice-Chancellor and Principal of The UWI Five Islands, Professor Densil A. Williams, who led the design of the master plan for the campus and assisted the government with the project proposal, presented the scope of work that will soon begin. Capital works will include teaching and research facilities, libraries, student dormitories, sports and recreation spaces, virtual technology and infrastructure as well as administration. Vice-Chancellor Beckles noted, "Principal Williams has led brilliantly the development of the campus in the last three years".
The Vice-Chancellor concluded his remarks by saying that the campus is a critical part of the University's 21st-century access strategy, and it will spearhead new and innovative agendas within the Organisation of Eastern Caribbean States, regionally and globally. He commended Prime Minister Browne for his vision, fortitude, and commitment to The UWI's strategies to serve the people of the Caribbean.