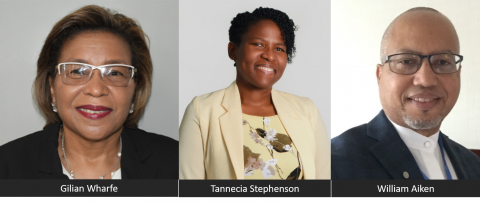 The University of the West Indies (The UWI) is pleased to announce its six newest Professors, including an Environmental Physicist, Economic and Political Development Specialist and four medical professionals – three of these Professors are at the Mona Campus.
The six were promoted to the regional university's highest academic rank with effect from May 2021, following rigorous evaluation of the quality and quantity of their research, publications and other professional activities by internal and external assessors. The academics received outstanding reviews in their respective areas of specialty; in addition to their personal academic distinctions, they emulate The UWI's mission: "to advance learning, create knowledge and foster innovation for the positive transformation of the Caribbean and the wider world."
The Mona Campus' newest Professors are: Professor William Aiken; Professor Tannecia Stephenson and
Professor Gilian Wharfe.
More about the new Professors at the Mona Campus
Professor William Aiken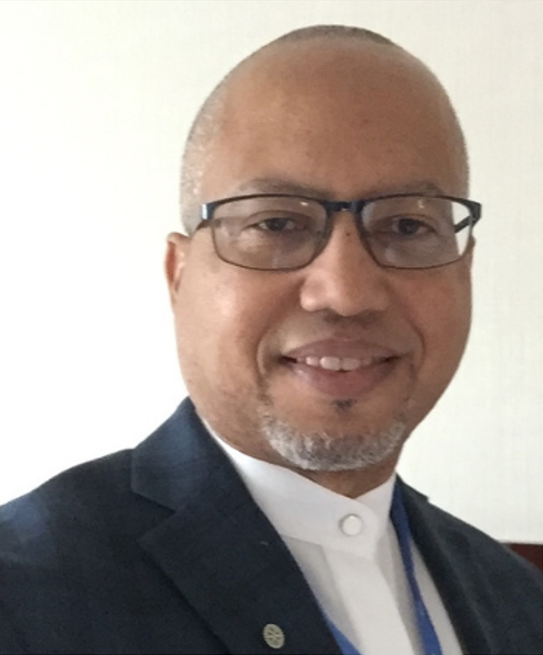 Professor William Aiken has enjoyed a career as a Consultant Urologist in the Division of Urology, Department of Surgery, Radiology, Anaesthesia & Intensive Care, and Emergency Medicine at the University Hospital of the West Indies in Jamaica for more than two decades. During that time he served as head of the Division of Urology for fourteen years (2000-2014) and prior to his current position at The University of the West Indies, he held a post as a Registrar in Urology at the Western General Hospital in Edinburgh, Scotland while on a Commonwealth Scholarship during his elective period of Urological training.
He holds an MBBS Degree, Doctor of Medicine Degree in Urology, and was the first graduate from The UWI, in that field. He earned a Post Graduate Diploma in Epidemiology, an MSc in Epidemiology Principles and Practice and a Professional Diploma from the London School of Hygiene & Tropical Medicine which is affiliated with the University of London in the UK.
Professor Aiken joined The UWI in 1998 as an Associate Lecturer and moved up the ranks. As a Supervisor/Coordinator of the Doctor of Medicine programme in Urology, 10 Urologists have graduated under his direction. He has published a case book for the Doctor of Medicine in Urology programme; two book chapters of which he is first author; over 50 peer-reviewed journal articles, 47 papers at conferences and seminars; 45 abstracts, and more than 90 non-refereed articles. His work has been cited over 700 times and his articles have received more than nine thousand reads.
Professor Aiken has attracted research grants which has allowed him to conduct research in prostate cancer, and other men's health issues.
He has been a member of the Medical Association of Jamaica since 1989; a Fellow of the Royal College of Surgeons, Edinburgh since 1995; a member of the Clinic Committee of the Jamaica Cancer Society since 2004, American Urological Association since 2010; a Fellow of the American College of Surgeons since 2011 and of the Caribbean College of Surgeons since 2013. Professor Aiken is also a dedicated public servant and has been a volunteer with the Jamaica Cancer Society from 1995 and currently serves on the board of the Medical Council of Jamaica. He gives numerous talks and lectures to churches, service clubs and in the local media on issues of men's health.
Among his many accolades include the Jamaica Medical Foundation's 2008 Award for Outstanding Contribution to Urology in Jamaica. He is a three-time winner of The UWI Mona Campus Principal's Research Day Award for Best Research Publication and has won twice for Best Research Project with the greatest Multidisciplinary/Cross Faculty Collaboration and an award for Best Research in the Faculty of Medicine. He has served as President of the Jamaica Urological Society, the Caribbean Urological Association, and the Association of Surgeons in Jamaica. He is currently the International Surgical Advisor to the Royal College of Surgeons of Edinburgh for Jamaica.
In reviewing work for promotion, one external assessor commented "Dr. Aiken has had a productive career thus far and he is the "best known" urologist in Jamaica from an academic perspective. This of course, honors the country as well as The University of the West Indies. He is energetic, uniquely trained, a leader, and has been productive in a setting where resources are somewhat limited when compared to many institutions I am familiar with in the United States…"
Professor Tannecia Stephenson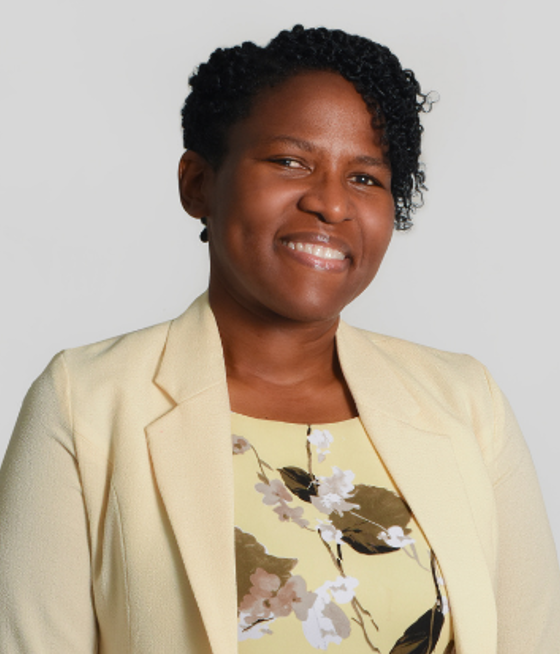 Professor Tannecia Stephenson is an Environmental Physicist and Head of the Department of Physics, Faculty of Science and Technology at The UWI, Mona Campus. Since 2005, she has been a Researcher and a key member of the Climate Studies Group at the Mona Campus. She is recognised internationally as a climate studies expert and currently serves as a contributor and lead author for the United Nations' Intergovernmental Panel on Climate Change (IPCC) Sixth Assessment Report.
Professor Stephenson holds a BSc (first class honours) as well as a PhD in Physics, both from the Mona Campus. Her research areas of specialisation are environmental physics, climate variability, climate change and climate extremes. Professor Stephenson's contribution as a young scientist and now Co-Director in the Climate Studies Group at the Mona Campus brought a significant understanding of climate change and its impact in the Caribbean region.
She already holds an impressive repertoire of research and publications which include contributions to 41 refereed journal articles; two book chapters, 19 conferences/scientific papers, two refereed proceedings/technical guidance, five short monographs and eleven technical reports, among others. She has published 10 times in the Bulletin of the American Meteorological Society and is credited with over 1,350 citations.
Professor Stephenson joined the University's teaching staff in 2006 as an Assistant Lecturer, working her way up to Senior Lecturer in 2015, before her promotion. In addition to teaching, she has contributed to programme development and is engaged in postgraduate supervision, honing the research and publication skills of students by allowing them to publish, and also organising a series of meetings on climate change and modelling.
Her past extra-departmental service includes co-chairing the Faculty of Science and Technology Conference; serving as a member of the Internal Quality Assurance Working Group and as a Faculty representative for The UWI Ethics Committee; as a representative to Academic Board among other roles. In addition to her UWI experience, Professor Stephenson spent one year as a Visiting Fellow in the Climatic Research Unit at the University of East Anglia in Norwich, England from 2006-2007.
She has been named as a recipient of the 2021 UWI Vice-Chancellor's Award for Excellence for Research Accomplishments and is also a 2018 recipient of the award for International Collaboration—also known as the Globalization Award. She earned a bronze Musgrave Medal in 2014 awarded by the Institute of Jamaica in recognition of achievement in art, science, and literature; The UWI Mona, Faculty of Science & Technology Best Publication Award in 2008, 2009, 2011 and 2019; and she also received the Faculty's Best Research Activity Award in 2016 and 2018.
In reviewing her work for consideration of the promotion to Professor, one of her external assessors commented, "Dr Stephenson is clearly producing multiple, tangible research products each year; an impressive and distinguished rate of sustained production. However, it is not the quantity of the publications alone which makes Dr Stephenson's research distinguished. Overall, she has published in approximately 20 different peer-reviewed journals; (this) illustrates her ability to make research relevant to multiple audiences, increasing the footprint of the research, and adding to her reputation."
Professor Gilian Wharfe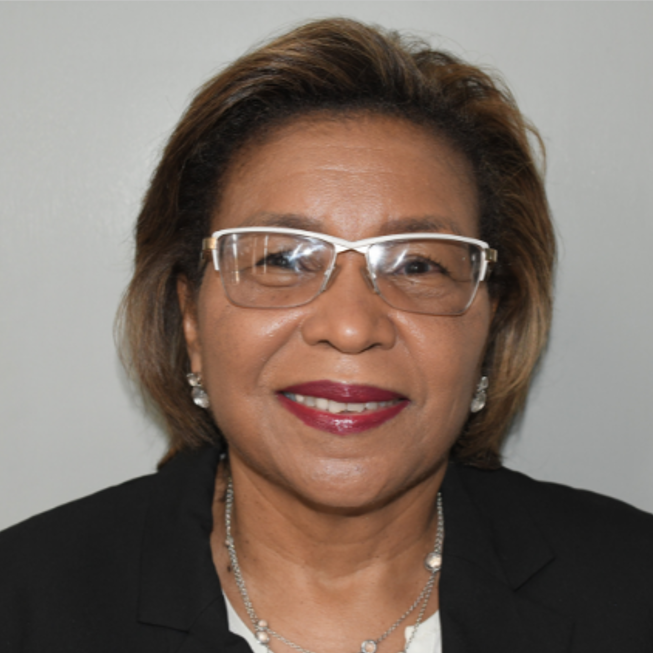 A Clinical Haematologist by profession, Professor Gilian Wharfe is a former Head of the Department of Pathology in the Faculty of Medical Sciences and Director of the Residency Programme for Haematology and Oncology at the University Hospital of the West Indies at The UWI, Mona Campus.
A proud and dedicated Mona alumna, Professor Wharfe received her MBBS at the Campus in 1982, with Honours in Pharmacology, Pathology, and Microbiology and Medicine, then her Doctor of Medicine degree (Haematology) in 1988. In 1993, she moved on to pursue a post-doctoral fellowship at the National Cancer Centre in Tokyo, Japan, then completed training in Research Ethics in the 2015-2016 Caribbean Research Ethics Education initiative (CREEi), funded by the Fogarty International Center, US National Institute of Health.
To date, Professor Wharfe has dedicated her career of over 37 years to The UWI. She teaches at both the undergraduate and postgraduate levels; provides clinical and academic supervision and actively contributes to university life by serving on examination boards and has provided administrative leadership on numerous boards and committees over the years. Outside The UWI, she has undertaken visits to medical schools and hospitals in the US, UK and Japan.
As a researcher, Professor Wharfe has been Principal Investigator or Site Responsible Investigator on various projects and has attracted over US$4 million from the National Institutes of Health and the National Cancer Institute in the US. She also received funding from the Novo Nordisk Foundation which supported her collaborative research with partners at SickKids in Toronto, on Haemophilia in Jamaica. She has presented over 30 papers at invited lectures and published over 50 articles in several high profile specialised medical journals, including The Lancet, Journal of Obstetrics and Gynaecology and the West Indian Medical Journal.
She was the Chair of the Mona Campus Research Ethics committee as well as the Chair for the Colorectal cancer group preparing the National Comprehensive Cancer Network harmonised Caribbean guidelines. She is also the current Chair of the Jamaica Haemophilia Committee; a current member of the Jamaica Association of Clinical Pathologists; the American Society of Clinical Oncology; the European Society of Medical Oncology, and the Caribbean Physicians Network, among other local and international associations. Her public service includes serving on the Catholic Doctors' Association and the Haemophilia Committee Outreach.
Among her accolades include the Principal's Research Award for Research Projects Attracting the Most Funds, both in 2006 and 2019. She was also honoured in 2017 by the Association of Consultant Physicians of Jamaica for outstanding contributions to teaching Haematology and her contribution in building knowledge in that specialisation.
One of the external assessors reviewing her portfolio commented, "Dr Wharfe has a sustained record of international research funding as a co-investigator in team science projects that have yielded impactful results. The international funding supports two major initiatives. The first is a longstanding collaboration with the National Institutes of Health and the National Cancer Institute (USA) focused on HTLV1-related adult T-cell leukemia/lymphoma…The second initiative is an internationally funded programme (Novo Nordisk Foundation) supporting collaboration between Canada and Jamaica in the development of comprehensive laboratory testing for haemophilia."