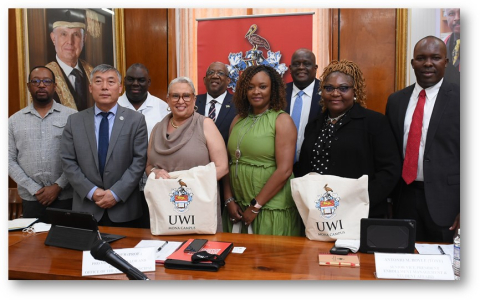 The University of the West Indies (The UWI), Mona Campus recently hosted a team from The State University of Delaware in an effort to strengthen ties and extend collaborations between the institutions in the coming years.
In May 2022, members of the Executive team at Mona visited Washington D.C. on the invitation of the Government of Jamaica. Mona was introduced to funding agencies, historical black Colleges (one of which was Delaware State University) and other prestigious ranked Universities to start the dialogue on areas of mutual interest for possible future partnerships in the areas of: student exchanges; Study abroad opportunities in full fee-paying programs such as engineering, nursing, medicine, community/ mental health, sports, cultural studies, tourism.
There are also discussions underway for the establishment and coordination of joint educational programs where students will do courses from both Universities, scholarly exchanges, and joint research collaboration. The partnership between the universities will also extend to funding for staff and students (both local and foreign) to access the research collaborations as well as joint venture possibilities such as engineering accreditation; nursing school, and medical program accreditation.
The DSU contingency comprised Antonio M. Boyle (Tony)- Senior Vice President of Enrollment Management & Student Affairs; Fengshan Liu,  Associate Vice President with responsibility for  International Affairs; Kornel Brown, Director of DSU's Greater Antilles Initiatives; Patrice Gillum Johnson, Dean of the School of Graduate, Adult and Extended Studies; Terry Jeffries, Assistant Dean of the School of Graduate, Adult and Extended Studies and Gwendolyn Scott-Jones, Dean of DSU's Wesley College of Health & Behavioural Sciences.
The contingency benefitted from a series of presentations from the Deans of the Faculties followed by meetings with the Senior Management Team and a tour of the Mona Campus. The series of engagements ended on the two universities pledging to sign a Memorandum of Understanding in the coming months to cement the partnership in the areas cited above.