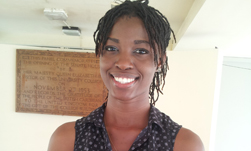 A solid foundation for my professional career
Some of my most memorable and life changing experiences have been made while I have been at UWI, Mona. While studying Journalism at the Caribbean Institute of Media & Communication (CARIMAC), I found my love and passion for writing. My Lecturers are always on call to give much needed advice and counsel me and helped to choose the career that was perfect. They made what could be a stressful university experience, easier.
Being a part of the UWI experience has created a solid foundation for my professional career. Being at CARIMAC encouraged the development and use of professional traits for the working world. I was also privileged enough to gain employment on campus where I was given the opportunity to put what I learned at CARIMAC into practice as well as a general understanding of the correct procedures of most corporate offices.