Professor Marcia Roye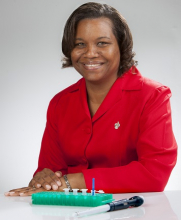 Professor Marcia Roye is the Associate Dean for Graduate Studies and Research in the Faculty of Science and Technology.  She has for years sought to build the research capacity at the UWI in the area of molecular virology resulting in 32 peer-reviewed publications and 60 conference presentations.She has developed numerous international collaborations with renowned institutions such as the Department of Plant Pathology, University of Wisconsin-Madison, Institute of Human Virology (IHV), University of Maryland School of Medicine,The International Laboratory for Tropical Agricultural Biotechnology, Danforth Plant Science Centre,St. Louis, MO,University of Toronto, Mississauga and Centro Internacional dela Papa (TheInternational Potato Centre] (CIP),Lima Peru while garnering strong financial support from international collaborators.
Professor Roye's research forte was recognzed early locally through the award of the Scientific Research Council Shell Young Scientist Technologist award,2000, and in 2013 by the Jamaica Observer recognition at the "Women of our times" luncheon and awards. Her research has also attracted significant international attention including the award of the inaugural L'Oreal-UNESCO Special FellowshipInthe footsteps of Marie Curie. Through the fellowship,the L'Oreal Foundation and UNESCO acknowledged  'the scientific excellence and commitment of a woman who, in the ten years since receiving a UNESCO-L'Oreal International Fellowship, has pursued an outstanding career in scientific research and incarnates the future of science". In recognition of the fellowship she represented the L'Oreal Foundation at the Women's Forum Global Meeting 2011 in Deauville, France. She is also a recipient of Fulbright and UNESCO-L'Oreal fellowships.
Professor Roye's undergraduate teaching duties involve exposure to undergraduate students majoring in biochemistry, biotechnology, and microbiology and molecular.She is actively involved in academic counselling of undergraduates and prospective graduate students. A significant part her teaching is the supervision and mentoring research students and potential research students. Her research efforts have produced 15 graduate degrees (7 PhDs, 8 MPhil s) and 27 undergraduate students have also been trained in molecular virology.