Professor Helen Asemota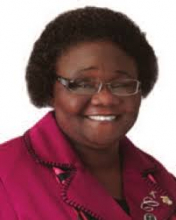 Professor Helen Asemota is the current Director of the Biotechnology Centre at the University of the West Indies (UWI). A full Professor of Biochemistry and Molecular Biology since 2003, and tenured since 1998, she has served UWI for over two decades.  She served as Lecturer at Ahmadu Bello University in Northern Nigeria and at the University of Benin in mid-Western Nigeria and also as Full Professor at Shaw University, North Carolina in the USA. She has rendered consultancy services to various International Organizations inclusive of the European Union as technical expert; and the UN-FAO as International Biotechnology Consultant to different countries, inclusive of Syria and Tajikistan.  She has trained over 30,000 students globally in her international academic profile, at undergraduate, graduate/postgraduate, PhD, and postdoctoral levels.  She has held membership in renowned professional organizations, including the New York Academy of Science, Society of STEM Women of Color, USA, as a Founding Member, and has served in many local, regional and international Boards.
Professor Asemota's research contributions include production and quality improvement of tuber crops – Yams, Dasheens, Coco-yams, Potato, Sweet potato and centered on Yams, through growth/development, propagation and storage, bio-mechanisms of engineered bioactives and naturally occurring bio-polymers, innovative fortification into value-added products, in her "From Farm to Finished Products" yam research drive.  Other areas of her research are experimental diabetes, biochemistry of hypercholesterolemia/hyperlipidemia, cancer, drug addiction and derivation of metabolic mechanism of action of secondary metabolites or anti-nutritional factors and supplements in animal models of cardiovascular diseases, cancer and drug addiction.  She has delved also into Nutraceutics & Natureceutics and other innovative products (such as BioSports Foods) development/bioengineering. Her research areas are multidisciplinary stemming across biochemistry, molecular biology, biotechnology, nanotechnology and bioengineering and she engages in wide collaboration/partnership 'to get the job done', locally and internationally.
Prof. Asemota has various UWI, local and international awards and over 350 publications consisting of more than 120 Refereed Journal publications, 4 patents; over 30 Technical Reports to International Agencies; Conference proceedings/abstracts and several book chapters, in the disciplines of biochemistry, biotechnology, molecular biology and bio-nanotechnology. 
She has great experience in leading large international research groups and has been Principal Investigator (PI) in USA National Science Foundation (NSF), National Institute of Health (NIH) grants, European Union (EU, EDF), United Nations-FAO, Jamaican National Health Foundation (NHF), etc.  grants, and has supervised some 35 PhD studies. In August 2013, Professor Asemota was appointed the Executive Director of the University of the West Indies Biotechnology Centre.  Her current trust is to promote agro-based solutions through biotechnology, and the exploitation of 'biotechnology as a concept' for the growth of insurgent bio-economy of the nation/region.   She is currently (2017 – present) collaborating to propel integration of Biotechnology programme at High School level in the nation/region. "Catch them young for Biotechnology" is one of her current slogans. She works with local farmers ar grassroots level.