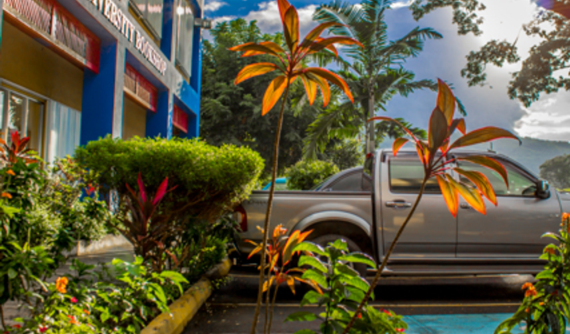 A number of facilities exist at the Mona Campus which may be enjoyed by both staff, students and visitors. Learn more about some of those facilities below.
The Bookshop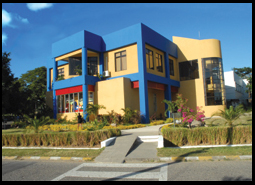 The University of the West Indies Bookshop provides for Faculty, Students and Academia at large, a medium that fosters research, learning and the acquisition of information for education and human resource development.
The Bookshop is a critical medium for the nurturing of the Caribbean personality and therefore, preferentially allocates resources to the acquisition, display and dissemination of books, the entire electronic information spectrum, and indeed any product that promotes the delivery of tertiary education.
Opening hours: Monday - Friday 8:30 am - 6:00 pm
Telephone: (876) 977-1401, (876) 702-2304-5
Fax: (876) 702-2303
E-mail: bookshop@uwimona.edu.jm
Visit our website at https://bookshop.mona.uwi.edu/
Cafeteria Services
Concessionaries provide cafeteria services in locations at Mary Seacole Hall, Taylor Hall and A. Z. Preston Hall on a daily basis.
Opening hours:
Monday - Friday 7:00am - 7:00 pm
Weekends 8:00 am - 7:00 pm
Quick Snacks and light meals may be purchased from authorized Kiosks at the following locations:
Faculty of Pure and Applied Sciences
Faculty of Arts and Sciences
Faculty of Social Sciences
Chancellor Hall
Kentucky Fried Chicken (KFC) and Pages Cafe
You may also find traditional lunch & breakfast meals at Pages Cafe and fast food at KFC. Both are located in the vicinity of Chancellor Hall.
Juci Patties is located by the Faculty of Pure & Applied Sciences. They offer a wide range of products comprising Patties, Loaves, Soups, Breakfast and Lunch. Opening Hours are:
Monday – Friday: 6:30 a.m. – 9:00 p.m.
Saturday: 8:00 am. - 8:00 p.m.
Sunday: 8:00 a.m. - 4:00 p.m.
The Escort Service
Escort Service is provided for individuals or small groups working in the libraries, laboratories or any other on-campus centres.  Persons requiring this service may call the Police Post at 935-8748(9) or extension 2748/2749 and a member of the Campus Security will escort you to any of the Halls or to the car park.
Commuting Students and Hall Life
Each commuting student is attached to the Hall of Residence of his/her choice and is eligible to use the 'public' facilities in the chosen Hall. These students can participate in campus competitions through the Hall to which they are assigned.
In an effort to alleviate some of challenges associated with travelling to and from campus on a daily basis; the Guild of Students operates a subsidised Bus Services to commuting students. The service takes students to various sections of the Kingston and St. Andrew Metropolitan Area and St. Catherine. These sections include: Duhaney Park via Molynes Road; Harbour View; Portmore and Spanish Town. All morning routes depart at 6:00 a.m. going to the UWI campus, as for the Evening routes, they depart the UWI bus bay at 4:30 p.m. and 7:30 pm; and at 9:30 p.m. depart from the Undercroft. Here are the Routes.
Halls of Residence
All full-time students of the University are assigned to Halls of Residence. When applying for admissions, students must indicate their preference for a particular Hall. Assignment to a Hall does not mean that a student is offered residence. Only full-time students of the university are eligible to apply for accommodations on campus and only a small percentage of those applying can be housed.
There are ten Halls of Residence on the Mona Campus: two single sex, Mary Seacole and Chancellor Hall, housing females and males respectively and seven co-ed halls namely A.Z Preston, Irvine, Taylor, Rex Nettleford,ABC, Towers, Marlene Hamilton Hall and a new hall of residence (to be named soon). Approximately 1440 student are accommodated each year. Each hall of residence is administered by a Student Services Manager who is assisted by Resident Advisors, a Hall Operations Supervisor and Service Staff.
The resident hall community is a vital part of students' learning experience and promotes and supports the mission of the University. The Halls provide students with a wide range of activities and programmes designed to provide a rounded university education. Healthy competitions in sports, drama, debate and other related activities bring out the natural endowment of our students.
Students' Hall government provides the opportunity for practical leadership development and creates the opportunity for a structured communal life. Hall Committee members are elected by member of the respective Hall and any student attached to a given Hall is eligible to run for any office on that hall committee.
The Health Centre
The Health Centre is located on Gibraltar Road between the Irvine Hall and Post Office Gates. The services offered include: medical consultations and referrals, pharmaceuticals as required, nursing services, family planning advice and supplies, and counseling for personal, financial and mental health issues.
Opening Hours
Monday - Friday: 8:30 am - 4:30 pm
Screening Hours:
Monday - Friday 8:30 am - noon & 2:00 pm - 4:00 pm
Appointments
Appointments may be made during official working hours by speaking with the Senior Records Officer or other members of the reception staff either by telephone or by visiting the Centre.
Telephone: 927-2520 / 927-1660-9; Ext. 2270 & 2370
Note: Please remember to take your ID & Appointment card with you.
Staff:
The Medical Officers employed at the Health Centre are:
| | | |
| --- | --- | --- |
| Dr. B. Anglin-Brown (Clinical Director) | Dr. A. Standard-Goldson | Dr. A. Kiddoe (Part-time) |
| Dr. K. Dickson | Dr. J. Anthony-Branday (Part-time) |   |
| Dr. A. Gordon-Stair | Dr. P. Weller | Mr. L. Francis (Administrative Manager) |
| Mrs. S. Williams-Brown | Mr. D. Edwards (Part-time) |   |
Please visit our website at https://www.mona.uwi.edu/healthcentre
The University Pool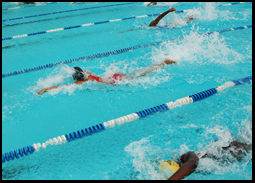 The University Campus has an official Olympic sized pool which is open to staff and students.
The UWI Swimming pool is open every day Sunday to Saturday 8:00am. To 6:45pm.
The pool is closed on Good Friday and Christmas day.
For more information visit the Estate Management Website.
The National Commercial Bank Limited
The National Commercial Bank (NCB) operates a branch on the Mona Campus. The opening hours are:
Monday - Thursday: 9:00 am - 3:00 pm
Friday: 9:00 am - 4:30 pm
The Bank also operates an Automated Teller Machine (ATM) with twenty-four hour service.
STUDENTS ARE ADVISED TO EXERCISE EXTREME CAUTION WHEN USING THE MACHINE OUTSIDE OF THE NORMAL BANKING HOURS.
Scotia Bank
Scotia Bank offers 24 hour banking with 3 full-service Automated Banking Machines (ABMs) on the Mona Campus. The opening hours are:
Monday - Thursday: 10:00 am - 6:00 pm

Friday: 10:00 am - 4:00 pm
STUDENTS ARE ADVISED TO EXERCISE EXTREME CAUTION WHEN USING THE MACHINE OUTSIDE OF THE NORMAL BANKING HOURS.
Jamaica National Bank
The Jamaica National Bank operates a branch on the Mona Campus. The opening hours are:
Monday - Thursday: 8:30 am - 4:30 pm
The Bank also operates an Automated Teller Machine (ATM) with twenty-four hour service.
STUDENTS ARE ADVISED TO EXERCISE EXTREME CAUTION WHEN USING THE MACHINE OUTSIDE OF THE NORMAL BANKING HOURS.
The Shuttle Bus Service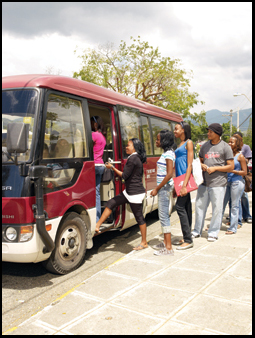 The Office of the Director of Student Services operates a shuttle bus services for students. This service transports students around the campus every half hour.
Students are also transported to connecting points - Liguanea and Papine, along the main transport arteries of Mona Road and Hope Road. The bus operates between 7:00 am and 10:30 pm. Be prepared to show your Student ID card before you board the bus.
UWI Chapel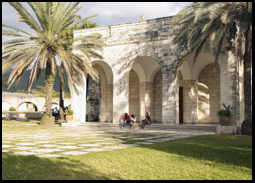 The affairs of the Chapel are managed by the Chapel Management Committee. The Committee comprises the Chaplains, the Director of Music, the Chapel Organist, staff and student representatives.
Regular Service
The Eucharist is celebrated throughout the year on Sundays (usually at 7:15am). During the semester, services are held on Sundays (at 9:00 am) and Mass is celebrated on Saturdays (at 7 pm).
Special Services
During the academic year, there are four official services; the Welcome Service in September, the Carol Service in December, the Commemoration Service usually in February and the Valedictory Service in April.
The UWI Advent Fellowship hold it's annual Fellowship Day at the Chapel in November.
The Chapel is also made available for special commemorative services at the request of members of the campus community and others who have close connections with the University.
Chaplains: Ext. 2654
Chapel (Bookings/Information): Ext. 2317
Chapel (Attendant): Ext. 2496
Travel Services
Campus Travel is located by the Students Union Complex. They offer travel and tour operation services.
Opening Hours are:
Monday - Friday: 10:00 a.m. - 7:00 p.m.