Application Deadline Extended until May 19, 2021
We understand the many hurdles prospective students and their families have had to overcome due to changes within school communities islandwide and the unprecedented challenges presented by COVID-19. With these disruptions in mind, The UWI Mona Campus has taken the decision to extend the application deadline until May 19 for the semester beginning August 2021.
REVISED COVID-19 ARRANGEMENTS
To Members of Staff and Students
As you are aware, in recent weeks there has been a spike in the COVID-19 positivity rate for Jamaica. This has impacted us on the Campus with several cases in our Halls of Residence, as well as in some Departments and Faculties.
As a result, the decision has been taken to suspend all face-to-face classes until further notice, except for clinical rotations. The suspension of classes took effect on March 1, 2021, and all students and members of faculty involved in face-to-face programmes were previously advised. Face-to-face library services are also suspended with immediate effect until further notice.
We have implemented a strict isolation and quarantine regimen on the Halls of Residence for those who tested positive and those deemed to be exposed and similarly mandated home quarantine for any member of staff deemed to be exposed to COVID-19.
In keeping with the Prime Minister's recent announcement regarding new COID-19 measures, the Campus will implement the following effective March 4, 2021, to March 22, 2021, to be consistent with the National position:
ATTENDANCE ON PHYSICAL OFFICE
Only those members of staff who are deemed essential by their Head of Department to work from the physical office to maintain service delivery to our face-to-face customers and to carry out other critical services and operations of the campus; and those who are unable to work from home will be required report to work in the physical office space. All other members of staff are required to work from home where possible, effective Thursday, March 4, 2021, to March 22, 2021. For those team members deemed critical to work from their physical offices, appropriate rotation schedules should be implemented.
CONDUCTING BUSINESS ON CAMPUS
Only persons with essential and or legitimate business on Campus will be permitted to visit.
       Staff and students are reminded to wear ID cards visibly. Students who are not residents on campus should not be on               the campus unless conducting business. Loitering on campus will not be permitted.
      Visitors to the campus should indicate their reason for visiting when approached by security personnel. Loitering on                campus will not be permitted.
REMINDER: COVID-19 PROTOCOLS
All staff, students, and visitors to the Campus are being reminded to be disciplined in following all established COVID-19 protocols to include:
      • Proper wearing of masks/face coverings when in public spaces (covering nose and mouth).
      • Maintaining physical distance (2 meters/6 feet) at all times.
      • Washing hands frequently with soap and water, and sanitize hands frequently when washing isn't possible.
      • Staying home when ill.
      • Avoid using personal devices, workspaces, work tools, and equipment of others.
      • Report to supervisors/Hall Managers any situation which may affect the health of other employees/students.
PSYCHOSOCIAL SUPPORT
We encourage all members of our community to seek psychosocial support if needed.
     a. For more information on University Counselling Services, you may call
        876-970-1992 or WhatsApp the Unit at 876-856-5758;
     b. For immediate assistance call 876-UWI-HELPS or 876-294-0042;
     c. Or contact your private health care provider for support.
We look forward to your continued support as we navigate this challenging period in our country.
DONOVAN STANBERRY, PhD
CAMPUS REGISTRAR
UWI COVID-19 Task Force Chair says: "A new fight back phase against COVID-19 is here"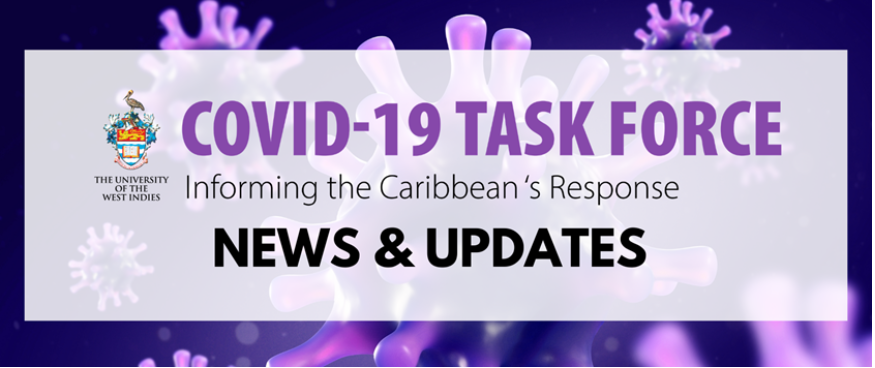 The AstraZeneca-Oxford COVID-19 vaccine has arrived on Caribbean shores. "This marks the start of a new phase in the pandemic in which we start the 'fight back' against COVID-19" says Professor Clive Landis, Immunologist and Chairman of The University of the West Indies COVID-19 Task Force.
Earlier this month Barbados received a donation of 100,000 doses of vaccine from India and has subsequently shared the doses with Trinidad and Tobago, Guyana, Dominica, Grenada, Saint Lucia among some other Eastern Caribbean territories.
Professor Landis noted that the AstraZeneca vaccine has shown 76% efficacy after one shot and 82% efficacy after the booster shot in the latest phase 3 clinical trial involving more than 35,000 people in the UK, South Africa and Brazil. He also stated that the European Medicines Agency has given full regulatory approval for all persons over 18 and the World Health Organisation has likewise endorsed the AstraZeneca vaccine for all adults over 18 and against all strains of the virus.
Last week, WHO vaccine experts announced that the AstraZeneca vaccine could be used for people over the age of 65, and also in settings where variants of the virus are circulating. It has already been administered to over 10 million people in the UK without serious side effects, and has an excellent safety profile.
Addressing concerns about the effectiveness of the COVID-19 vaccines, Professor Landis affirmed, "Even for those persons who may still contract the virus, vaccination prevents all severe disease and hospitalizations.
"This is an exciting time in the pandemic in which we have the opportunity to save lives and curb the spread. I really want to urge all persons who are eligible according to their risk category by age or profession to take the vaccine." he added.
Staff COVID-19 Protocols
To: All Faculty, Researchers, Administrators, Staff, and Student Employees
Over the course of the last few weeks, the spread of COVID-19 has raised questions among employees about how to keep themselves, their colleagues, and the broader community safe, healthy, and well.
This video contains important guidance about precautions individuals can take to keep themselves safe and healthy.
Welcome to the 2020/2021 Academic Year!
The University of the West Indies Mona Campus continues to implement plans and protocols to safely restart campus activities, following public health advice and best practices.
Guided by our commitment to education and research and to the health and safety of our community, The UWI Mona continues to emphasize online learning while allowing for the resumption of certain in-person activities. Supporting the wellbeing of community members while advancing The UWI Mona's academic pursuit requires each of us taking steps to protect ourselves and others by following important health and safety protocols on campus. Through robust commitment at the University, School, and individual level, all of us can play a role in preventing the spread of infection and can help The UWI Mona to Stay In Ctrl.
Please take precautions as outlined in this video to help limit the spread of COVID-19:
Academic Year 2020/2021: New Plans for Semester One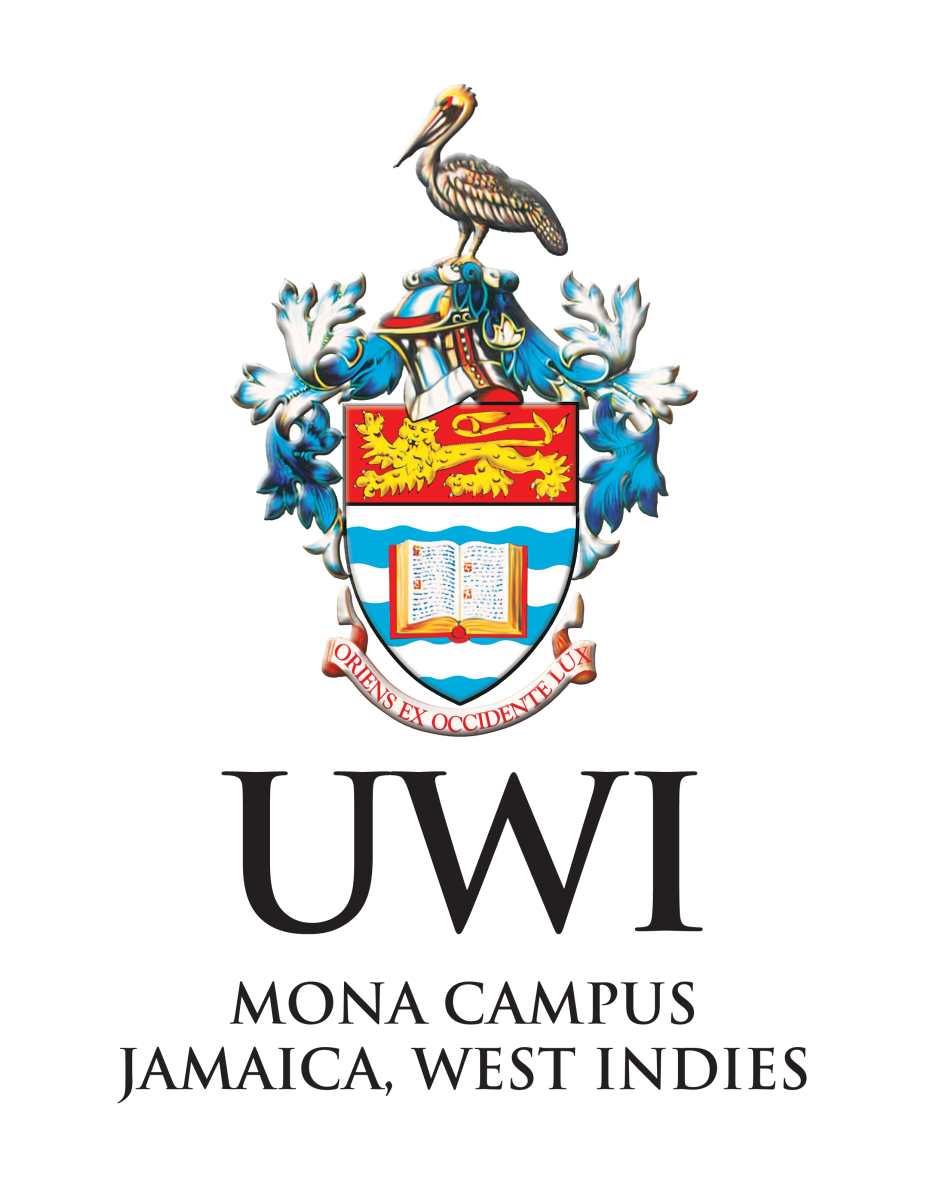 The health, safety and well-being of our students and staff is our highest priority. We have been working for the past few weeks to deliver as much on-campus learning and the widest university experience possible for our students in the safest way possible and previously announced a hybrid blend of online and face-to-face learning in semester 1 of the 2020/21 academic year. Registration opened on August 17, 2020 and students were made aware of programmes being offered online and face-to-face. Approximately 70% of courses were offered as online modality and the remaining 30% face-to-face.
Recent developments of COVID-19 locally have however called for a reassessment and careful risk assessment and a decision has been taken to further reduce the offering of face-to-face delivery by offering an online modality across all faculties for all courses except for those programmes with clinical or specialised laboratory components.
International and regional students are therefore encouraged not to attempt to attend the campus but to engage their courses in the online/remote mode being provided and make contact with the Office of Students Services who will provide information on the arrangements especially where room allocations had been completed. We apologise for this inconvenience but the risks associated with the operation of a high density resident hall
facility are even more significant under the potential COVID-19 scenarios.
With the changes in operational mode, students will benefit from a reduction in miscellaneous fees as well as an extension in the registration period.
COVID-19 has certainly taught us that agility is important in successfully navigating the pandemic, as the situation is constantly changing. We thank our returning students, who
adapted with us last semester, and have taken note of the challenges encountered. We have worked to address those challenges and hope to offer some improvements in Semester 1 as we engage in the online/remote mode of learning.
We apologize for any inconvenience this may have caused to our students and their families but seek the support and understanding of all as we work to keep all members of our community safe.
Housing on Campus
With the online/remote delivery mode implementation there will be very little accommodation available on-Campus. All rooms will be single accommodation and priority will be given to those whose programmes demand face-to face delivery for the upcoming
semester (clinical and specialised laboratory courses). All students in residence will be required to adhere to Campus protocols as it relates to living in a Hall of Residence as well as all COVID19 health and safety protocols.
Move-in dates
For those students who will be accommodated as outlined above this will be facilitated between August 30 to 31 for new students and September 1 to 6 for returning students. While teaching is scheduled to begin on September 7, the period September 7 to13 may be used for orientation to the online/remote teaching platform where necessary and classdelivery to begin by September 14, 2020. Please note that visitors will not be allowed on Halls and relocating to another Hall might become necessary to facilitate quarantining and isolation if needed.
Important Dates:
Online/remote teaching orientation available (Semester One): September 7 - 13, 2020
Teaching Begins (Semester One): September 7, 2020
Teaching Ends (Semester One): December 4, 2020
Examination Begins: December 7, 2020
Semester One Ends: December 22, 2020
Health and Safety Protocols for All
All students, staff and visitors to The UWI, will be required to follow the health and safety protocols issued by the Government of Jamaica and The UWI Mona Campus. We all have a
personal responsibility to do what is required to reduce the risk of COVID-19 in our Campus Community and we seek your support in this regard.
The following are mandated
Wearing of a face mask that adequately covers the nose and mouth in public spaces
Maintaining 2 meters (6ft) of distance from all students, employees and visitors
Adhere to the temperature monitoring, hand washing and disinfecting requirements for entry to buildings
Observe the maximum occupancy requirements for the various outdoor and indoor spaces on Campus to include learning, office, leisure and living spaces
Adhere to personal hygiene protocols stipulated by the Ministry of Health (wash hands frequently, cough and sneeze in tissue and properly discard)
Stay home if you are ill and report any COVID-19 related symptoms by calling the Ministry of Health and Wellness: 888- ONE-LOVE (888-663-5683). Please also notify your Dean/Hall Manager/SSDM
Members of our community who do not comply will not be permitted inside buildings and may also be asked to leave the campus.
For additional information as it relates to learning spaces, reporting illness (yourself or someone else), and other COVID-19 related information, visit www.mona.uwi.edu/covid19 and view the Framework for Operations on Campus (top left of the website). We seek the full cooperation of all members of staff, students and visitors to the Mona Campus, as these protocols were designed to protect all members of our community.
As we go forward, we will continue to update protocols as the changing situation requires, and we will keep you well informed
The UWI secures 2000 COVID-19 Test Kits and High-tech Testing Machines for Jamaica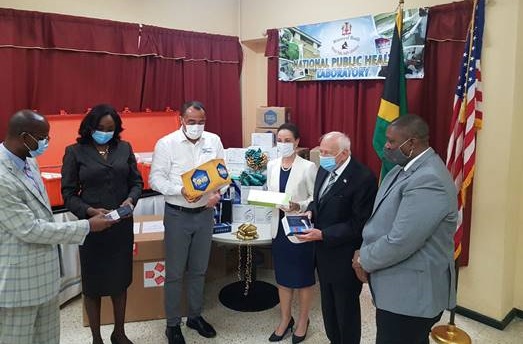 From Left: Dr Varough Deyde – Director, Centres for Disease Control and Prevention (CDC), Caribbean Regional Office;
Dr Michelle Hamilton – Director of the National Public Health Laboratory; Dr The Hon. Christopher Tufton – Minister of Health and Wellness, Jamaica; Senator the Hon. Kamina Johnson-Smith – Minister of Foreign Affairs and Foreign Trade, Jamaica; Ambassador Donald Tapia – US Ambassador to Jamaica and Mr Charles Grant – Director General, International Centre for Environmental and Nuclear Sciences (ICENS), The UWI
The University of the West Indies (The UWI), through the International Centre for Environmental and Nuclear Sciences (ICENS) has brokered a deal for a welcomed donation of COVID-19 testing resources for Jamaica. Director of the ICENS, Charles Grant negotiated with the International Atomic Energy Agency (IAEA) for the donation of a real-time reverse transcription polymerase chain reaction (RT-PCR) machine and 2000 testing-kits valued at approximately US$100,000.00.
According to the IAEA, RT-PCR is a nuclear derived technique that allows for rapid detection, tracking and study of COVID-19 and other viral diseases. It is one of the most accurate laboratory detection methods and is able to deliver reliable diagnoses in as little as three hours. When compared to alternative virus isolation methods, RT-PCR is significantly faster and reduces the potential for contamination or errors.
Commenting on the deal, Mr Grant said "Jamaica has had a longstanding and fruitful collaborative history with IAEA particularly with the Technical Cooperation Division, with whom Jamaica has partnered on numerous national developmental projects. This latest donation will play an important part in our fight against COVID-19. I would also like to thank the Government of the United States of America who provided much of the funding for the donation."
Professor Clive Landis, Chairman of The UWI COVID-19 Task Force also noted that the University's response to COVID-19 has been both rapid and sustained. "The UWI through its COVID-19 Task Force has been an integral component of the region's planning and response to the pandemic even before the first case was registered in the Caribbean. The success of the region's response thus far has been based on accurate and timely testing and surveillance along with close collaboration between governments, the health and non-health sectors, the disaster and emergency relief agencies, The UWI, and our international partner agencies. It is pleasing to see ICENS broker such a generous donation from the IAEA that will strengthen the testing infrastructure of Jamaica, helping to keep citizens safe," he said.
The ICENS has received high commendation by Jamaican Minister of Health and Wellness, Dr The Honourable Christopher Tufton who expressed his gratitude and noted that the donated resources will aid in meeting the increased testing requirement in Jamaica. The testing resources were handed over to the National Public Health Laboratory on July 16, 2020. ICENS Director General, Mr Charles Grant represented The UWI.
 Notably, for his work leading the International Centre for Environmental and Nuclear Sciences (ICENS) Mr Grant is also nominated to receive this year's UWI Vice-Chancellor's Award for outstanding contribution to public service.
ACADEMIC YEAR 2020/2021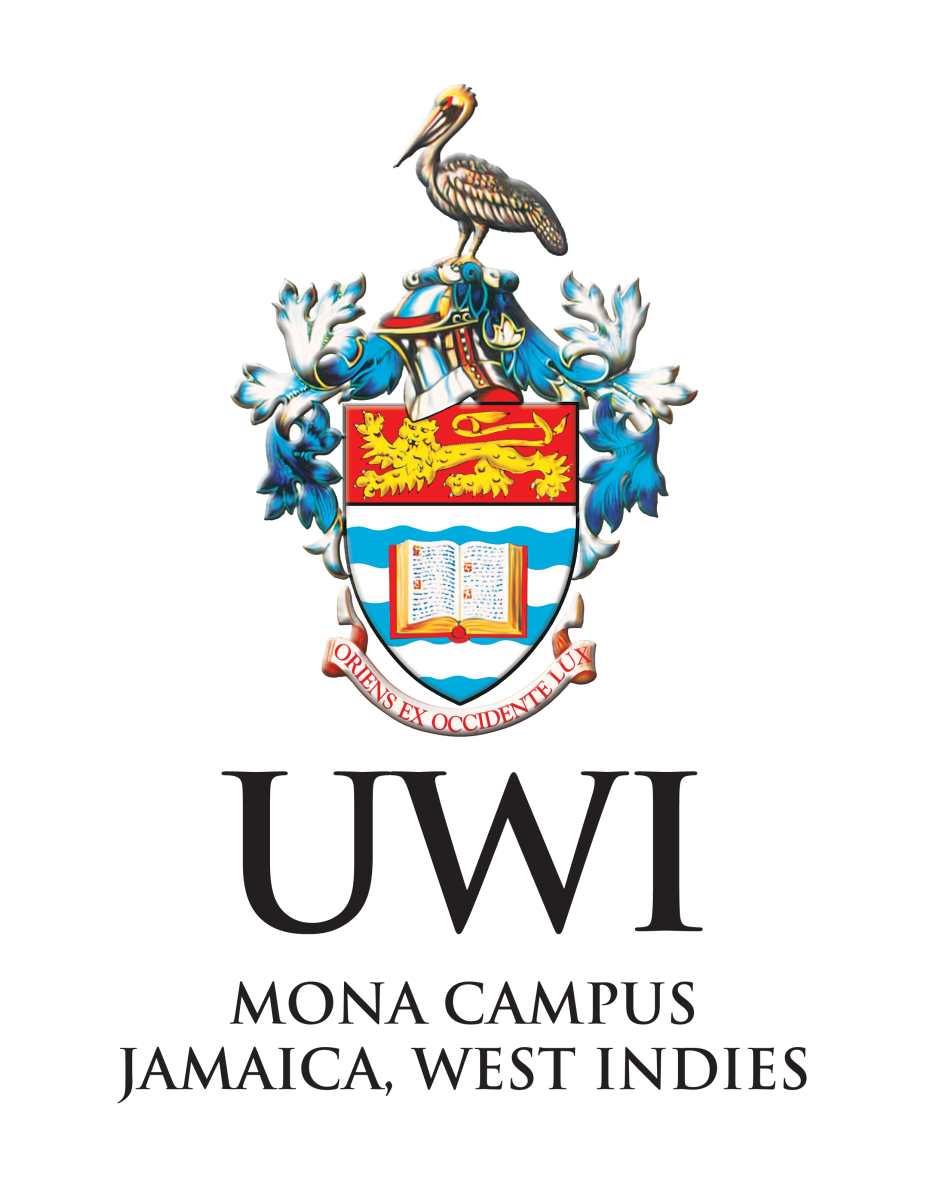 Dear Students,
As we look forward to the new academic year, we would like to once again thank you for your continued patience as we conclude on the safest and most appropriate methods of re-accommodating you and other stakeholders on the Mona Campus.
The Mona Campus is keen on getting this right in order to ensure the smooth running of our online teaching and learning experience. At this point in time, we are one month behind our regular schedule; however we are on target for the start of the new academic year - all thanks to our devoted staff, our academics and administrators who have been going above and beyond the call of duty to support our students' academic progress.
Exam results for academic year 2019/2020
We sincerely apologise for the delay in releasing grades for semester two (AY 2019/2020). To date, we have released 90% of all grades. The outstanding results are due to extenuating circumstances, predominantly regarding the format of the examinations.
The year ahead
The new academic year is scheduled to begin on August 30, 2020 and teaching will commence as planned on September 7.
As previously communicated, teaching for the new academic year will be offered in a blended mode of online and face to face learning. This hybrid mode will allow us to adhere to health and safety protocols to keep our students and staff safe and healthy while at the same time, providing you our students with the best possible learning experience. The online classes are most likely to be those that are large (based on historical data), whilst smaller class sizes and tutorials will be offered face to face as much as can be accommodated. We listened to your feedback from recent surveys of your online learning experience and wish to assure you that we are taking all of this into consideration in shaping this hybrid approach.
We understand the anticipation that our students face as it relates to the delivery mode of courses for semester one. You would appreciate that this is a painstaking effort that would require much time and we are making every effort to have the details available to you as quickly as possible.
We have been working with Faculty Deans, Heads of Departments, and Course and Programme Coordinators to finalise the delivery modality of all programmes and their associated courses – a task that has never been undertaken by the University and for which the scope is large, given the Campus' size and extensive programme offerings. This process will, however, be completed to coincide with the opening of registration in mid-August.
We crave your patience even as we appreciate your anxieties. Rest assured that we will be open for business and remain committed to keeping you informed of any new developments.
Halls of Residence
While there will be changes in operations consistent with the health and safety protocols, all students can be assured that hall-living will be safe and welcoming. We are now accepting applications for on-campus housing. There will be a limited number of rooms available so early application for housing is encouraged.
For further information, new students are being asked to send enquiries to studenthousing@uwimona.edu.jm while returning students, who previously resided in a Hall of residence are asked to make contact with their respective Student Services and Development Manager.
Dale Webber, Professor
Pro Vice-Chancellor and Principal
Letter to Returning and Finalising Students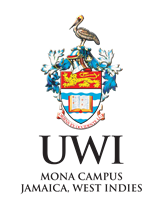 Dear UWI Mona Student,
We hope that you and your family are safe and well.
On Friday July, 3, 2020 we completed Semester II for Academic year 2019/2020. We are happy that as a University, we were able to successfully navigate the challenges we faced. This was achieved by having all hands on deck, working together to provide solutions for the campus, the country and the Caribbean region.
We thank you, our students, for your patience and resilience as you adapted to the significant changes over the last couple of months. We are aware that we should have communicated with you sooner. We apologize for this, as we assure you that we have been working assiduously to navigate all the issues that have arisen due to Covid-19.
Given the stress associated with COVID-19 and additional factors such as internet connectivity issues, we have made a provision to ensure that any failing grade received in the recent Semester II exams, will not negatively impact your GPA. In such instances, your record will reflect 'Fail Minus Penalty' (FMP).
Congratulations to all students who would have finalised studies here at The UWI Mona in Semester II. This last lap for you would have been perhaps the most challenging, but you did it. The University has not yet finalised the dates for Graduation as consideration has to be given for the University's four (4) campuses, and the dates selected will certainly guide whether we have a virtual ceremony or face-to-face here on Campus. We will communicate this information to you as soon as decisions are made.
Returning Students - How we will deliver courses while prioritising your health and safety
At this point, we are actively planning for the new academic year whilst adapting to what our 'new normal' will be on campus. Please be reassured that the health, safety and wellbeing of all students is our absolute priority and the University is taking the necessary measures to equip and configure our spaces to ensure your health and safety.
The UWI Mona Campus will commence teaching on September 7, 2020. Physical distancing protocols will be critical to keeping you safe while on Campus, as such, the campus has taken the decision to offer a blended delivery mode, with some programmes/courses to be offered in a face-to face mode, while others will be offered remotely/online. We are currently re-imagining all our teaching/learning spaces to see how best we can accommodate face-to face-learning whilst keeping you safe.
The details of programmes/courses to be offered face-to-face is currently being worked on and will be largely dependent on the class size for the courses; as managing the numbers in our teaching and learning spaces will be paramount. We will communicate the details of this and how you will register for the upcoming semester by July 31, 2020.
On-Campus Housing
In keeping with physical distancing requirements, we are reviewing all our spaces on our halls to ensure that the physical distancing protocols are observed. This may result in shared/double room options being converted into single-dwelling spaces. This therefore limits the number of rooms available on campus for the 2020/21 Academic Year. Priority will be given to those students who: are required to do face-to-face based on their Programme (and need accommodation based on distance from campus); reside outside of Jamaica or have internet access challenges (reside in areas with little to no network support).
All other students wishing to reside in a Hall of Residence will be accommodated if the space is available.
Financial Arrangements
Like many organizations globally The UWI Mona Campus is grappling with the financial effects brought on by COVID-19. No one knows how long this pandemic and the associated economic disruptions will persist and we have been doing the best we can to adjust in light of these difficult circumstances. We are also mindful of the challenges that our students and families are facing and it is against this background that we want to do our part to ease the strain on our students by assisting to the best of our ability.
The Campus is pleased to announce that there will be no increase in Undergraduate Tuition as previously intended based on concessions given in the last academic year. In addition, Halls of Residence Fees except for those Halls developed by 138SL (George Alleyne Hall, Irvine Hall and Leslie Robinson Hall) will not be subject to an increase. There are however, a few Post Graduate Programmes that will see an increase in Tuition for the 2020/21 Academic Year.
We encourage students to take advantage of the new concessions being offered by the Students' Loan Bureau as one option for the financing of your degree. Applications are still open and the application fee has been waived.
Our Office of Student Financing (OSF) is ready to provide guidance and assistance where possible to those students that will require financial support.
We look forward to welcoming you back, as together we strive to overcome the challenges of this pandemic.
Dale Webber, Professor
Pro Vice-Chancellor and Principal
COVID-19 PREVENTION TIPS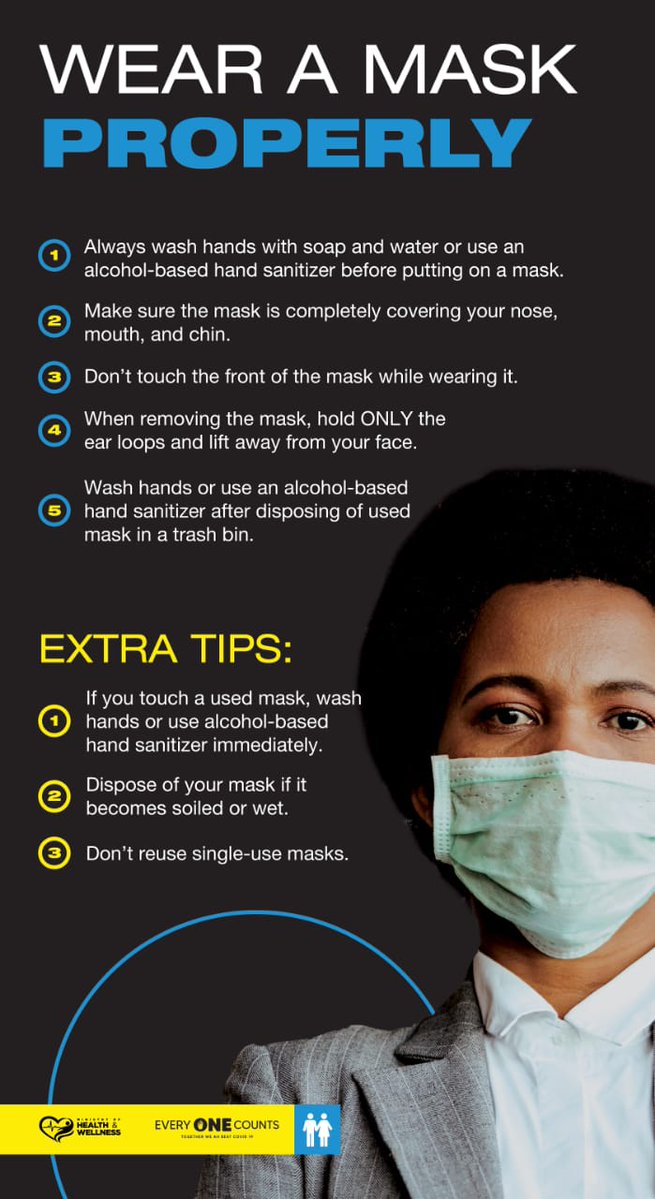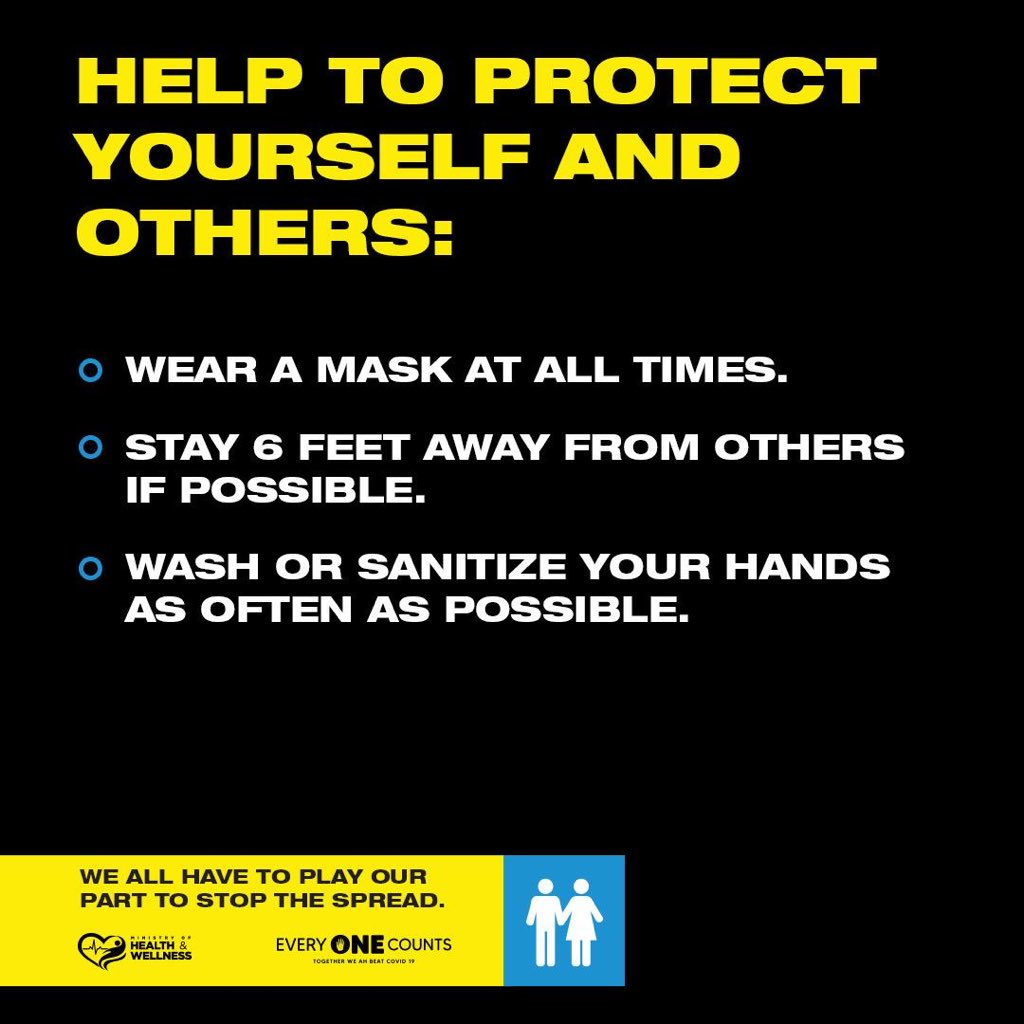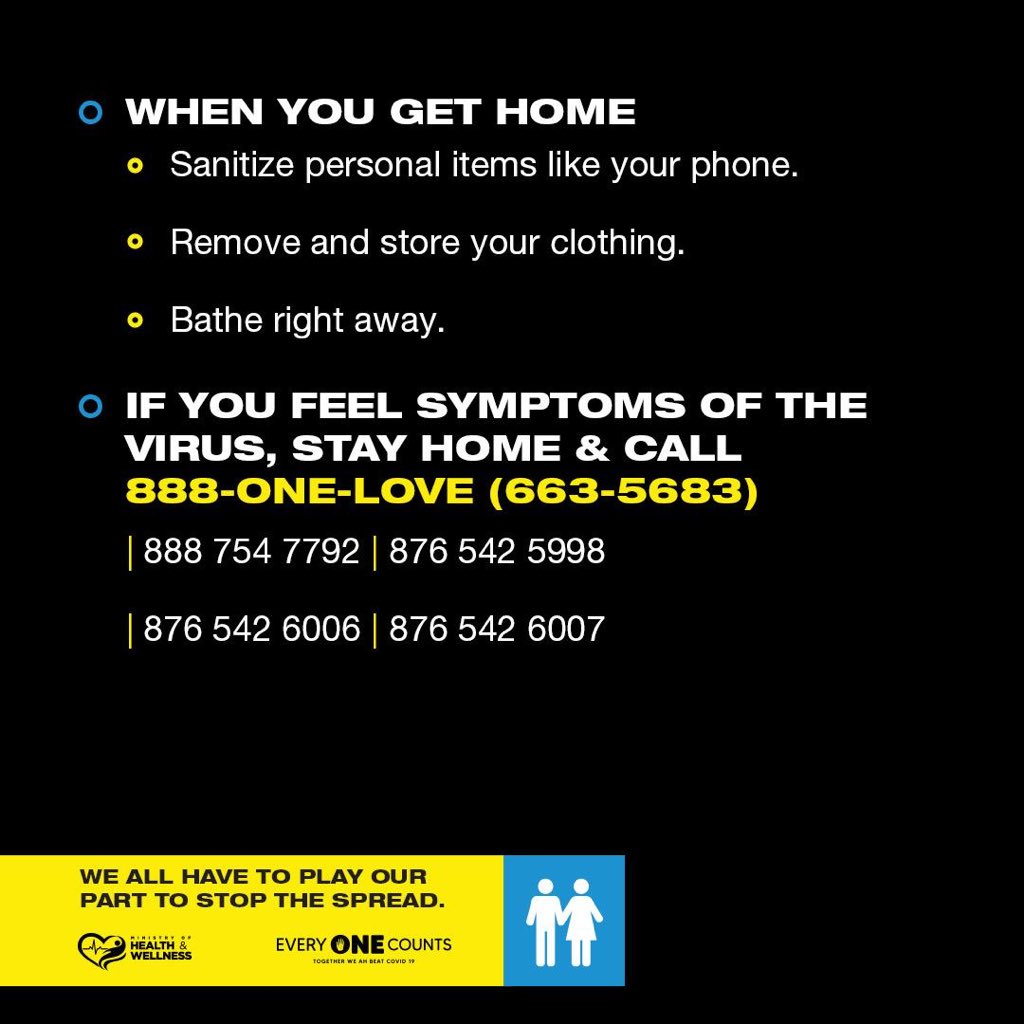 Pages