Clarification and Guidelines for the Suspension of Classes due to the Outbreak of COVID-19
Effective March 13, 2020, all classes at The UWI Mona Campus were suspended. All teaching and learning activities (quizzes, assignments, exams, discussions, tutorials etc.) at all levels are, therefore, to be suspended until April 14th when classes resume in a remote and online or face-to-face mode.
Some students may have received notifications regarding assignments and group work activities from lecturers/tutors which should not have occurred. We apologize for any anxieties this may have caused.
A new schedule for assignments, quizzes and exams will be communicated with students when classes resume.
During the suspension period, academic staff will be uploading learning content to OurVle and other online platforms, in preparation for the resumption of teaching/learning on April 14, 2020. While students remain free to read/engage with the learning material and are encouraged to use the period wisely, there is no obligation to do so prior to April 14th.
The Mona Campus is mindful that there are students who are currently in the process of moving off-campus as well as students who have no access to internet facilities off-campus. The four-week suspension of classes is to help with our own transition to online platforms as well as to allow students time to put their own plans in place as we transition to the planned remote and online mode of teaching and learning.
For some courses for the purpose of preparation, test e-learning or remote teaching environments or activities may be required, and you may receive material/notifications regarding same. We have communicated to our academic staff to clearly identify any such 'test environments', so as not to alarm or cause confusion among our students. We also recognize that there are some learning scenarios that may prove more challenging than others to be ready in an online-mode, for example labs, which is currently being worked out.
We thank you for your patience and understanding in this matter and continue to encourage you to take all the necessary personal measures to keep safe; these include, frequent hand washing and social-distancing; as we continue to navigate this national public health emergency.
Principal's Message | COVID-19
Dear Students and Staff,
On March 10, 2020, The Government of Jamaica announced the first case of the novel Corona Virus, COVID-19 in the country.
While there have been ongoing preparations nationally and here at The UWI the diagnosis of Jamaica's first case moved us from code green to code orange and from preparation to prevention of transmission; triggering a series of actions in keeping with WHO/PAHO and GOJ guidelines.
Our Emergency Management Team
Here on the campus our Emergency Management team composed of persons representing all aspects of the campus was activated. We have been carefully navigating the rapidly evolving challenges associated with the novel Corona Virus, COVID-19 and would like to thank everyone who has helped in alleviating fears by facilitating the actions needed for the good of public safety. Special thanks to the Guild of Students who have assisted greatly in keeping our students informed with official information from the University.
As we are a Regional University I have been consulting with the Vice Chancellor and with the knowledge that this situation is a national Public Health Emergency, I have been in dialogue with officials from government across both the Ministry of Health and Wellness and Ministry of Education as well as with several public health experts. In all these discussions the welfare of the students and staff have been paramount and will continue to be.
With a community of more than 20,000 students and staff combined from all across Jamaica, the Caribbean and the world; and with essential services located on the campus we have many issues to consider.
Closure of Schools
On March 12, The Government mandated the closure of schools, following two confirmed cases of the virus. On the same day of the announcement of government mandated closures, The UWI Mona announced (with effect from March 13, 2020) the suspension of classes, cancellation of mid-semester exams, and advised Jamaican students living on campus to return home. This was our response to the national call to reduce or remove large gatherings which are common areas for virus transmission. Being a regional institution the impact of our decisions on ALL campuses must be considered and this takes time even in today's technology-enabled environment. The decision taken to suspend classes was released prematurely, which caused anxieties among staff and students alike and we do regret this as we seek to improve our information management as we go forward.
The resumption date of April 14 immediately after the Easter break was selected to allow maximum time for Departments to prepare online-ready material to engage students. This will facilitate our attempts to continue course delivery and to bring Semester 2 to adequate closure even if later than normal.
Confirmed Cases
Between March 13-16, 2020, The Government announced 12 confirmed cases in the country. The UWI Mona announced the reduction of business operations the intention of which is to give HODs the authority to manage their staff in line with the exigencies of their operations. Departments should not be completely closed. One option is to develop a roster to allow a skeletal staff presence enabling others to work from home where possible. To facilitate a skeletal staff, our janitorial staff have been doing extra cleaning of administrative spaces. Due consideration should, however, be given to individual circumstances, for e.g. persons with: pre-existing health conditions; children at home; and the critical nature of the office's operations.
I appreciate that both students and staff alike have concerns, we are currently working to address them and seek your understanding as we prioritize your safety, while ensuring the continuity of education for students during this evolving situation. We are still in our second phase (Code Orange) and continue to support the Government in testing and planning.
If we move to Code Red
One of our primary aims at present is to prepare the online platform for continued education delivery while we prepare for the change in operations which will come if we move to Code Red where only essential services will be facilitated at the Mona Campus and there will be restricted access. Please bear in mind that unlike other institutions the Mona Campus cannot close due to the many essential operations and activates; such as our housing of 1000 regional and international students, our testing laboratories, our two health centres, police posts, electricity and cooling generation, water supply, all being based on the campus. We will however manage our space and our operations in the best possible way.
Your suggestions and ideas
As always, I remain open to your suggestions and ideas as we seek to garner collective wisdom to fight this new global threat. Please stay abreast of the information from credible sources using this to guide the safety of yourself, your family, your neighbours and your community in every decision and before every action. Remain calm and take all the necessary precautions. We will be in this for a while to come but we will be in this together.
Your Mona Campus is working hard to keep our students, staff and community as safe as possible.
Professor Dale Webber
Pro Vice-Chancellor and Principal
Advisory 4: COVID-19
Reduction of Business Operations at The UWI Mona Campus
The current COVID-19 situation is a dynamic and continuously evolving one and The University of the West Indies (UWI), therefore is in a position of continuous evaluation and re-evaluation of its response plan. This is being done in close collaboration with national agencies, and guided by collective policies, systems, and paramount, is the public health and wellbeing of our campus and wider national community in mind.
As at today, Friday March 13, 2020, the Ministry of Health and Wellness, in Jamaica has reported 6 new cases of COVID-19 in Jamaica which brings the total number of cases to 8.
In light of the recent closure of educational institutions across the country, many families from our community have been impacted. In keeping with our emergency response plan, the University leadership has therefore determined that there be reduced business operations with effect from today, March 13, 2020, until further advised.
Heads of Departments and Units will be activating plans to facilitate the continuity of business operations as required, and will determine the specific tasks to be assigned for execution, if operating from home.
Team members who are required to be on campus are asked to adhere to all instituted protocols. These team members include personnel and administrative staff in essential service areas such as MITS, Student Services, Estate Management, Healthcare Facilities, Campus Security, Safety and Emergency and any other as stipulated by the Mona Management Team and Heads of Departments.
We would like to once again urge all members of our community to remain calm and continue to practice good personal hygiene by washing hands frequently with soap and practice social distancing.
Procedures For Persons With Flu-Like Symptoms while ON and OFF Campus
The World Health Organization describes the common signs of infection as "include respiratory symptoms, fever, cough, shortness of breath and breathing difficulties. In more severe cases, infection can cause pneumonia, severe acute respiratory syndrome, kidney failure and even death". 
It goes on to state that some persons may exhibit all or very few of the symptoms.
The presence of the virus in an individual can only be detected in a laboratory environment.
As the outbreak of the COVID-19 coincides with the traditional "flu season" it can be expected that persons may generally exhibit flu-like symptoms. While this is not necessarily a sign of the presence of the Coronavirus, all persons should take precautions.
Experiencing Flu-Like Symptoms - Off Campus
As a guide, national and international health advisory organizations recommend the following:
Stay at home when you are ill
Avoid physical contact with members of your household
Cover your cough or sneeze with a tissue, then throw the tissue in the trash
Cleanse hands after sneezing/coughing
If symptoms persist, seek medical attention
Before Attending a Medical Care Facility - Off Campus
Prior to visiting any medical facility, it is recommended that you call ahead and describe your symptoms; so that the necessary preparation can be put in place for your reception. 
Experiencing Flu-Like Symptoms - On Campus
If you become concerned about the signs/symptoms being exhibited by a colleague/student, and you believe that they may require medical attention, the following steps are recommended:
Avoid physical contact with the individual
Arrange for the individual to be placed in an area/space away from the general population. This could be a Sick Bay, an enclosed office/bedroom etc.
If the individual chooses to see their personal physician

Inform the University Health Centre (Telephone Direct lines: 927 2520, 970 0017; Extensions: 2270, 2370)
Facilitate their departure of the Campus

If the individual chooses to attend the University Health Centre;

Inform the University Health Centre
Facilitate the actions given in the guidance provided by the University Health Centre. Depending on the particular situation, arrangements may be made by the University Health Centre and/or the Ministry of Health and Wellness for the transportation of the individual
Experiencing Flu-Like Symptoms - Transportation
The Ministry of Health and Wellness has protocols in place for the transportation of suspected cases of COVID-19.
Experiencing Flu-Like Symptoms - Contact
It is to be noted that under any circumstance, an individual may choose to call any of the following, directly:
Information Gathering
For the safety of all concerned, we ask that the following information be collected and recorded:
Name
ID #
Address
Contact Number
Additionally, records should be kept of the persons who may have interacted/come in contact with the individual. The Ministry of Health and Wellness/Health care providers will be interested in that list.
Advisory 3 | COVID-19
Suspension of Classes at The UWI Mona Campus
The leadership of The UWI Mona Campus in consultation with the Vice-Chancellor of the University and other authorities has taken the decision to suspend all classes at both the Mona and Western Jamaica Campuses for four weeks, effective March 13, 2020.
All mid-semester examinations scheduled for tomorrow, March 13, 2020, have subsequently been cancelled. Teaching is expected to resume, either online or face-to-face from April 14, 2020, and this may result in the semester being extended. All Jamaican students who reside on hall are required to move home during this period. International and regional students are welcome to remain on hall, but are asked to strictly adhere to all instituted protocols.
The Campus will remain open and operational until further advised.
As we continue to monitor the national, regional and international situation and prepare our own environment, we urge that that all staff, students and members of the wider community take the necessary personal precautionary measures.
Advisory 2 | COVID-19
The UWI Mona Campus is closely monitoring COVID-19 in Jamaica. To date, there is still one confirmed case of the virus in the country. The University remains open and operational, with preventative measures being given high priority at this time as the health, safety and welfare of our students and staff remain our top priority. We have contingencies in place to ensure the continuity of teaching and learning and other business operations of the campus.
It will be important that members of our community keep informed on the facts of COVID-19 and be disciplined in practicing preventative measures. Below are some measures the University has implemented to reduce the risk of transmission within our community:
Suspension of Gate Passes
International Travel Restriction
Withdrawal of Students in the Faculty of Medical Sciences from emergency rooms and casualty departments in hospitals across the country
More frequent cleaning and sanitization of office and classroom spaces and halls of residence
Online and telephone support services in administrative offices is encouraged rather than face to face
What You Need to Know about COVID-19
Although there is currently no treatment, more than 90% of those infected have recovered.
Those most at risk for serious complications from the virus are the elderly and individuals with pre-existing medical conditions.
Effective personal hygiene and care is critical for minimizing the spread COVID-19.
Frequent hand washing with soap for at least 20 seconds is strongly encouraged as the virus is transmitted through touching the eyes, nose and mouth. As much as possible avoid touching your face. Use a hand sanitizer when frequent hand washing is not possible. The UWI Mona understands the shortage of sanitizers and wishes to assure the community that we are making our own supply available through the Basic Medical Sciences Department.
Practice Social Distancing – Maintain two meters/6 feet distance from others, especially those displaying symptoms of illness.
Symptoms of COVID-19
Symptom *

prevalence

(%)

fever

87.9

dry cough

67.7

fatigue

38.1

sputum production (mucus)

33.4

shortness of breath

18.6

joint pain

14.8

sore throat

13.9

headache

13.6

The Ministry of Health and Wellness has advised that individuals who display these symptoms remain home and self-quarantine.
What to do if you develop symptoms while on campus:
Call the Health Centre immediately if you think you have been exposed or experiencing signs and symptoms: 876- 927-2520 or the Ministry of Health and Wellness hotline at 888-663-5683.
Individuals with suspected cases of COVID-19 will be taken to the hospital by either members of the UWI Mona Health Centre or the Ministry of Health and Wellness. The University Hospital of the West Indies is one of the designated hospitals for treating patients with COVID-19.
Mid Semester Examinations
The University of the West Indies, Mona Campus wishes to advise the public that unscrupulous persons have been circulating notices to convey the postponement of mid semester examinations.
We wish to advise that said notice purporting to be from the Ministry of Health and Wellness is disingenuous and ask all The UWI students and staff not to focus on this type of Fake News as no official notification has been released by the UWI Examination Section.
The University of the West Indies, Mona and The UWI Mona Western Jamaica Campuses will continue normal operations until further advised. Please continue to prepare for your examinations as previously scheduled and consult with The University of the West Indies for all future communication and updates concerning Covid-19 protocols for public spaces. For additional information please utilize https://www.mona.uwi.edu/covid19.
Campus Advisory: COVID-19
The Ministry of Health and Wellness has confirmed the first known case of the Corona Virus, COVID-19 in Jamaica.
The UWI Mona Campus wishes to assure members of our community that the health and welfare of all students and staff are priority and so all plans and decisions made will be in the best interest of all members of our community.
A University Task Force and subsequently a Campus Emergency Committee were established in February to prepare for and manage the threat posed by the Coronavirus, COVID-19. Both teams are now positioned to activate their response plans, working in close collaboration with the Ministry of Health.
The Campus Emergency Committee is chaired by Pro Vice-Chancellor and Campus Principal, Professor Dale Webber and Clinical Director of the University Health Centre Dr. Blossom Anglin-Brown is the Deputy Chair. This team comprises multi-disciplined academics, administrators and student representatives.
We understand that members of our community maybe anxious at this time, but we urge the need to be calm and exercise precautions as advised by the Ministry of Health and Wellness and other relevant health agencies.
If you think you need support or recognise someone who does, do not hesitate to contact the University Counselling Service in the University Health Centre or through the UWIHELPS telephone counselling service: 876-294-0042.
Please continue to follow updates and advisories issued by the Ministry of Health, and the Campus.
The UWI establishes COVID-19 Task Force
Regional Headquarters, Jamaica. Friday, February 28, 2020. Once again, The UWI is launching a Task Force to assist with the mobilisation of the region's public health providers to deal with an incoming virus. Four years ago, the Zika virus triggered the response; today it is COVID-19.
Again, the Task Force will be chaired by Professor Clive Landis, Pro Vice-Chancellor for Undergraduate Studies and former Director of the George Alleyne Chronic Disease Research Centre, who has considerable experience in the field of Caribbean public health.
The UWI is currently delivering a software engineering degree programme at its joint Institute in Suzhou, China, and has a large registered cohort of Caribbean students. It is engaged directly with public health officials in Suzhou, Caribbean diplomatic corps in Beijing, and the leadership of its partner university, the Global Institute for Software Engineering (GIST).
Vice-Chancellor, Professor Sir Hilary Beckles stated, "Against the background of dealing with its internal affairs in China, The UWI has been working in close collaboration with regional health ministries and the relevant CARICOM agencies." The purpose, he added, is to "Provide the necessary scientific data on the virus and to work with government colleagues in creating an effective communications strategy for the region." He concluded saying, "The Task Force will have a critical role to play in solutions building in the immediate future".
Membership of the Task Force is drawn from the regional UWI medical faculties and external experts experienced in the laboratory and field deployment of an active scientific approach.
Commenting on the work of the Task Force, Professor Landis stated, "It is right that The UWI should deploy its full expertise as a public academy to help Caribbean communities cope at this instance of the COVID-19 epidemic. The primary emphasis of the COVID-19 Task Force will be to provide accurate and reliable information through UWItv and other channels of communication. Armed with good information and strong partnerships we will get through this viral outbreak as we did for 'swine flu', Chikungunya and Zika before it."
What is Coronavirus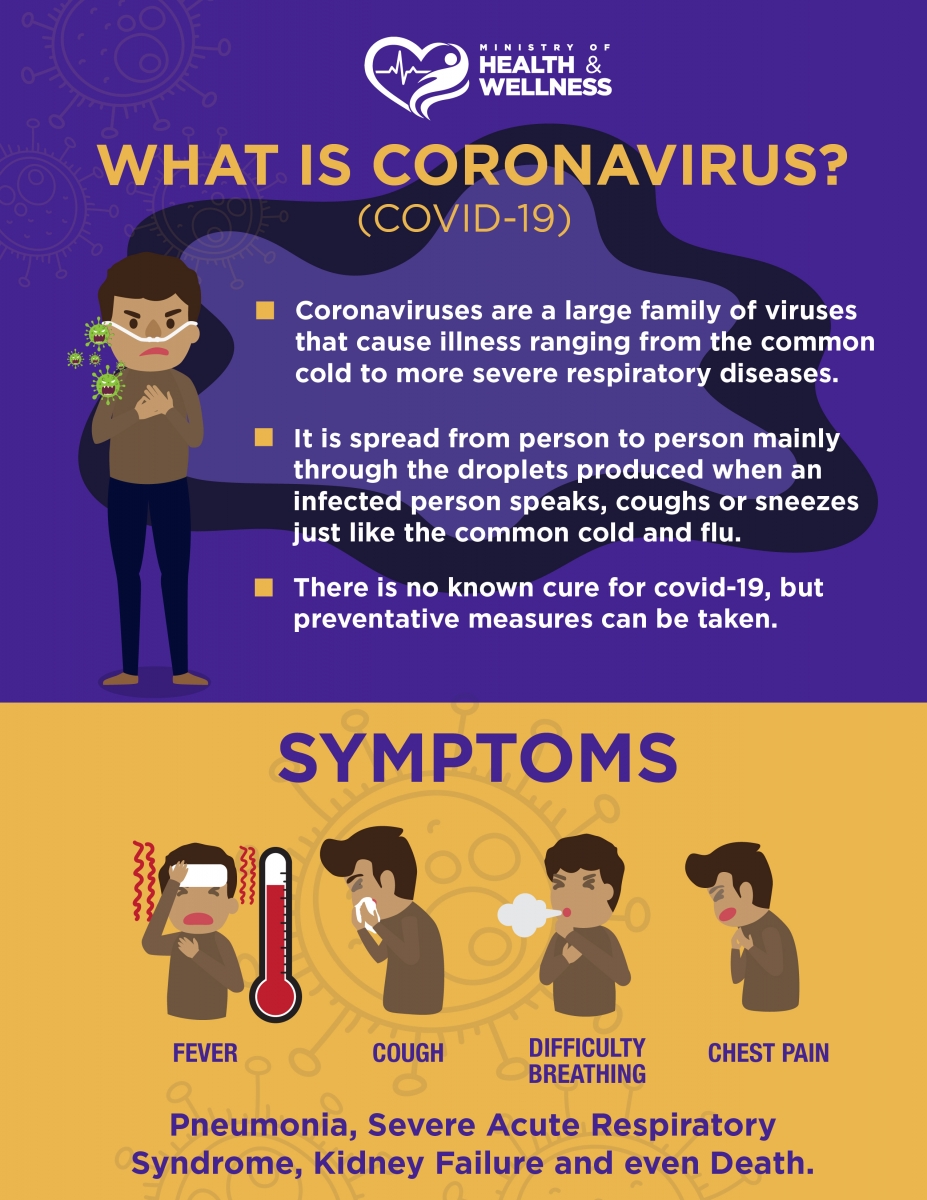 ---
What to do if exposed to the COVID-19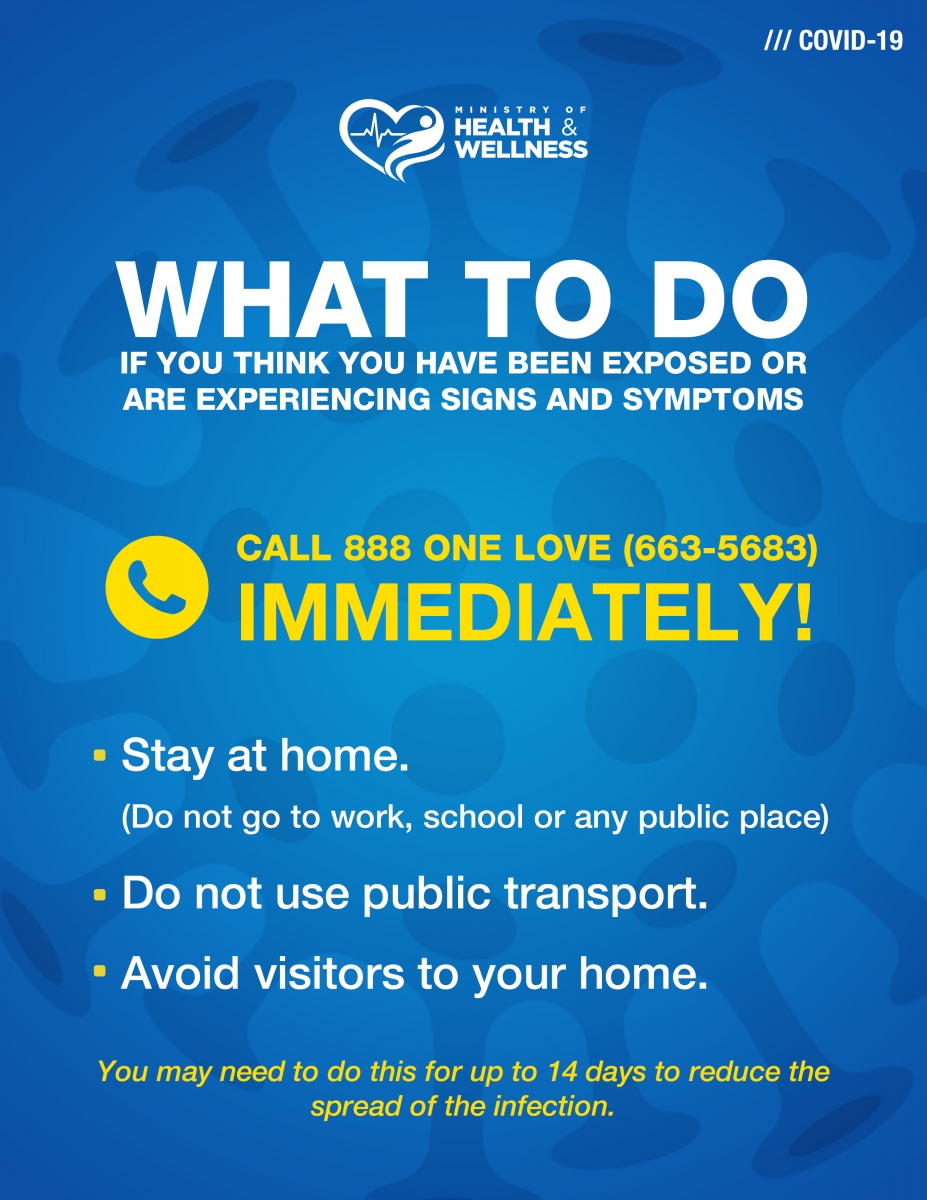 ---
Protect Yourself and Others from getting Sick
---
Navigating Public Spaces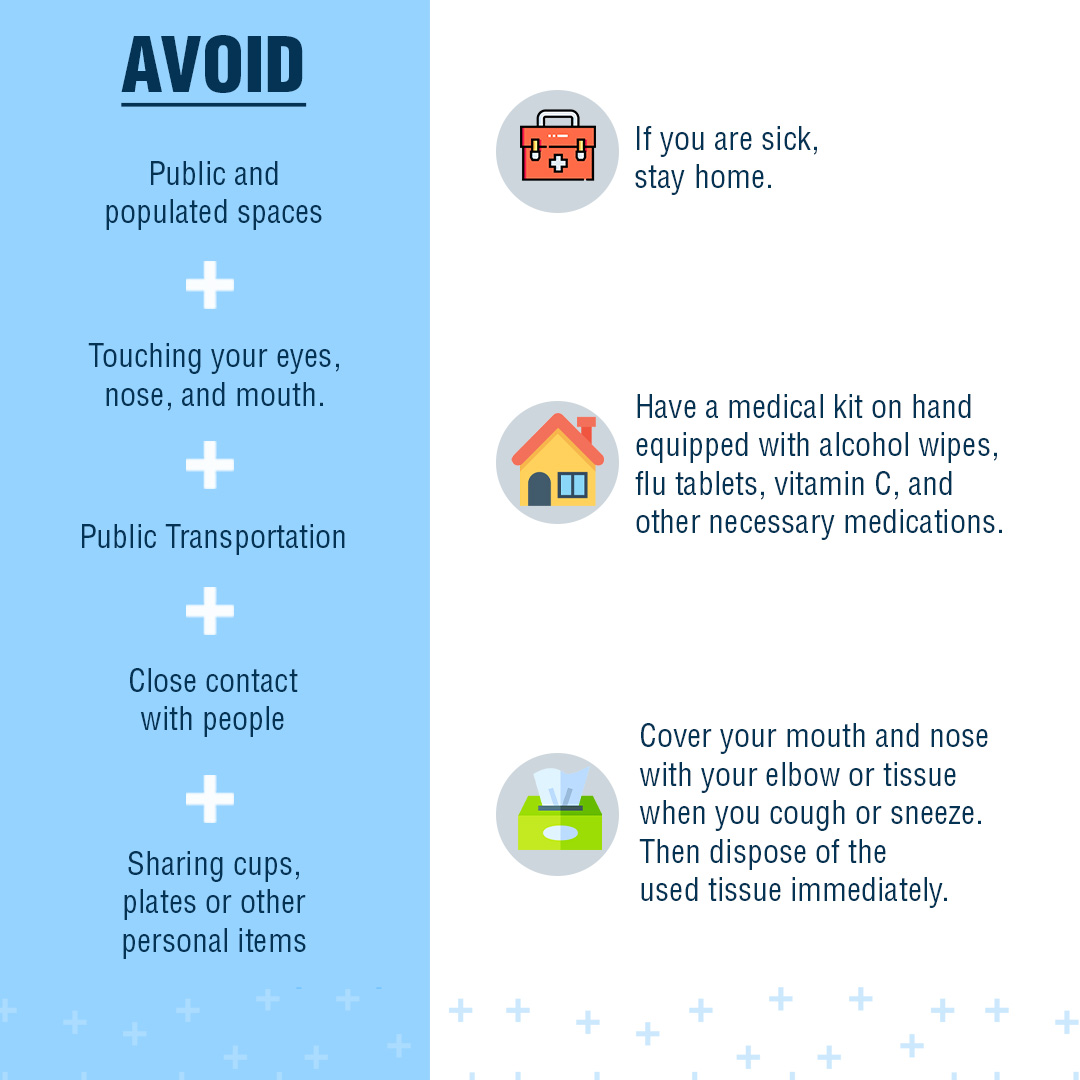 Pages